Want our top 10 essential dessert recipes?
Get our favorite classic recipes in your inbox! It's 100% free, but we might make you hungry!
Mocha Mousse Tarts with Peanut Butter Cup Crumbles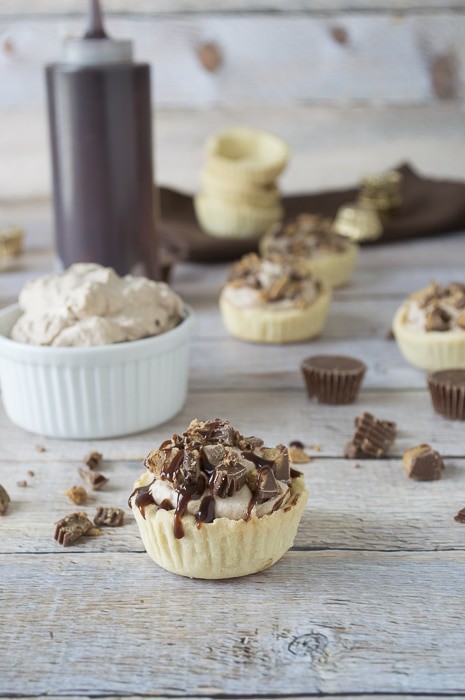 A few weeks ago I wrote about how I am experiencing a quarter century taste bud crisis, and I think it's because I am turing 25 next month.
The crisis is that I am starting to like citrus flavors over chocolate, and I've always been a chocolate girl.
Well, that whole citrus craving must have been a phase because I am back to craving chocolate. And mocha. And peanut butter cups. And mini tarts.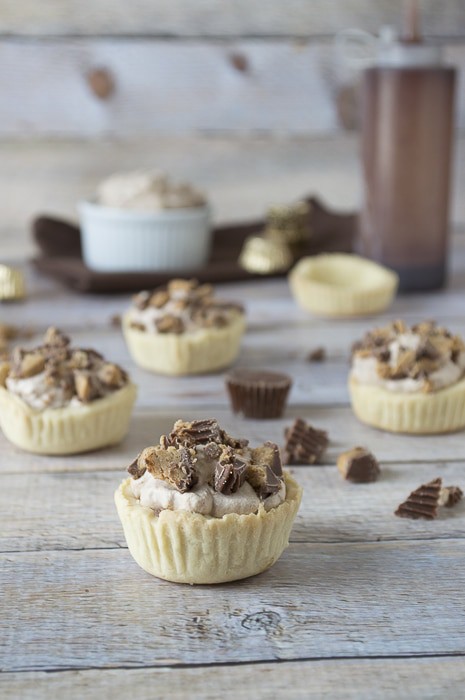 These mocha mousse tarts with peanut butter cup crumbles are like personal sized pies. Which is great for those of us who find ourselves eating or wanting to eat an entire regular sized pie.
And the best part about these tartlets? A mini dessert means you don't have to share!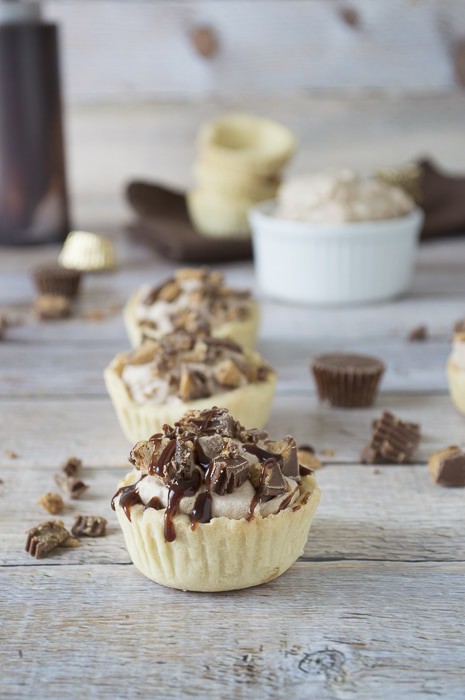 I know peanut butter cups can be dangerous. You buy a bag from the store, it mysteriously opens while you're driving home, and before you know it half the bag is gone before you even get to use the peanut butter cups as you planned.
So I am going to share my secret tip with you. After you use the peanut butter cups for a recipe, store the rest of them inside a ziploc bag in the freezer.
You can hide them behind the peas if you want. But if they are out of sight, I know I am less likely to snack on them. Now you don't have to go out and buy peanut butter cups each time a recipe calls for a few, because you'll have some in your freezer!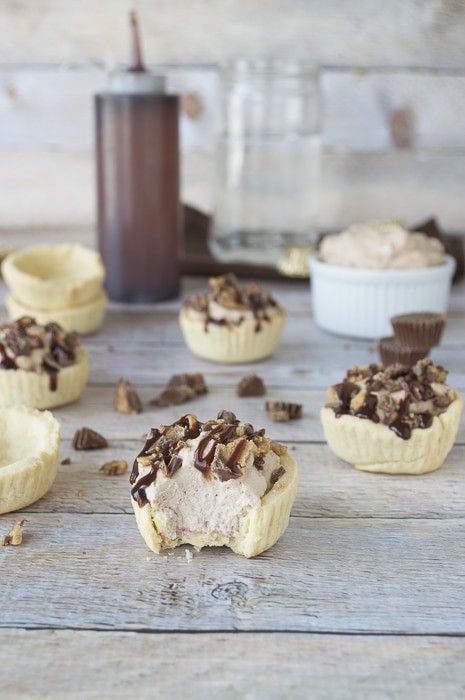 There are two main parts to this recipe. The tart shells and the mocha mousse.
The tart shells can be made in advance and the mocha mousse should be prepared right before serving.

Mocha Mousse Tarts with Peanut Butter Cup Crumbles
Ingredients
Mocha Mousse

1 cup heavy cream
1 tbsp powdered sugar
3 tsp vanilla
1/2 tsp instant coffee
1 tsp cocoa powder

Tart Shells

1 cup flour
1/4 cup confectioners sugar
a pinch of salt
5 tbsp butter, cubed
1 egg yolk
1/2 tbsp cold water

Topping

10 mini peanut butter cups
Melted Chocolate for drizzling
Instructions
Tart Shells

Mix the flour, confectioners sugar, and salt. Use your hands to cut in the butter until it disappears. In small bowl, combine the egg yolk and water, add this to the dry ingredients and mix. The dough may seem too dry, but your use hands to knead the dough and it will come together.
Roll into a ball and wrap in plastic wrap, then chill in the refrigerate for 30 minutes.
Pre-heat the oven to 325 degrees F.
Roll the dough out, about 1/8 to 1/4 inch thick. Use a round cookie cutter or cup to make circles of dough.
Line a muffin pan with liners, and place one circle in each hole, pushing the centers down to make little bowls. (The muffin liners are there to keep the dough from sticking to the muffin cup and they also make it easier to remove the tart shells after baking).
Bake for about 20 minutes or until the shells are golden. Allow them to cool completely, then remove them from the pan.

Mocha Mousse

In a bowl, combine the heavy cream, confectioners sugar, and vanilla. Beat using an electric mixer until stiff peaks form (5+ minutes). Add in the instant coffee and cocoa powder, mix gently by hand. Divide the mocha mousse among the shells.

Topping

Chop the mini peanut butter cups, and evenly divide the crumbles among the tarts. Top the tarts with melted chocolate drizzle.
Tart shell recipe adapted from Short & Sweet by Dan Lepard.
https://thefirstyearblog.com/mocha-mousse-tarts-with-peanut-butter-cup-crumbles/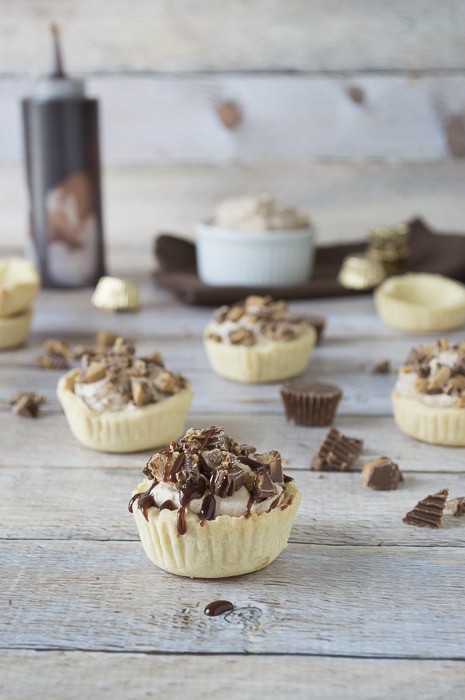 These mocha mousse tarts are so delicious and would be something unique to bring to your next party.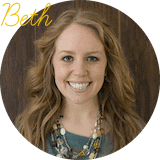 Similar Recipes:
Peanut Butter Cup Chocolate Pie
&
Raspberry Ripple Tarts