Want our top 10 essential dessert recipes?
Get our favorite classic recipes in your inbox! It's 100% free, but we might make you hungry!
Mocha Banana Popsicles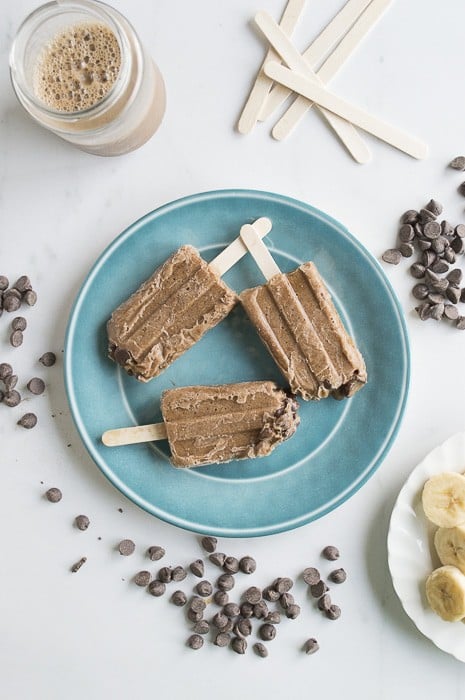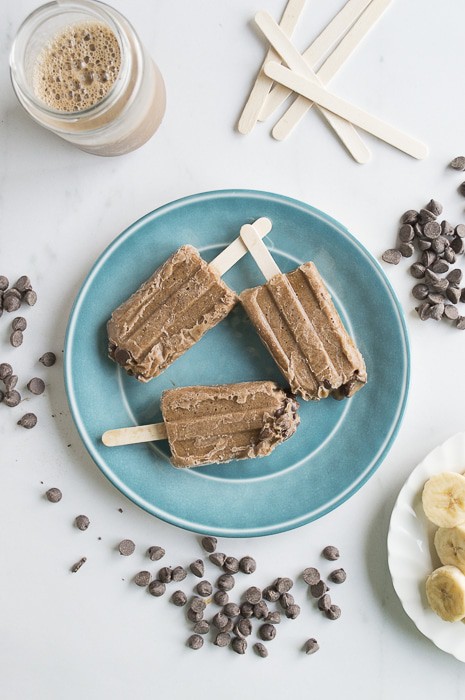 Mocha Banana Popsicles are a coffer lovers dream.
It's hot & humid outside but you want coffee – this poses a problem.
However, a very solvable problem because these mocha banana popsicles are the best of both worlds – now you can have your coffee and stay cool.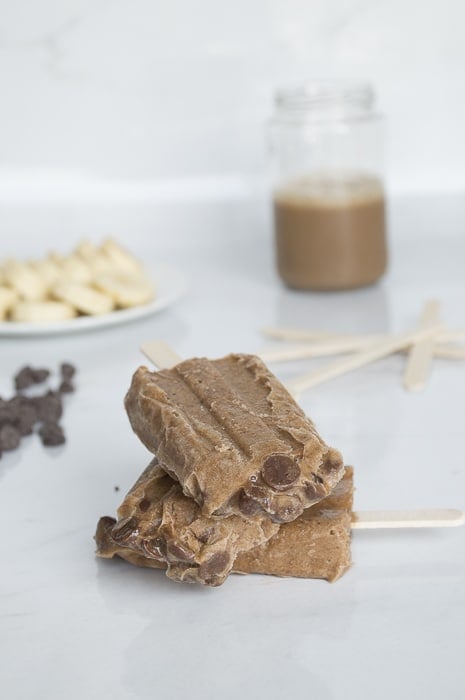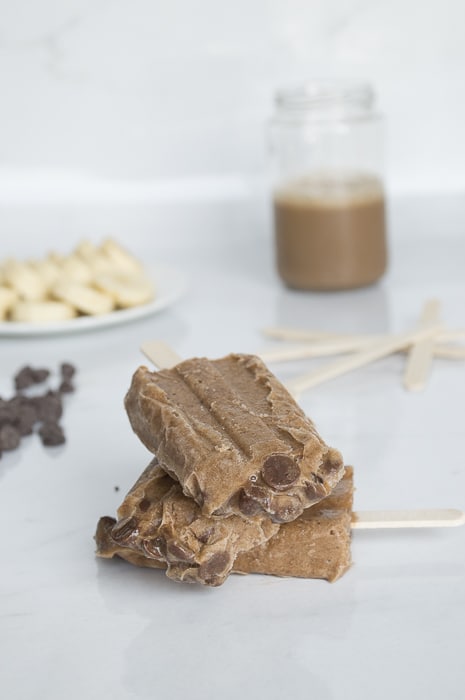 If you'd like, you could whip up your own homemade iced coffee to use in this recipe. I'm sure that would be extra tasty and lead to sipping on some while these are freezing, which is not a bad way to pass the time since these do take several hours to freeze.
However, I must have been cruising down easy street when I made this recipe because I opted for a pre-made mocha drink, conveniently found at my grocery store.
See, even food bloggers like easy recipes.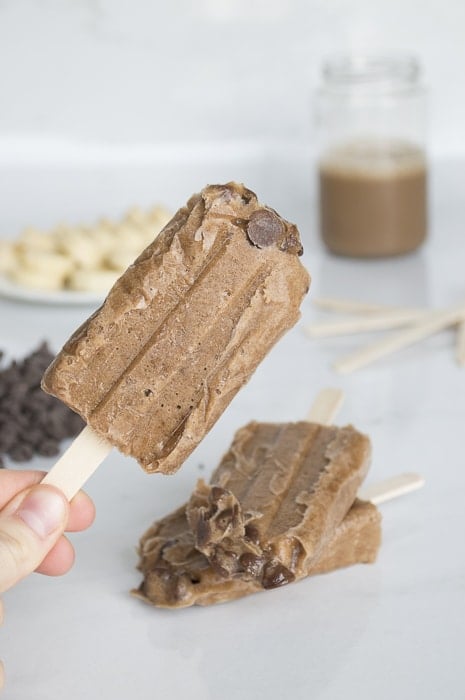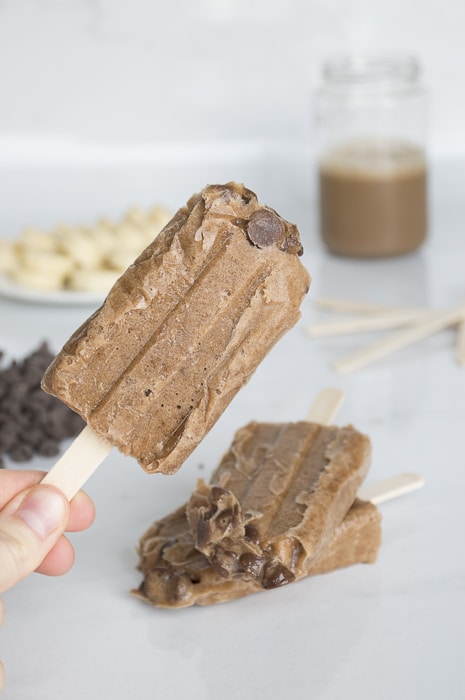 While your at the grocery store, pick up some bananas and chocolate chips. Then you'll have everything you need to make these delicious popsicles.
I've already been to the grocery store TWO times this week to buy random items I forgot to buy when I initially did the shopping for this week.
I strongly dislike having to go to the store just for 1 or 2 item, unfortunately I still seem to do it. Anyone in the same boat as me?
So get your grocery list together: mocha drink, banana, chocolate chips – so you don't forget things like I do!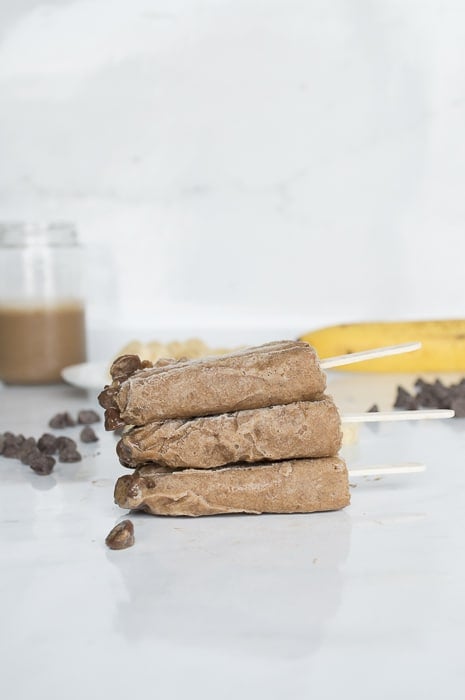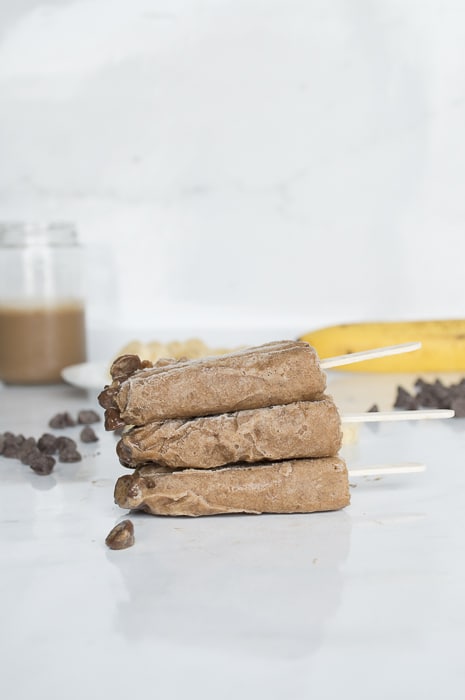 Ingredients
2 cups of a Mocha Coffee Drink (I used Starbucks Caffe Mocha drink, found in a carton in the grocery store)
1 banana
handful of chocolate chips
Instructions
Blend the mocha coffee drink and the banana together in a blender.
Add several chocolate chips to each popsicle mold.
Pour the blended mocha banana drink evenly among the molds.
Freeze for at least 3 hours.
Once set, place the popsicle mold in several inches of room temperature water to help loosen the popsicles. The mold only needs to be in the water for several seconds. You can always re-dip if necessary.
Once the popsicles have been removed, wrap the extras in plastic wrap and store in the freezer for later use.
https://thefirstyearblog.com/mocha-banana-popsicles/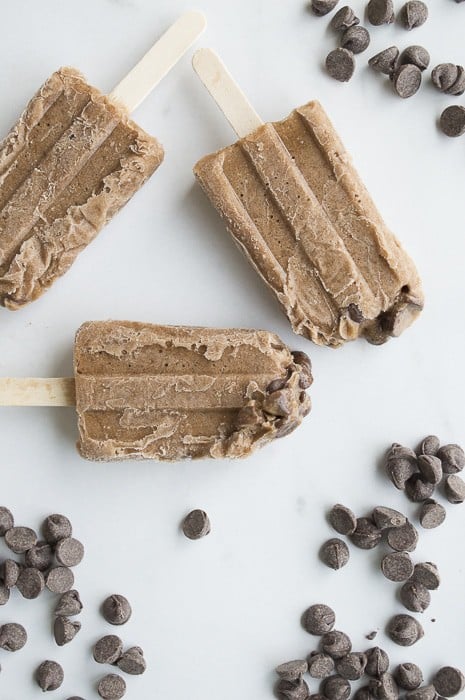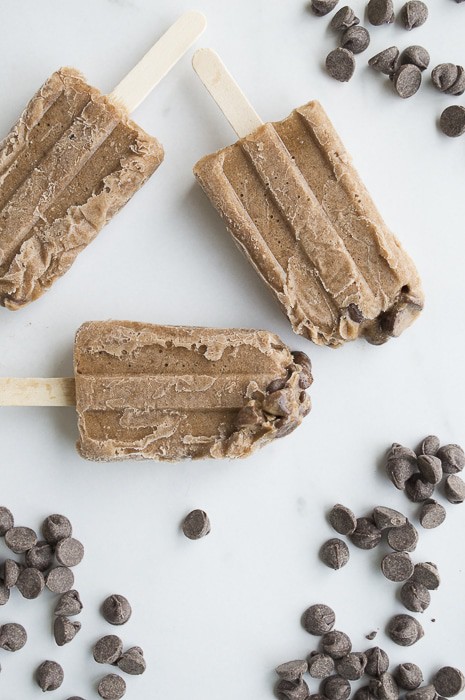 If you are interested in buying a popsicle mold, check out our post for
Pink Girl Popsicle
s where I talk about where I bought our mold.