Mini Oreo Nutella Cheesecakes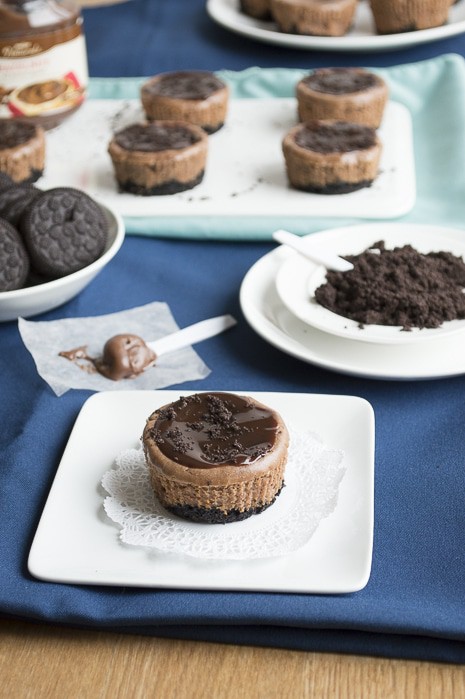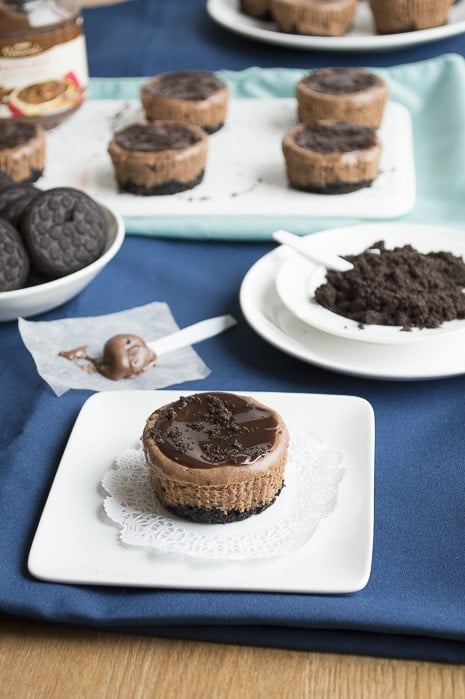 There is just something about mini cheesecakes.
Oh I know! I love them because they are super easy to make, and take less time to make/ bake than a regular cheesecake.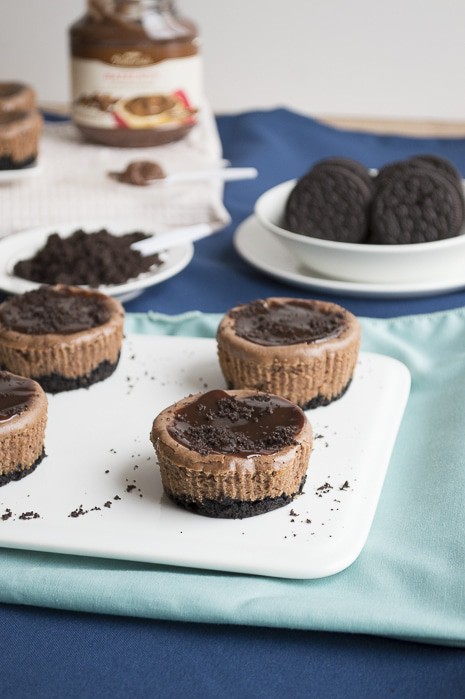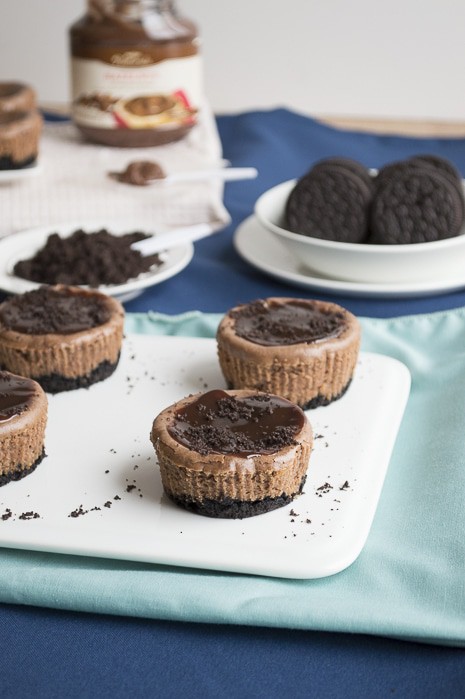 And I love anything that is mini sized – that's why I always make muffins in my mini muffin pan.. if only I made these oreo nutella cheesecakes in my mini muffin pan, than they would have been super mini!
I got so distracted about their size that I almost forgot the BEST part – they have an Oreo crust with a Nutella filling and a dollop of hot fudge and Oreo crumbs on top.
How many would you like me to deliver to your house? :)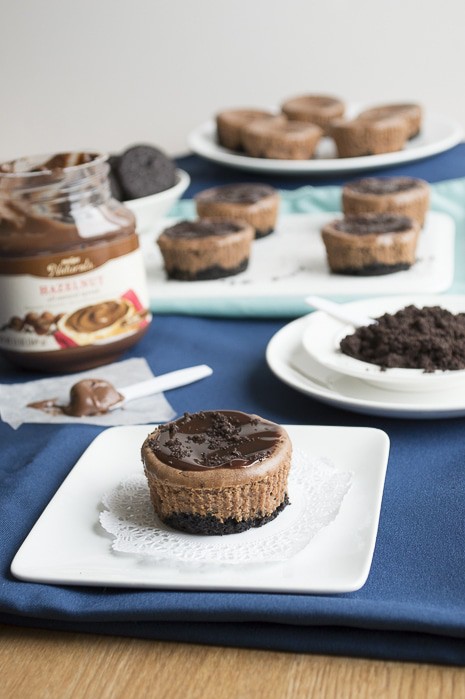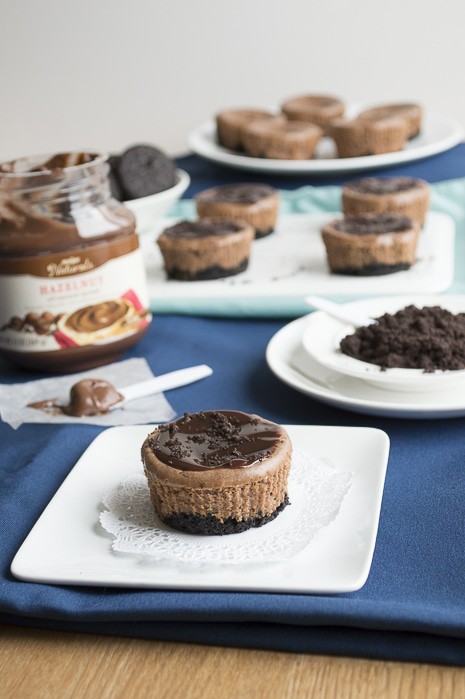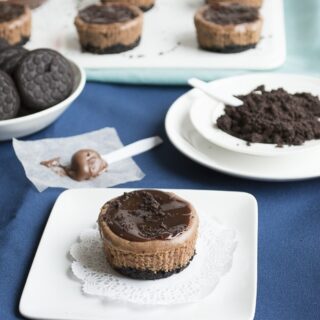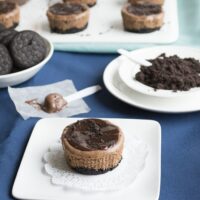 Mini Oreo Nutella Cheesecakes
Yield: 12 mini cheesecakes
Ingredients
Oreo Crust
8-9 Oreo cookies (cream and all) blended
2 tbsp butter, melted
Nutella Cheesecake
6 tbsp sugar
1 & 1/2 tbsp flour
12 oz cream cheese, softened (Neufchatel is great)
2 large eggs
1/4 cup milk
1 tsp vanilla
1/2 cup Nutella
Topping
Instructions
Oreo Crust
Preheat the oven to 325 degrees F.
In a blender, blend the Oreos until you get Oreo dust.
Combine the Oreo dust with the melted butter in a small bowl.
Divide the crust mixture between 12 foil lined muffin cups (or wells in a mini cheesecake pan) and press the mixture down, I found that a 1/3 measuring cup works well to press the mixture.
Bake for 5 minutes, then remove from the oven to cool.
Nutella Filling
In a medium bowl mix the sugar, flour, and cream cheese until smooth.
Beat in the eggs, then add the milk, and vanilla, mix until smooth.
Fold in the Nutella until just combined.
Divide the filling evenly between the muffin cups, filling nearly to the top. Tap lightly on the counter to release any trapped air.
Bake for 20-24 minutes, or until just slightly jiggly in the center. Remove and chill in the fridge for several hours.
Add a dollop of heated hot fudge and Oreo crumbs on top before serving.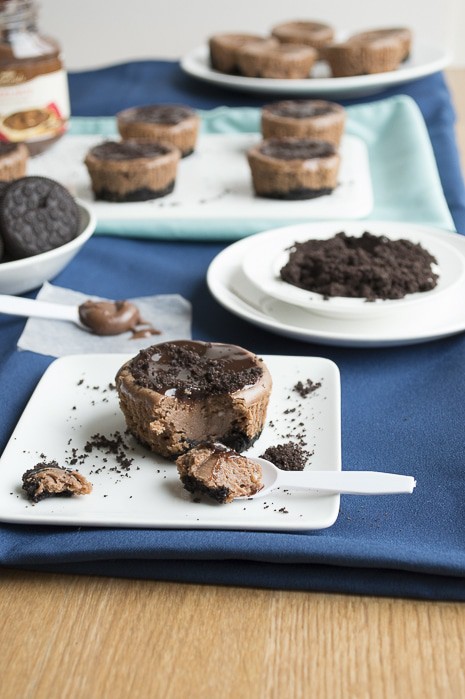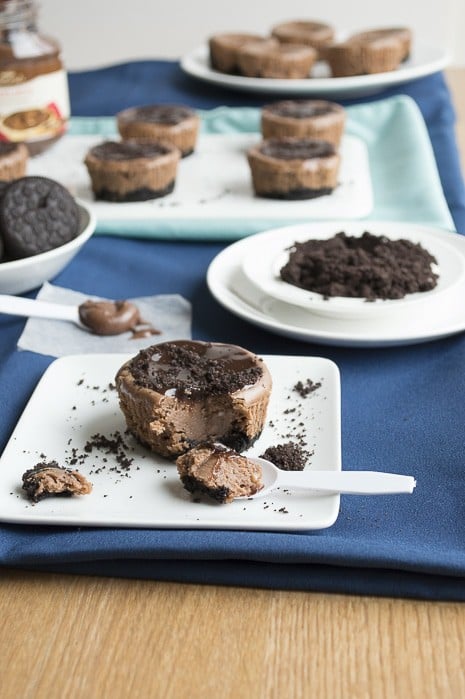 I feel that foil muffin cups work best for making cheesecakes over paper muffins cups. The foil cups are easier to remove after baking. Or just eat the cheesecakes out of the pan if you can't wait!