Mini Chocolate Strawberry Cheesecakes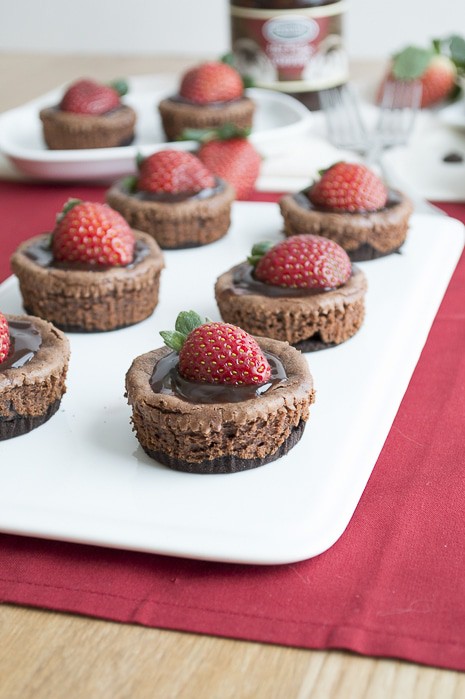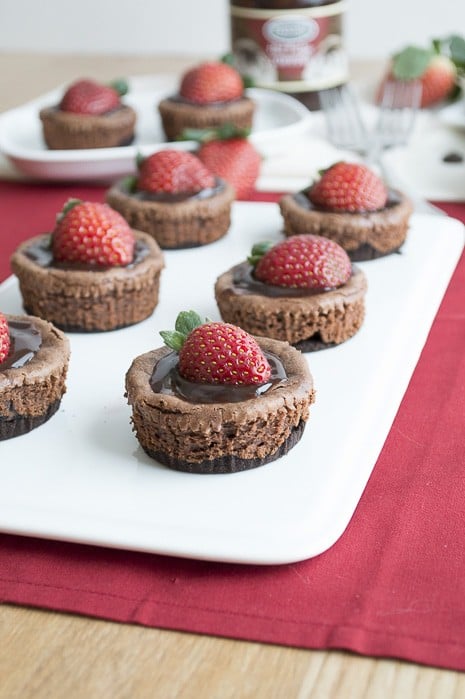 Who wants to come to my house for Valentine's Day? For our first dessert course we will be having Mini Chocolate Strawberry Cheesecakes with a dollop of hot fudge.
Did you catch that? I said for the first dessert course. Valentine's Day is all about dessert and chocolate, and homemade pizza.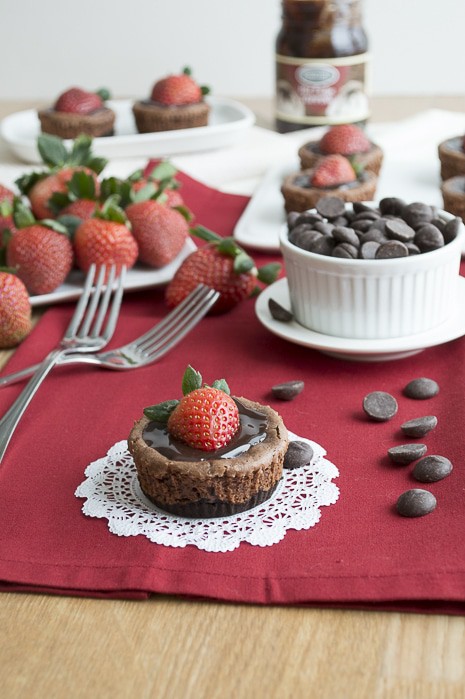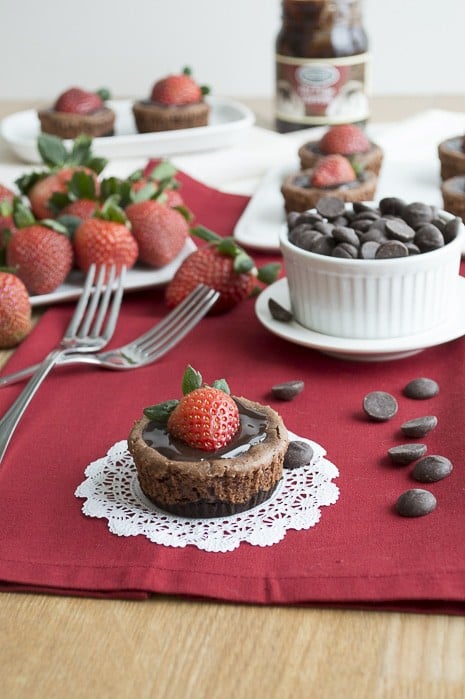 We've been baking up a Valentine's Day storm in our kitchen – and we've been sharing some sneak peeks on our Facebook and Instagram pages, we invite you to join us so you'll never miss out on this deliciousness.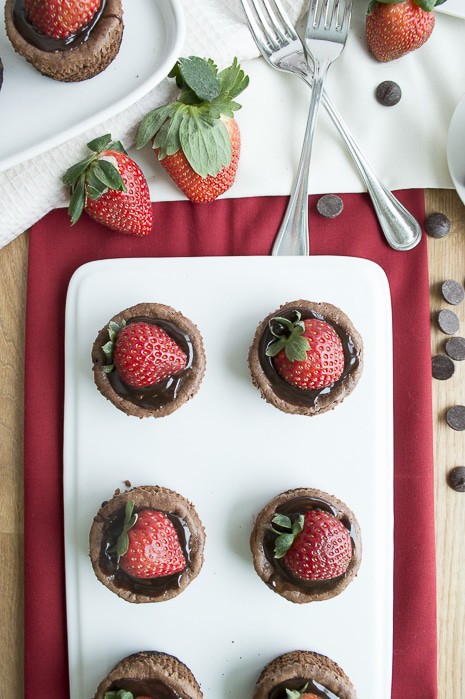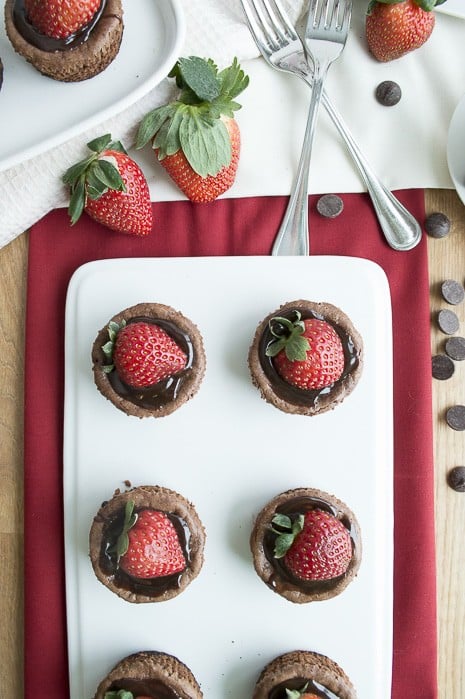 I almost forgot about the best part of these mini chocolate strawberry cheesecakes..
they are healthier than regular mini cheesecakes! 57% less fat, 61% less saturated fat, and 37% fewer calories than the original recipe.
Which means it's okay to have two, haha!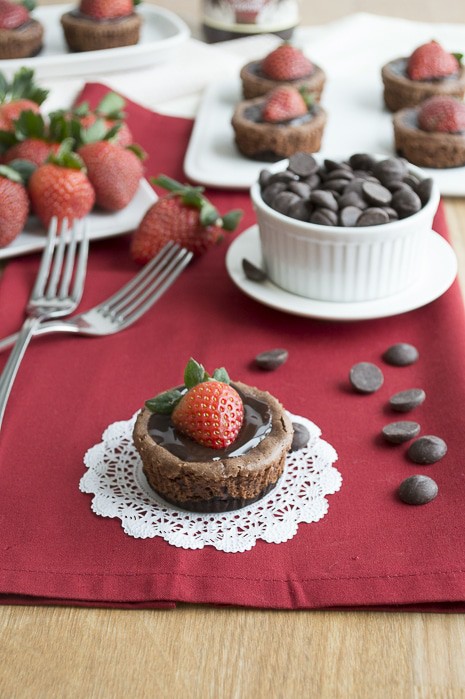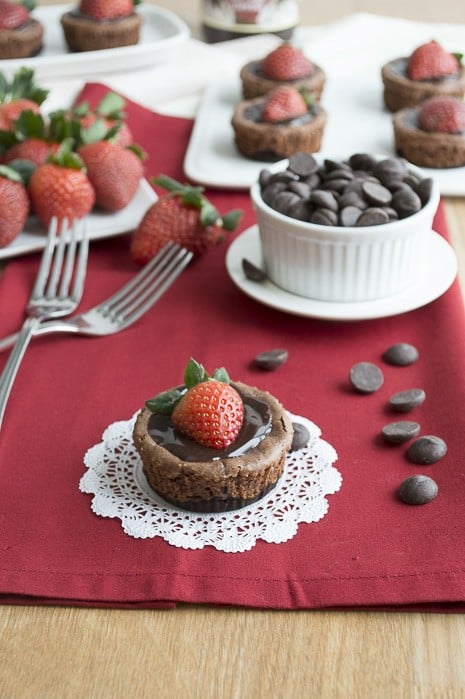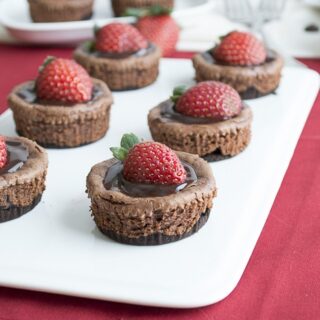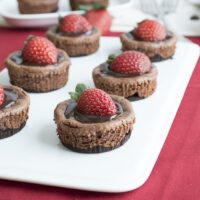 Mini Chocolate Strawberry Cheesecakes
Yield: 12 mini cheesecakes
Additional Time: 50 minutes
Total Time: 50 minutes
Ingredients
Cheesecakes
12 foil baking cups (must be foil!)
12 thin chocolate wafer cookies, crushed (2/3 cup) I used Oreos without the filling
12 oz 1/3-less-fat cream cheese (Neufchâtel), softened
2/3 cup sugar
2 tsp vanilla
1/4 cup unsweetened baking cocoa
1 whole egg
1 egg white
1 oz bittersweet or semisweet baking chocolate, melted
Topping
Fat free hot fudge, a dollop per cheesecake
Slice of strawberry, one per cheesecake
Instructions
Heat oven to 325 degrees F.
Place 12 foil liners in a regular-size muffin pan.
Evenly divide the crushed chocolate cookies between the 12 liners. Use the back of a spoon to firmly press the crumbs into the bottom of each foil cup.
In large bowl, beat cream cheese with mixer on medium speed until creamy. Beat in sugar and vanilla until fluffy. Beat in cocoa.
Beat in whole egg and egg white until well blended. Stir in the melted chocolate.
Divide this mixture evenly among the foil cups.
Bake for 28-32 minutes. Cool in the pan for 20 minutes.
Store in the refrigerator.
Before serving add a dollop of warmed hot fudge and top with a strawberry slice.