Want our top 10 essential dessert recipes?
Get our favorite classic recipes in your inbox! It's 100% free, but we might make you hungry!
Mini Carrot Cake Cheesecakes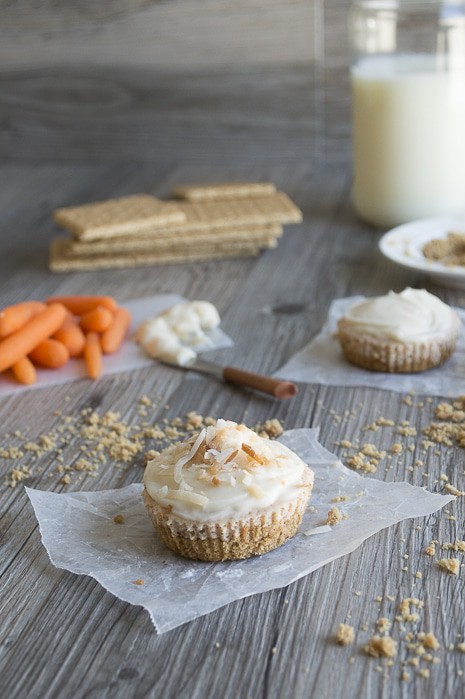 I spent a week trying to find a mini cheesecake pan to bake these mini carrot cake cheesecakes in. I wanted them to be fancy and they deserved to be baked in a mini cheesecake cake.
I first checked at our local meijer. Nothing.. but I did spy some gorgeous Rachael Ray dishes. Where were those dishes when we registered 2 years ago?!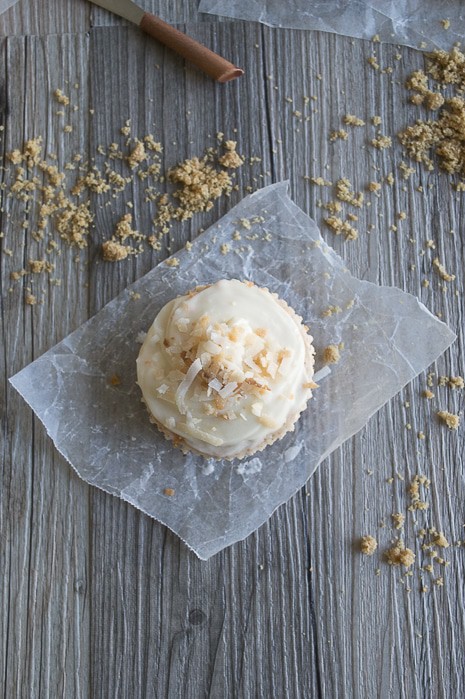 Next I went to Macy's and The Kitchen Store. The lady at Macy's had no idea what I was talking about but tried to sell me 100 martha stewart gadgets. The lady at The Kitchen Store had seen them before, but only online.
So naturally I go to Bed, Bath & Beyond because they have everything.
Nope, no mini cheesecake cake pan.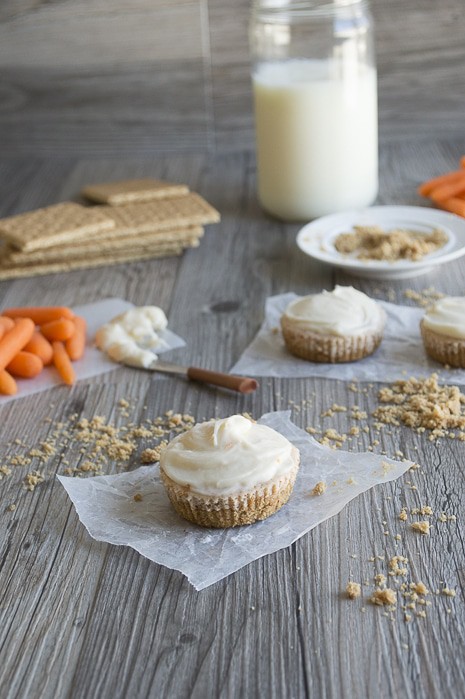 So I ended up using my trusty method – baking mini cheesecakes in a regular sized muffin pan using foil liners.
It works, it's super easy and versatile for everyone! But I think I still want a mini cheesecake pan :)
These delicious carrot cake cheesecakes are topped with homemade cream cheese frosting and a tad bit of toasted coconut.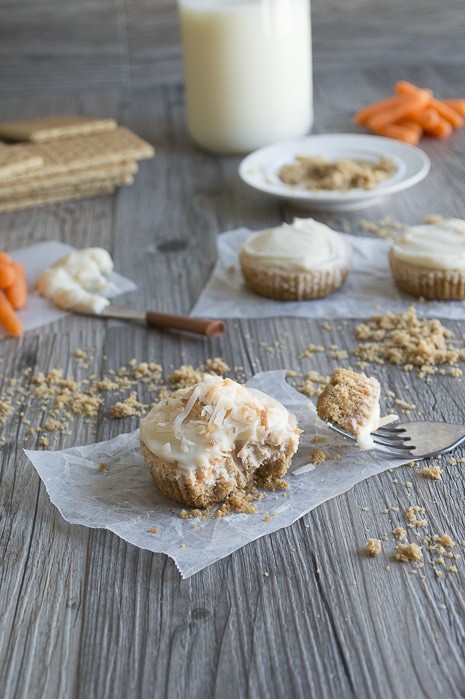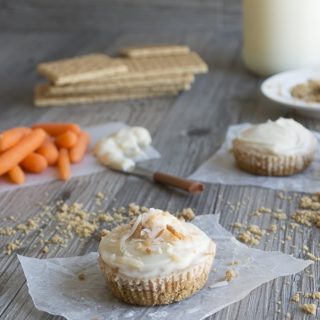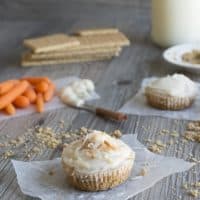 Mini Carrot Cake Cheesecakes
Yield: 6-7 mini cheesecakes

Additional Time: 1 hour

Total Time: 1 hour
Ingredients
Graham Cracker Crust
1/2 cup graham cracker crumbs, from 7-8 graham crackers
2 tbsp butter, melted
Carrot Cake Cheesecakes
4 oz cream cheese, softened
1 egg, room temperature
2 tbsp of sugar
1/2 tbsp flour
1/2 tsp vanilla extract
7-8 baby carrots or 1/2 medium carrot, peeled and finely grated
1/4 tsp cinnamon
1/8 tsp nutmeg
1/8 tsp ground ginger
1/8 tsp salt
Cream Cheese Frosting
2 oz cream cheese, softened
1 tbsp butter, softened
1 cup powdered sugar
1/4 tsp vanilla extract
1/2 tsp lemon juice
Instructions
Graham Cracker Crust
Preheat the oven to 350 degrees F. Line a regular sized muffin pan with 6-7 foil liners. I
recommend foil liners for cheesecakes, as they are easier to remove.
Mix the graham cracker crumbs with the melted butter. Evenly divided the crust mixture among the foil liners, and use the bottom of 1/2 cup to press the mixture into the pan. Bake for 6-8 minutes until golden brown.
Carrot Cake Cheesecake
Using a mixer, combine the cream cheese and sugar until fluffy, about 4 minutes.
Add in the egg, mix.
Add in the flour, vanilla, carrots, cinnamon, nutmeg, ginger, and salt.
Using a spoon, scoop the batter evenly among the cups, filling about 3/4 full.
Bake for 10-12 minutes or until a toothpick comes out clean.
After the pan cools, I like to stick the whole thing in the refrigerator to help the cheesecakes set before I remove the foil liners, this may take 30 minutes.
Cream Cheese Frosting
Beat the cream cheese, butter, powdered sugar, vanilla, and lemon juice until its creamy. Top the mini cheesecakes with frosting.
Toasted Coconut
Preheat the oven to 300 degrees F. Spread as much shredded coconut as you need on a baking sheet. Stir the coconut every 2-3 minutes. Depending on how much coconut you used, this whole process may only take 8-10 minutes. Beware, coconut can burn very easily.