Want our top 10 essential dessert recipes?
Get our favorite classic recipes in your inbox! It's 100% free, but we might make you hungry!
Lime Sherbet Rainbow Pebble Popsicles
Lime Sherbet Rainbow Pebble Popsicles – a quick and easy treat for St. Patrick's Day!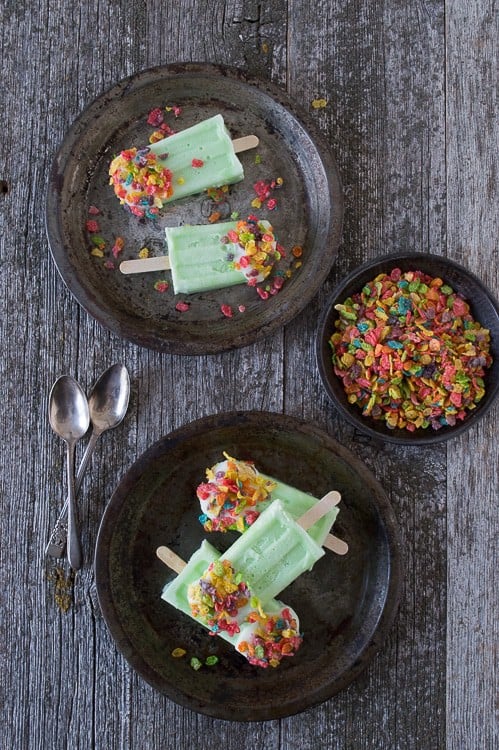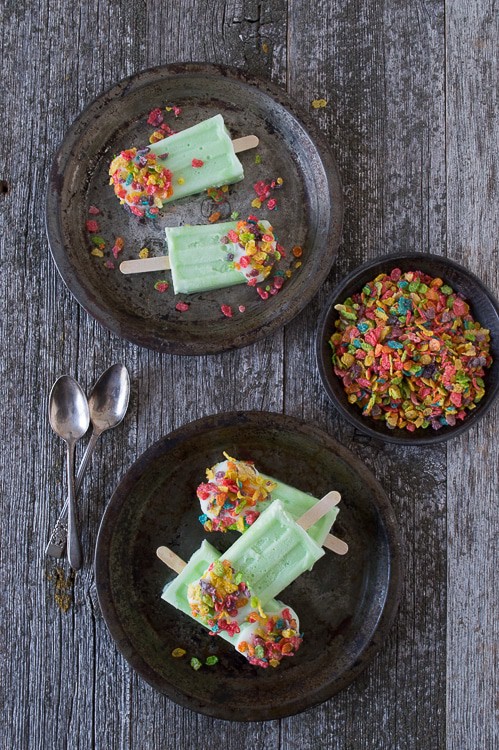 I promised that fruity pebbles would make another appearance. But after the Rainbow Donuts, I knew I didn't want to sort them again. Well, at least until next year.. I don't mind sorting them once a year :)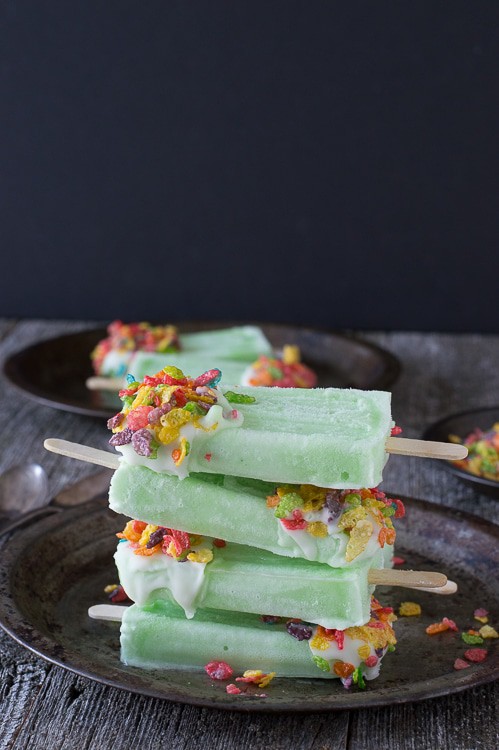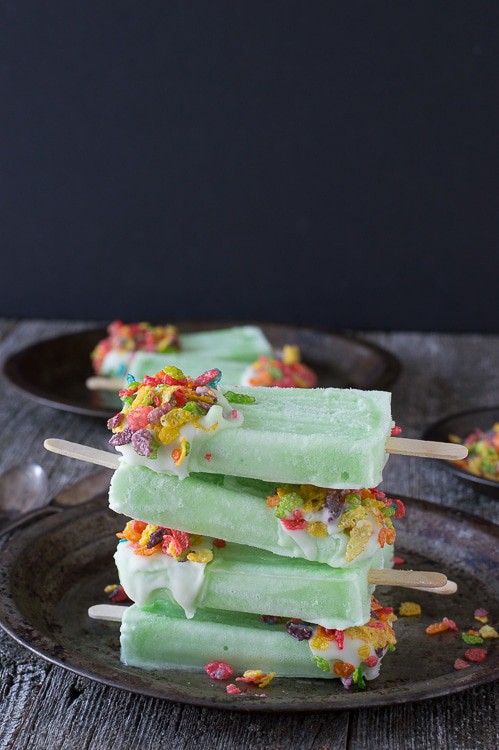 Although this recipe's technical name is 'lime sherbet rainbow pebble popsicles' I call this creation the 'super quick & easy, I just remembered it's St. Patrick's Day tomorrow' recipe. If you can get your hands on some lime sherbet and scoop it into your popsicle mold the night before St. Patrick's Day, your popsicles will be ready to go the next morning. Easy, right? Before serving the popsicles, spoon some melted vanilla candiquik or almond bark over the top portion of the popsicle and top with a handful of fruity pebbles.
But if you want something that is even quicker I have three other ideas..
1) Mix the fruity pebbles and softened lime sherbet together then spoon the mixture into your popsicle mold and let it freeze over night. No vanilla candiquik required. Easy.
2) Put a scoop of lime sherbet in a bowl and sprinkle some fruity pebbles on top. Super easy.
or
3) Skip the lime sherbet all together, and serve your kids some fruity pebbles in a bowl with a little bit of milk. I like to call this one cereal. Ridiculously easy :)
Look at that! You thought you were coming for one St. Patrick's Day recipe, but now you have four easy recipes in your arsenal for St. Patrick's Day. I don't think you could have an excuse to not celebrate!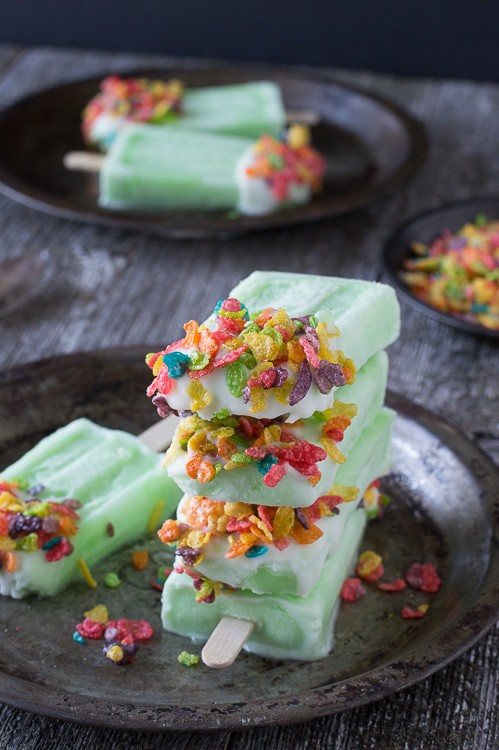 I think part of the reason why I love St. Patrick's Day so much is because my mom would always do fun things with us to celebrate the holiday when we were young. I remember having green milk, green eggs & ham, and I am pretty sure she convinced us that leprechauns were real. I suppose it helps that we are part Irish, but I'm excited to carry on the tradition when we have kids!

Yield: 10 popsicles, depending on mold
Total Time:24 hours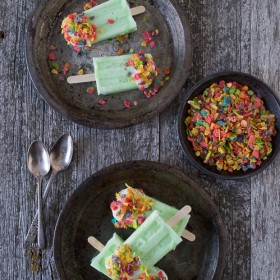 Ingredients:
Lime Sherbet, softened
2 squares of vanilla candiquik
1 tbsp vegetable shortening
fruity pebbles
popsicle mold & popsicle sticks
Directions:
Using a spoon, scoop the softened lime sherbet into the popsicle mold. Once they are full, tap the mold against the counter to release air bubbles. Insert the sticks into the popsicle mold and freeze over night.
To get the popsicles to release from the mold, fill your kitchen sink with room temperature water. Place the mold in the water, making sure the water does not go above the top of the mold.
Allow the mold to sit in the water for a few seconds. Begin to wiggle a popsicle free. If it feels tough, allow them to set in the water a few more seconds.
Once all of the popsicles are removed from the mold, place them on a baking sheet lined with wax paper and return them to the freezer.
Melt the vanilla candiquik and vegetable shortening in a small saucepan over low heat, stir until the mixture is melted. This may take up to 8 minutes, but keep the heat on low.
Place some fruity pebbles in a bowl near the stove.
Doing one popsicle at a time, remove the popsicle from the freezer and spoon some white chocolate on the top half of the popsicle. The chocolate will already begin to harden, so you need to move quickly. If chocolate doesn't get on the bottom side of the popsicle, that is fine. Quickly sprinkle fruity pebbles on the chocolate and return the popsicle to the freezer. Repeat this method until all of the popsicles are covered.
Keep the popsicles frozen until serving. They are best if you eat them the same day you add the fruity pebbles.
Products used to make this recipe
(may include affiliate links)