Lemon Almond Bundt Cake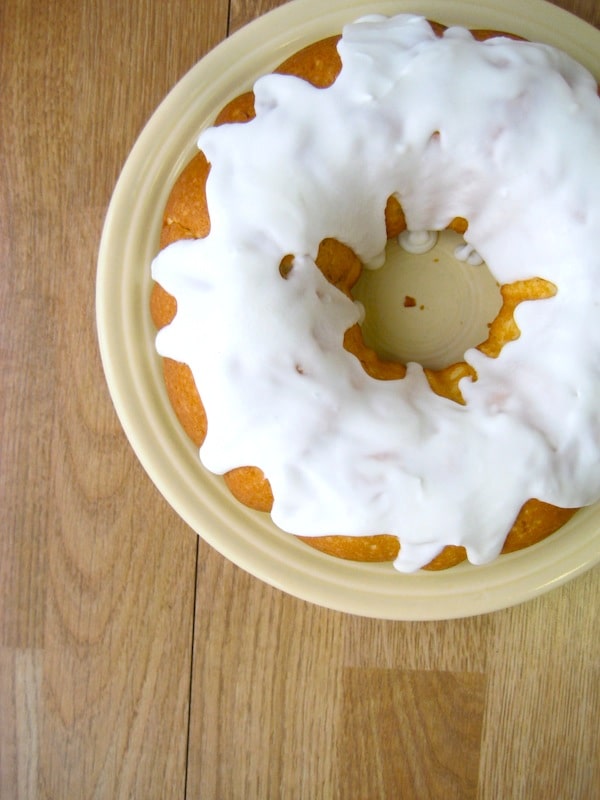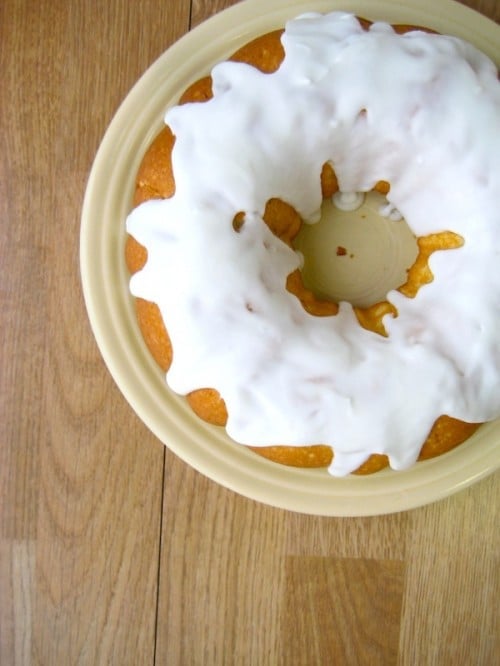 Woohoo, our first bundt cake! Ryan's family gave me a bundt pan for my birthday, uh which was back in July, and I am finally getting the recipe up for you guys! A lot of the desserts I make I send with Ryan to work. He's working on getting his Ph.D and spends many hours in the lab, and so do his lab-mates, so they can always use a treat.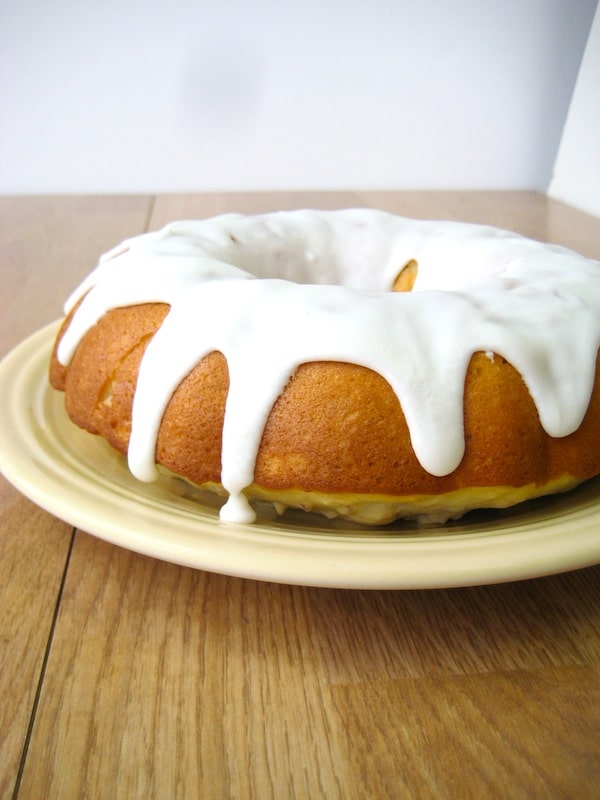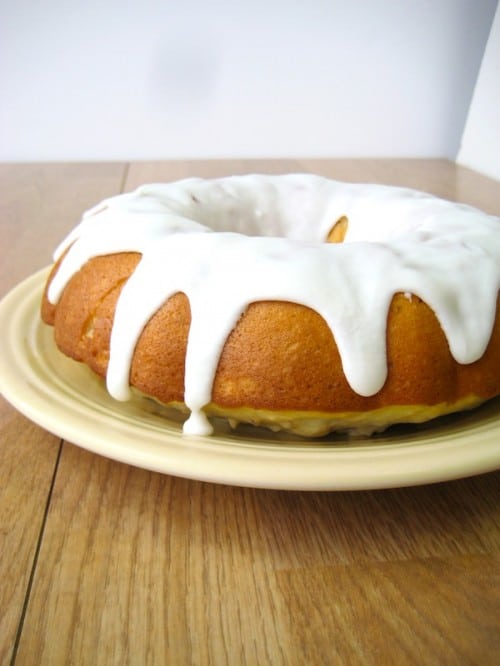 My favorite part about bundt cakes are frosting/glazing them. I like how the glaze fills in and follows the grooves. But getting the right consistency of glaze can take a few tries. Always, always, always add a little liquid (if could be lemon juice or milk, etc) – you can always add more liquid, but it takes a lot of powdered sugar to fix a soupy mess.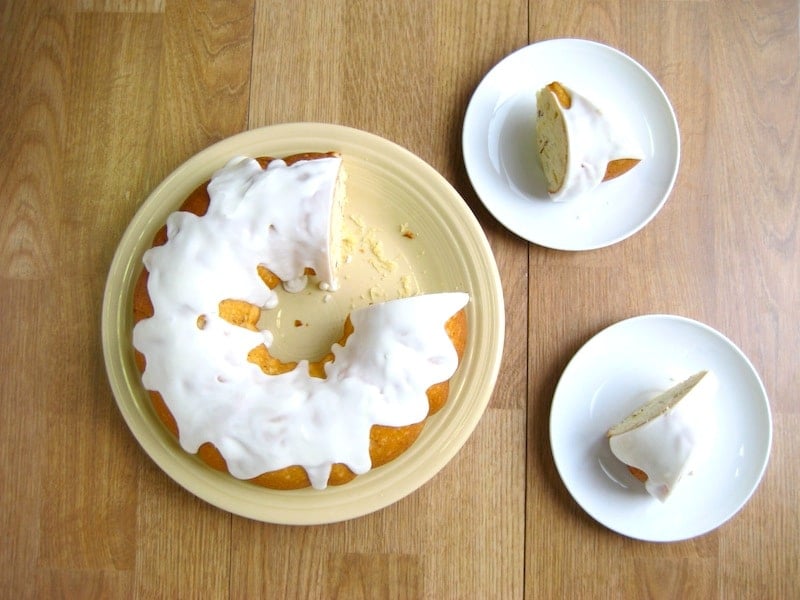 Ingredients
Bundt

2 cups all-purpose flour
1/2 tsp salt
1 1/2 tsp baking powder
1/4 tsp baking soda
1 stick (1/2 cup) unsalted butter, softened
1 cup sugar
finely grated zest from 2 lemons
2 large eggs
2 tbsp lemon juice
1 cup sour cream
1/3 to 1/2 cup sliced almonds

Lemon Glaze

1-2 cups powdered sugar (depending on the height of your bundt, I only used 1 cup)
juice of 1 lemon
1 tbsp butter, very soft
Instructions
Bundt

Preheat your oven to 350 degrees F.
Whisk together the flour, salt, baking powder, and baking soda in a bowl, and reserve until needed.
In a mixing bowl, beat the butter, sugar, and lemon zest, until light and creamy. Beat in the eggs one at a time, mixing thoroughly before adding the next.
Stir in 1/3 of the flour mixture until just combined.
Stir in the lemon juice, and 1/2 of the sour cream until combined.
Add the remaining flour mixture, and stir until combined.
Stir in the remaining sour cream and sliced almonds.
Spray bundt pan generously with non-stick spray, you could also coat it in flour.
Bake for 40-50 minutes, or until cake begins to lift away from the sides of the pan.
Cool completely before adding the glaze.

Lemon Glaze

Combine the powered sugar, butter and lemon, until a glaze forms. Remember to start with less liquid (lemon juice) and add more to get your desired glaze consistency.
*Note- This was my first bundt and it turned out to be kind of small/short, so if you want a smaller bundt, this is great.
https://thefirstyearblog.com/lemon-almond-bundt-cake/
Since getting a bundt pan, I created a board on pinterest just for bundts- so their will definitely be more to come!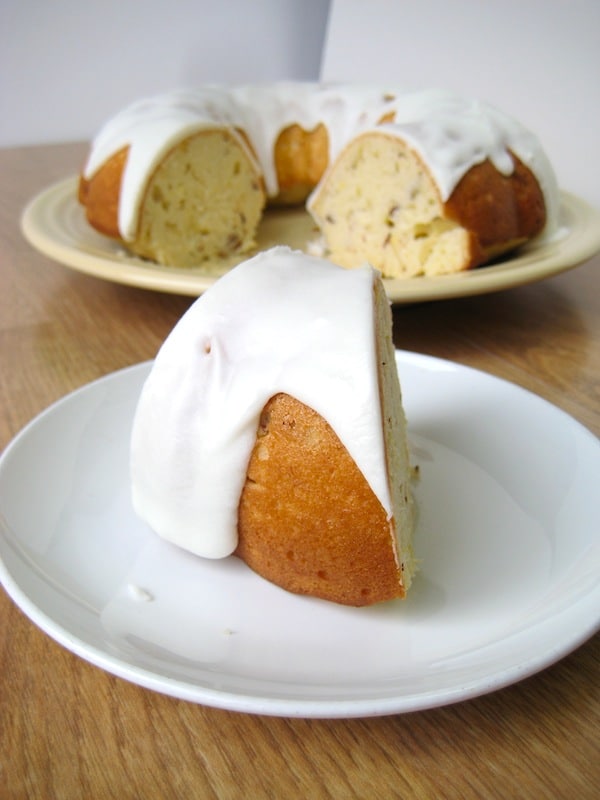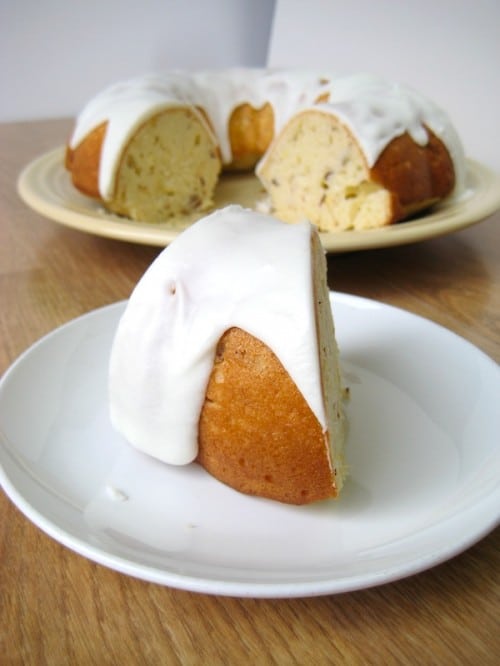 I kept my bundt cake in the fridge to keep the glaze from running. It's probably not the best looking bundt cake since it's so short, but Ryan and his coworkers didn't mind.