Kiwi Ice Cream with Oven Toasted Coconut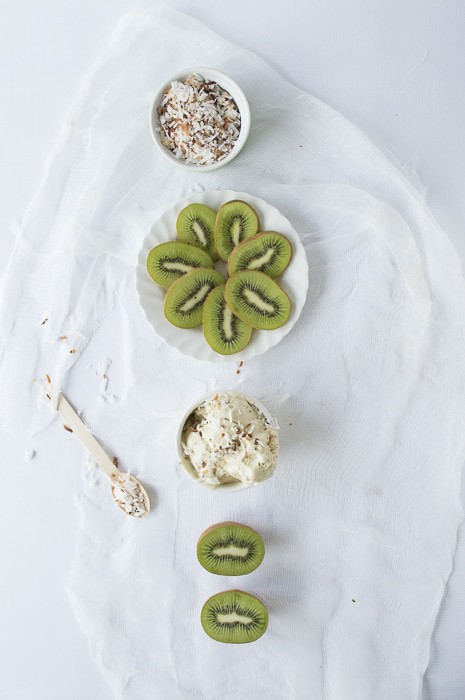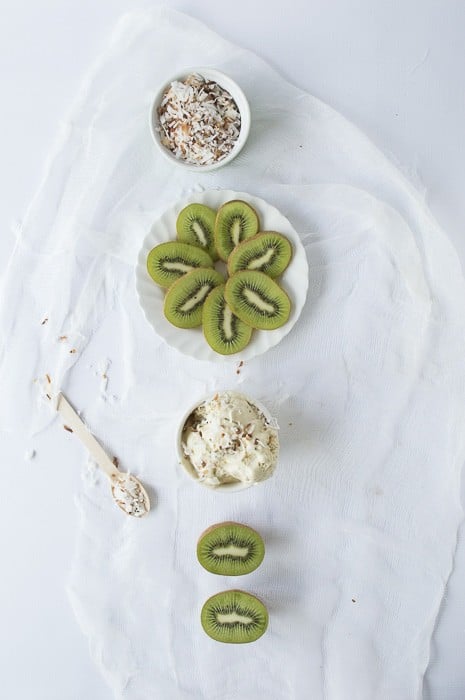 Last summer I saw a great deal from one of those magazine websites. Three magazine subscriptions for $12. It was such a good deal, I couldn't pass it up. So I paid the $12 and signed up to receive Better Homes and Gardens, Popular Photography and Everyday with Rachael Ray. And I found a promotion online where you could get Martha Stewart's Living magazine sent to you for free. I was thinking this will be so great, I'll have magazines to read and I won't have to check them out at the library or read them at Barnes & Noble.
So the magazines started coming, but somehow I forgot that each magazine comes EVERY month. That's four magazines a month. I'm just happy if I can get through all of my e-mails in a day.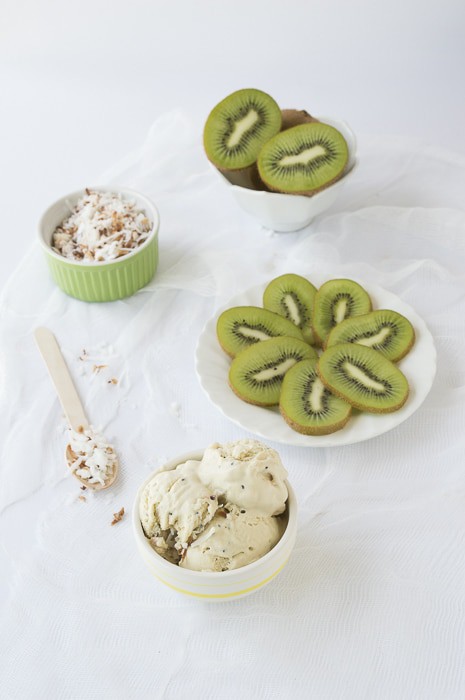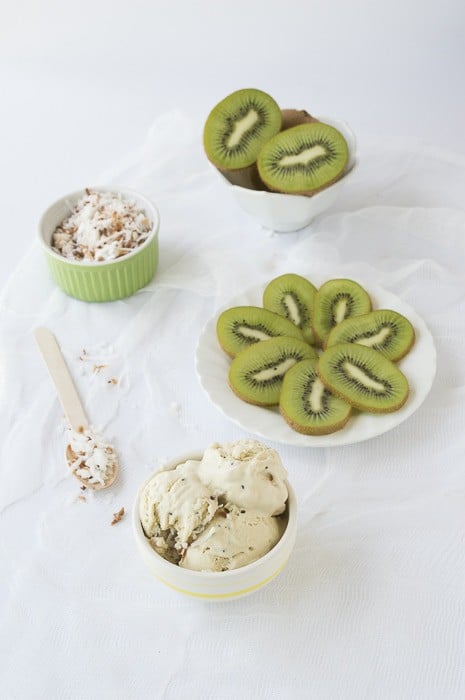 The phenomenon of "reading for pleasure" doesn't really exist in my world. Between my full time job and keeping up my blog, which seems to be my second full time job, it feels like the only free minutes I have are right before bed.
As the magazines started pilling up, I felt guilty that I didn't have the time to read them, so I would try to browse through them in bed before I fell asleep. Well, let me tell you.. there were many nights were I would fall asleep with my face stuck to Rachael Ray's picture. And I wasn't drooling over the mouthwatering pictures, needless to say.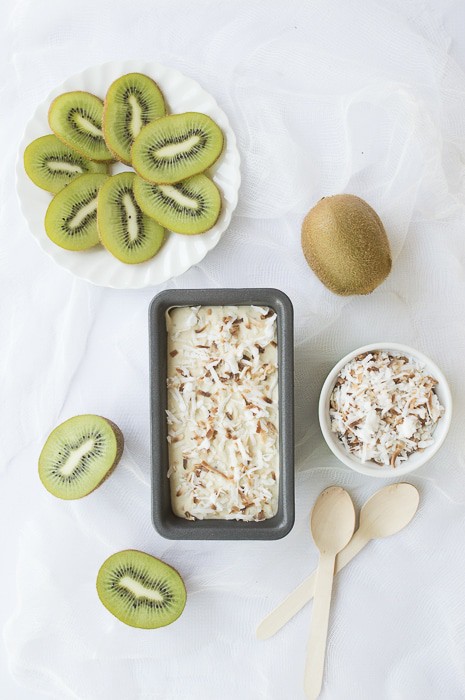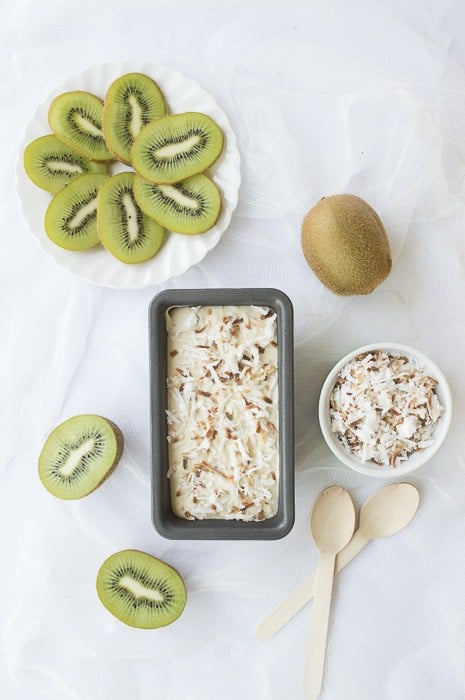 A few weekends ago, the weather was pretty gloomy so I didn't have good natural light to shoot any recipes, so I hulled the stack of unopened magazines to the coffee table. I still had magazines from March that I hadn't looked at. I finally got through them and I found a lot of great recipes along the way.
This recipe from Everyday with Rachael Ray for Kiwi Ice Cream was a stand out, especially because it only called for 3 ingredients – kiwis, marshmallow cream, and heavy cream. I feel like I am willing to try any recipe that incorporates marshmallow cream. I ramped the flavor up a bit by adding oven toasted coconut because kiwis and coconut go well together, and I just simply love toasted coconut.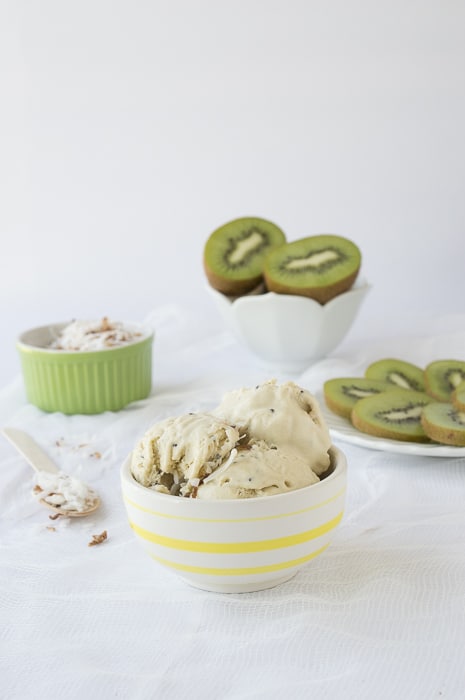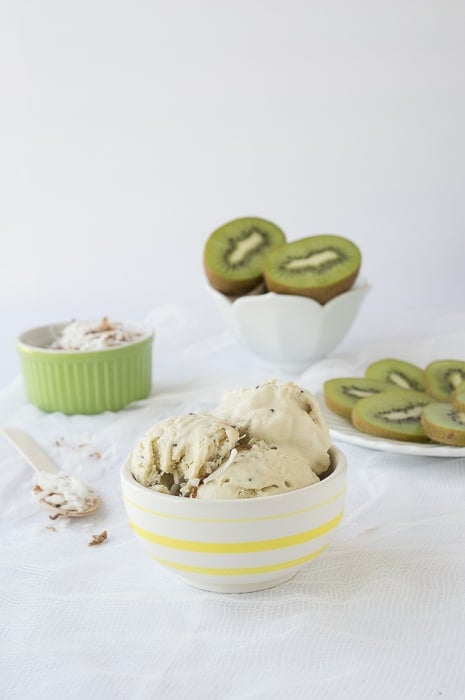 This is a fancy and unique twist to ice cream, and to me it feels a bit more grown up than eating cake batter ice cream on date night.
Don't forget, you can save our recipes to your Recipe Box and create meal plans by clicking "Save Recipe."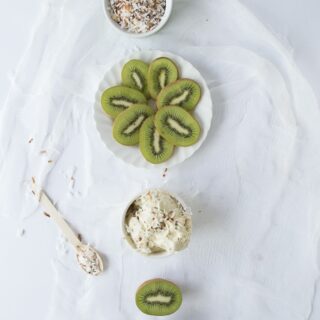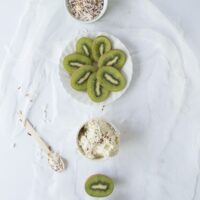 Kiwi Ice Cream
Ingredients
4 kiwis, peeled and sliced
7 oz marshmallow cream
1 cup heavy cream
1/3 to 1/2 cup oven toasted coconut for the top
Instructions
Peel and slice the kiwis. This video shows how to easily peel a kiwi.
In a food processor, puree the kiwis.
Add the marshmallow cream and heavy cream and process until the mixture is smooth.
Place this mixture in the bowl you want to freeze the ice cream in, I used a small loaf pan. Add the toasted coconut to the top, and lightly press it into the ice cream.
Cover the bowl in plastic wrap.
Freeze overnight and enjoy.
Notes
Recipe adapted from Everyday with Rachael Ray.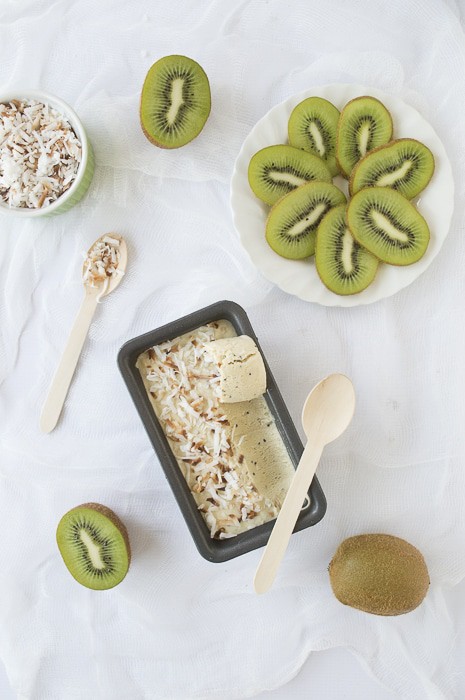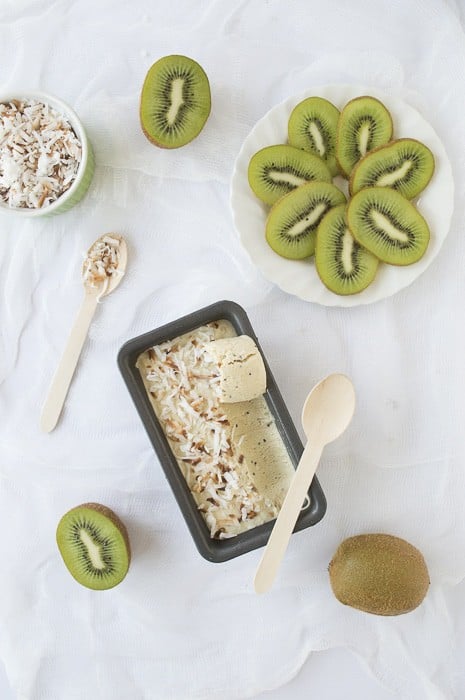 Moral of the story? I should only subscribe to one magazine. It's a good thing all of my subscriptions end this month.