Honey Ginger Roasted Carrots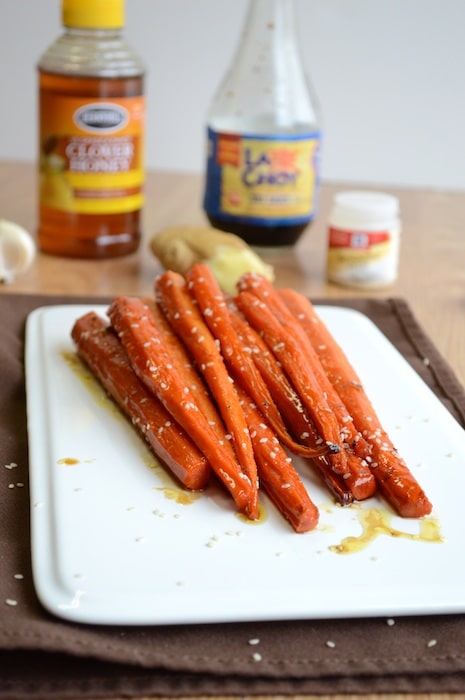 Honey ginger roasted carrots – this would have been a good dish to bring to Thanksgiving.
I hope you had a wonderful time spent with friends and family. This was the first time we didn't return home to Minnesota for Thanksgiving. But we had a great day of baking bailey's dark chocolate molten lava cakes, relaxing, and enjoying dinner with Ryan's coworkers.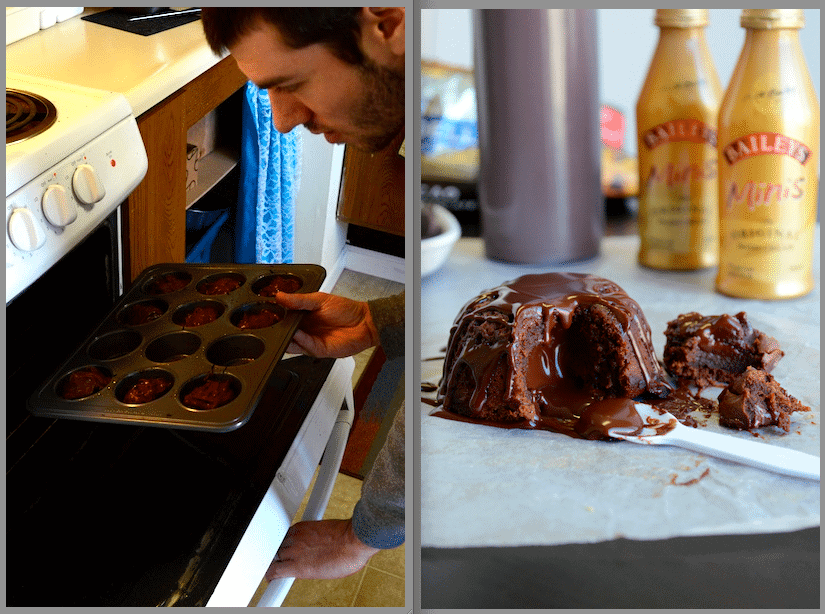 I'll be sharing the recipe for bailey's dark chocolate molten lava cake later in December. But today it's all about the carrots.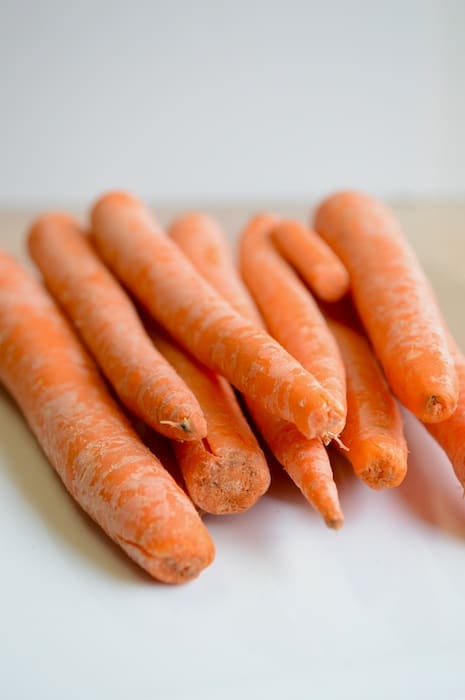 Raw carrots are beautiful. But don't forget to give them a quick peel before roasting them in the honey ginger glaze.
The honey caramelizes in the oven creating slightly sweetened, perfectly roasted carrots.
Honey Ginger Roasted Carrots
Ingredients
1 pound carrots, peeled (whole or cut into pieces--larger carrots may need to be halved lengthwise)
1/8 cup honey
1/4 cup olive oil
1-2 tsp fresh grated ginger
1 tbsp soy sauce
1 garlic clove, minced
1/2 tbsp brown sugar
Salt & pepper, to taste
Sesame seeds, for garnish (optional)
Instructions
Preheat the oven to 400 degrees F.
Line a baking sheet with foil and spray with non-stick cooking spray (VERY important!).
Peel carrots and cut in half lengthwise if needed, depending on their size.
In a small bowl, whisk together honey, olive oil, ginger, soy sauce, garlic, brown sugar and salt and pepper.
Toss carrots with glaze in a large tupperware container with lid.
Bake for 15-25 minutes (depending on the size of your carrots), turning and stirring once during cooking, until carrots are tender.
If desired, sprinkle with sesame seeds before serving.
https://thefirstyearblog.com/honey-ginger-roasted-carrots/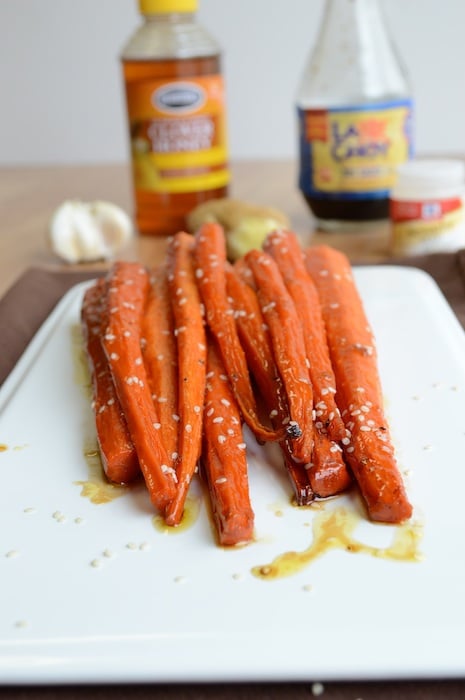 I want to remind you to line your pan with foil and to spray the foil with cooking spray – the mixture is sticky and becomes caramelized in the oven, and no one enjoys scrubbing a pan for hours, especially when you have honey ginger roasted carrots to eat.