Healthy Chocolate Peanut Butter Chip Muffins
Healthy Chocolate Peanut Butter Chip Muffins made with greek yogurt, honey, and bananas!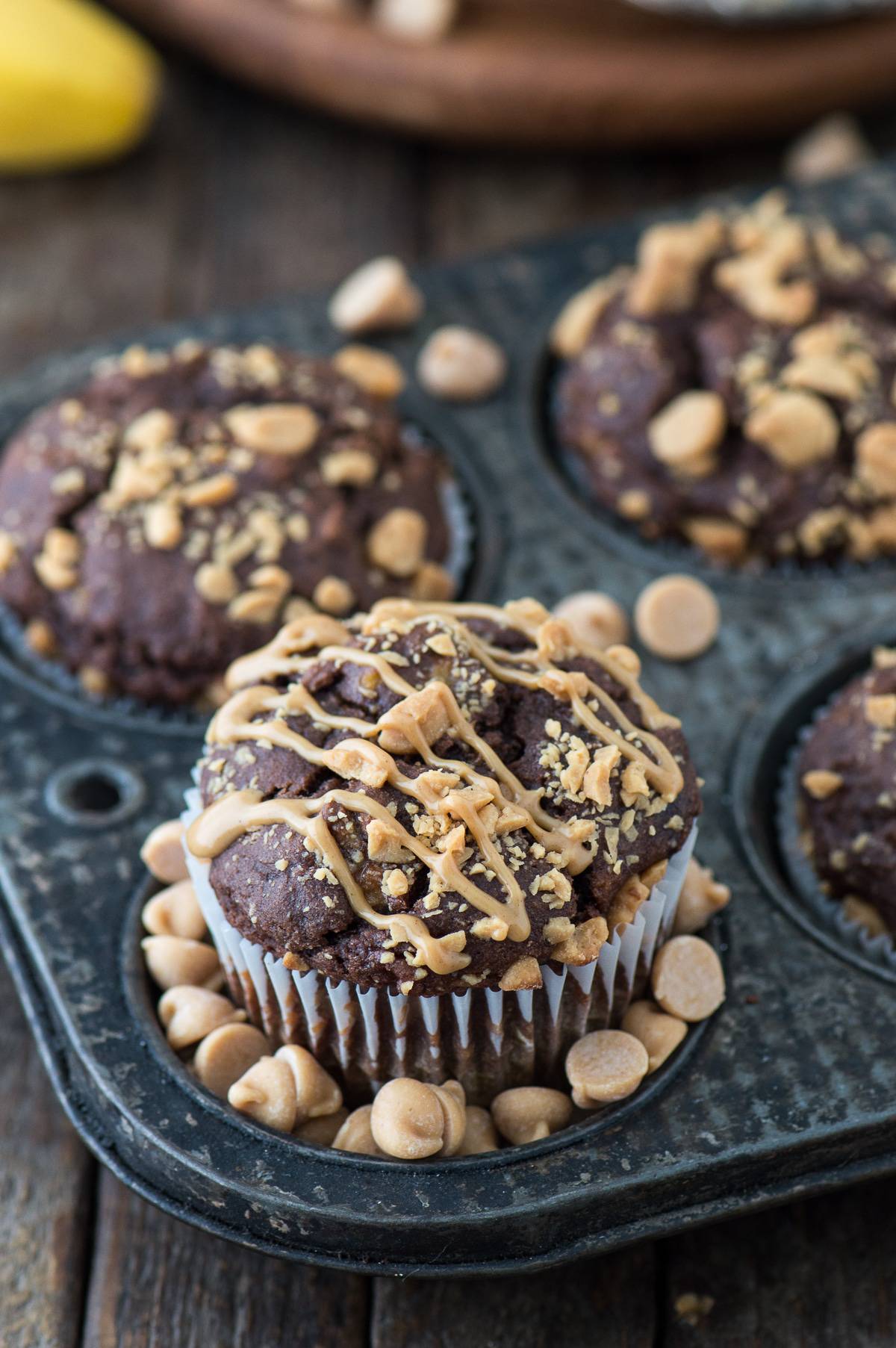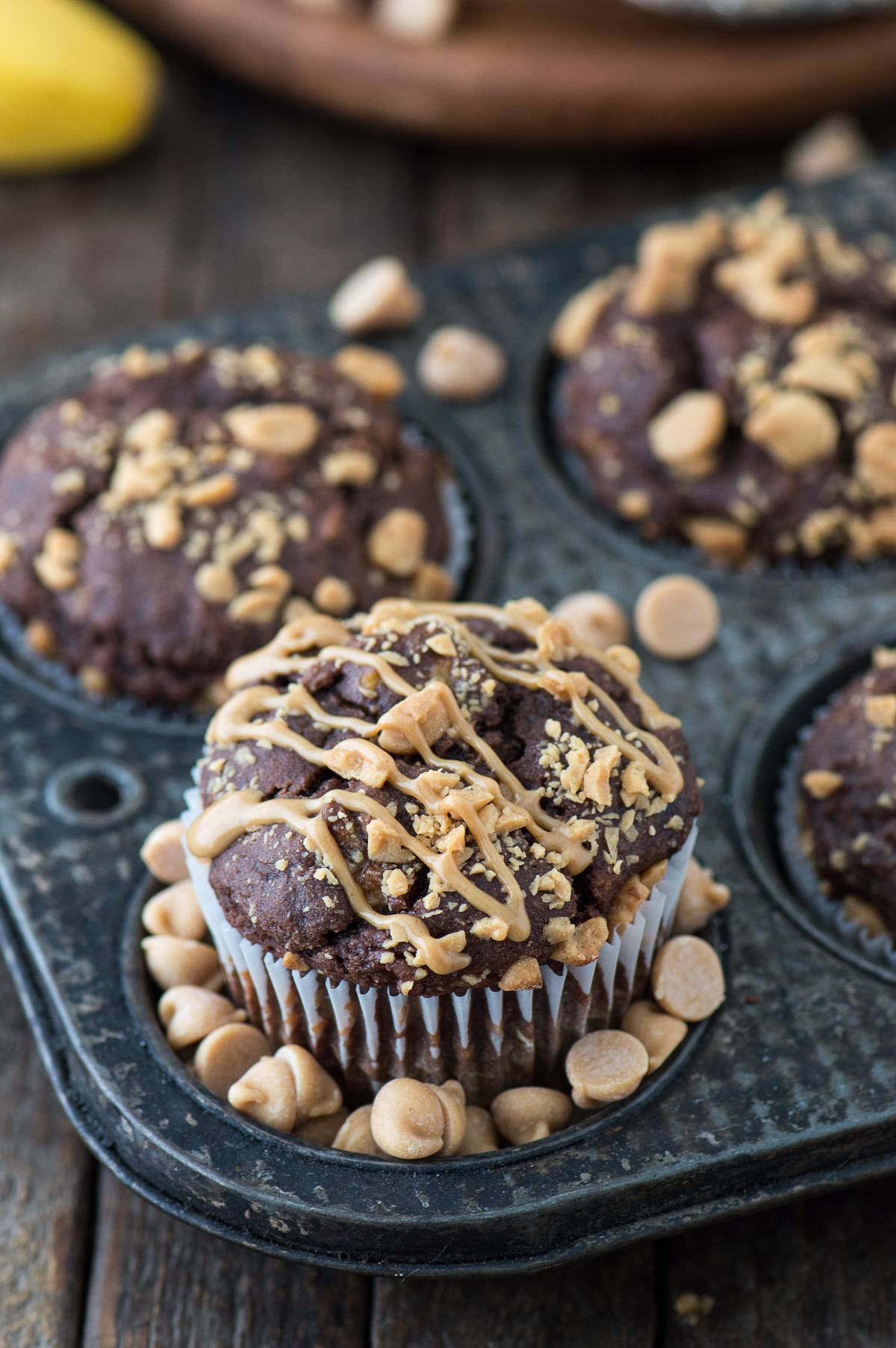 Peanut butter chips are severely under used. Wouldn't you agree?
Maybe it's because they don't melt and become all nice and gooey like regular chocolate chips. Have you experienced melty peanut butter chips? If you have, maybe I just don't bake with them enough!
Even if they don't melt the same way, I love the versatility of having them available. And of course they pair well with CHOCOLATE! Think with.. fudge, brownies, chocolate chocolate cookies, chocolate cheesecake, chocolate pancakes.. mmm :)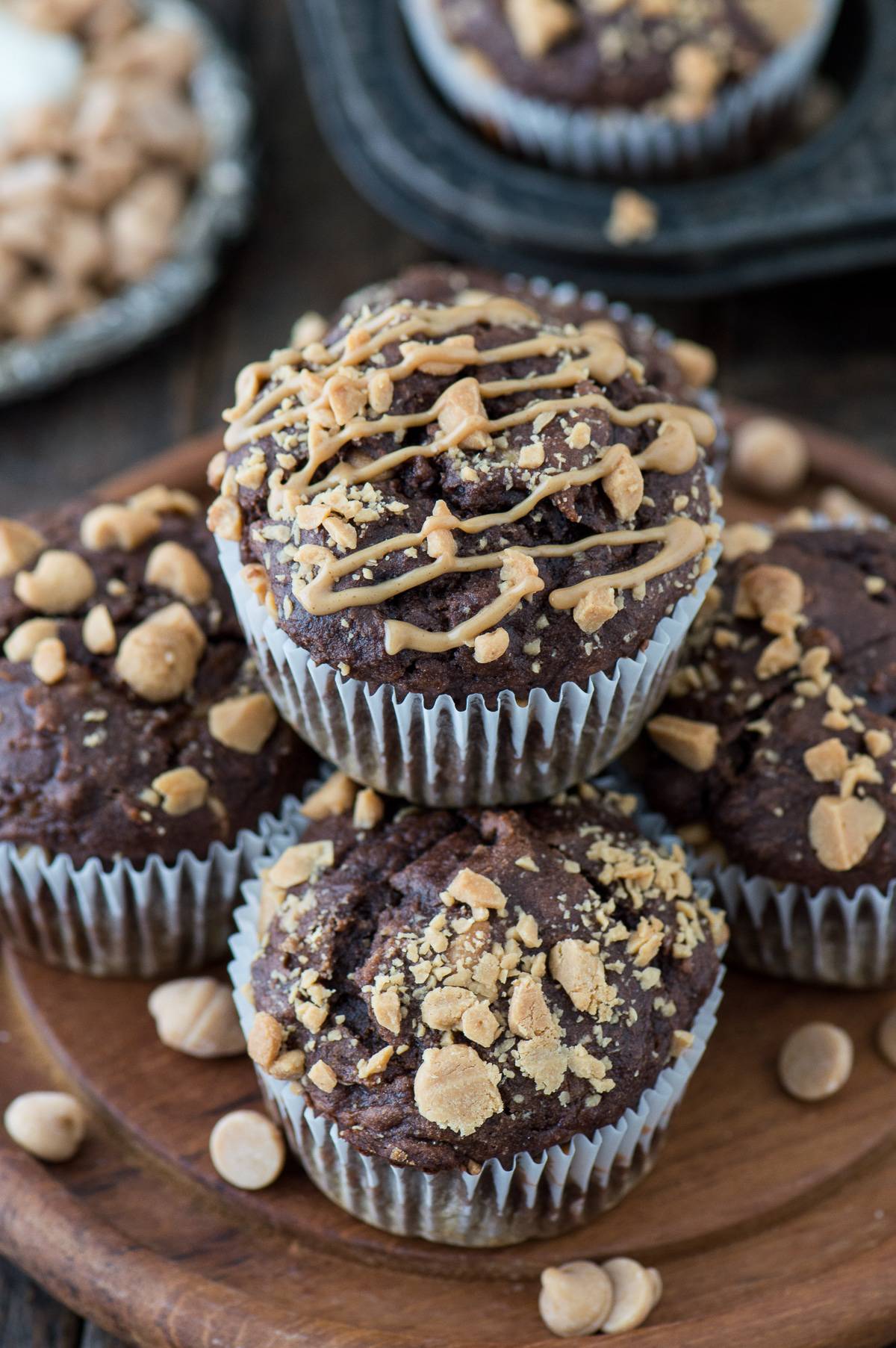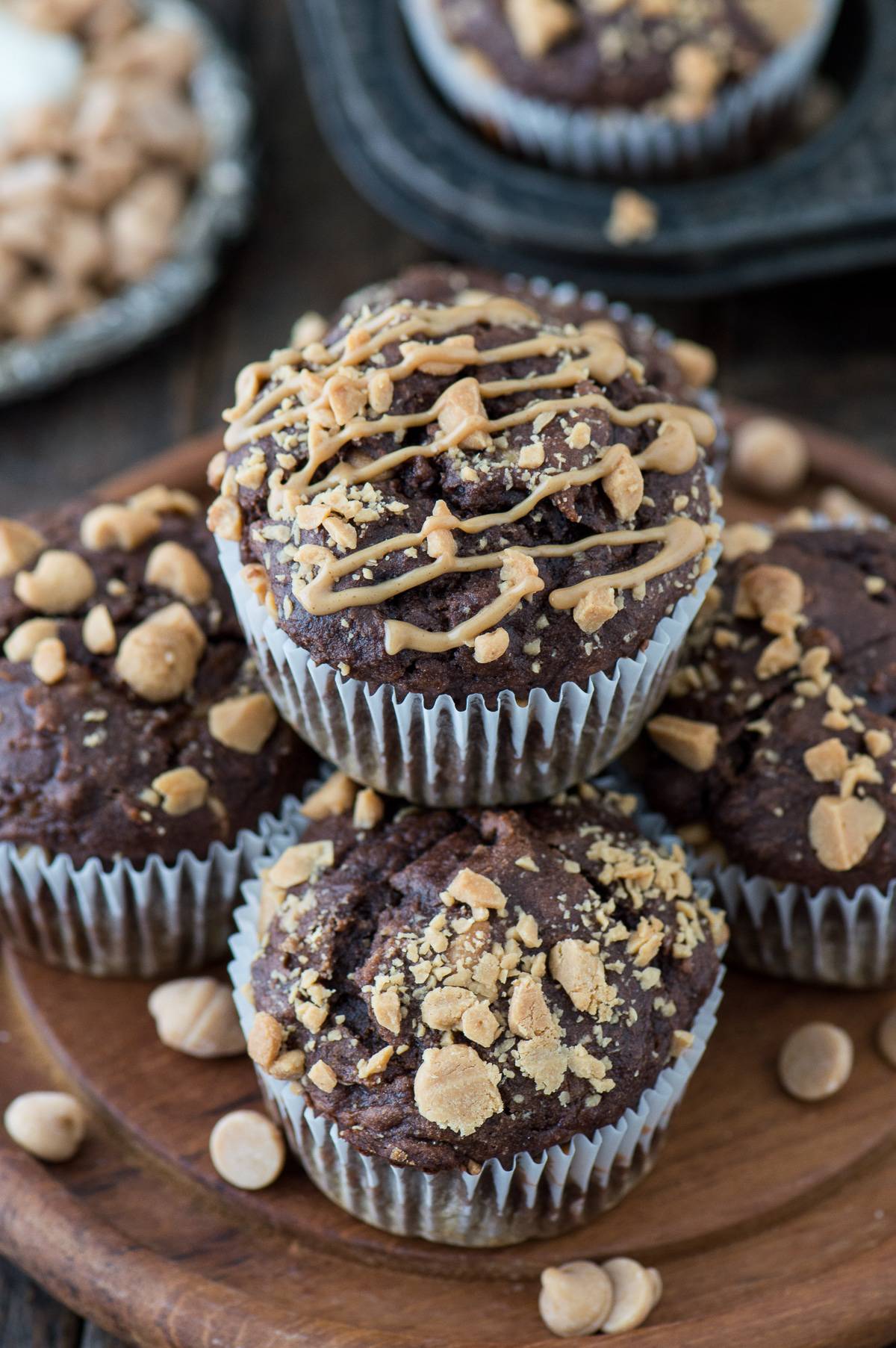 Because I am a true lover of mini things – I own 3 mini muffin pans, 3 mini loaf pans, a mini cheesecake pan, and mini cake pans! – I wish peanut butter chips came in mini size! Mini chocolate chips are my favorite and I use them all in the time in place of regular sized chocolate chips. I think I love the mini's because then you don't get too much chocolate in one bite, everything is evenly distributed, and of course with mini's you can add more of them!!
I suppose I could use something called a knife and a cutting board to chop the peanut butter chips up smaller, but that means more dishes to do and I always opt out of that when possible!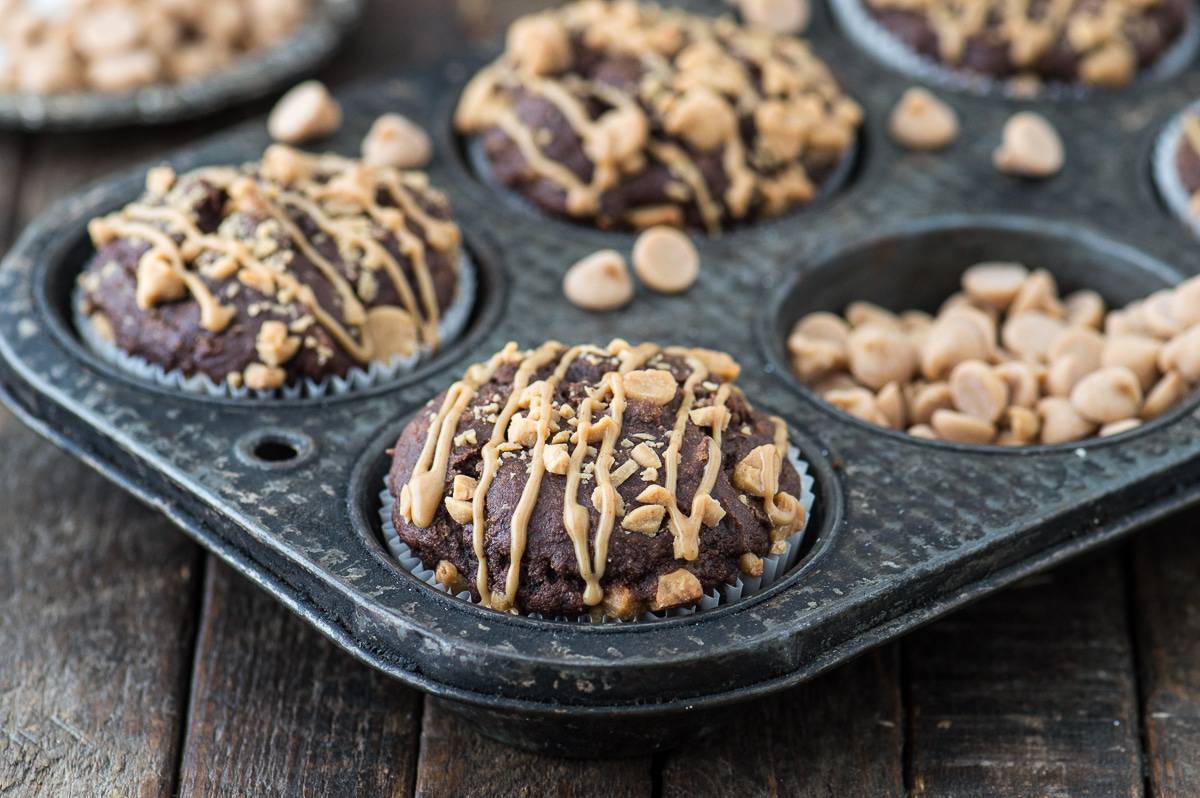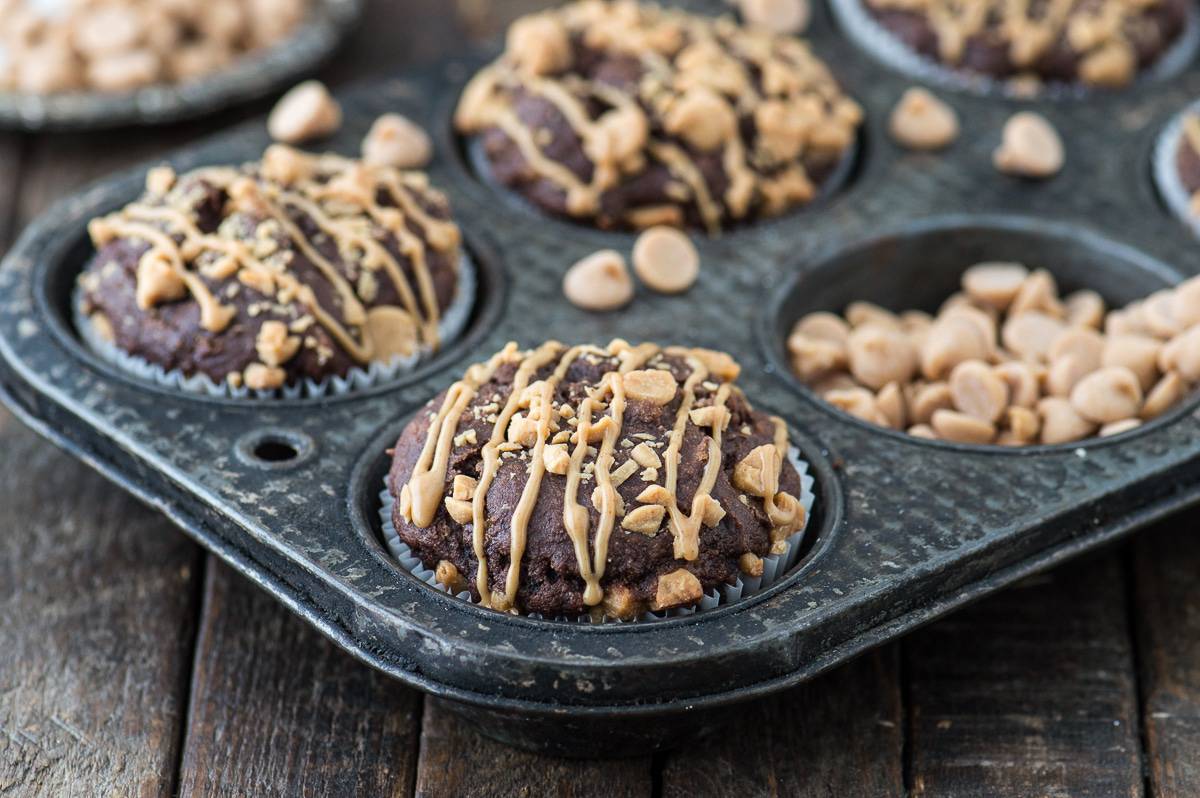 This recipe is super simple because it calls for ingredients that we always have around the house – flour, eggs, vanilla extract, creamy peanut butter, cocoa powder, and baking soda. We almost always have bananas, greek yogurt, honey, peanut butter chips on hand too, but if you don't, add the ones you need to your grocery list!
I like to keep 4-5 bananas in my freezer. They will brown in the freezer anyway, that way I don't have to worry about buying super green or yellow ones at the store and needing them to brown overnight.. which I've tried using a brown paper bag, but one night doesn't seem to do it.
I topped the muffins with a few extra peanut butter chips and drizzled on some melted peanut butter to make these babies look extra enticing.. and I think it worked ;)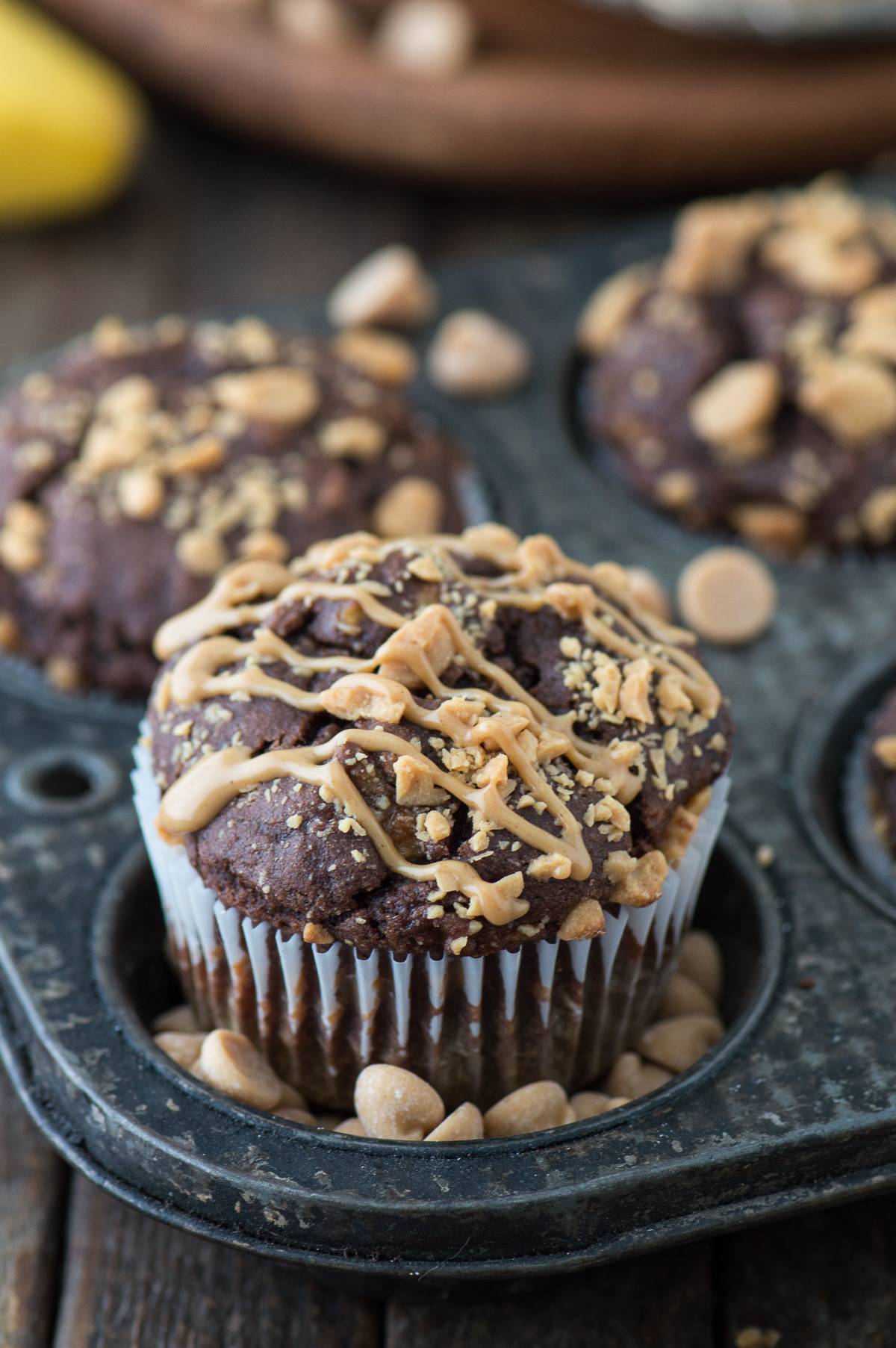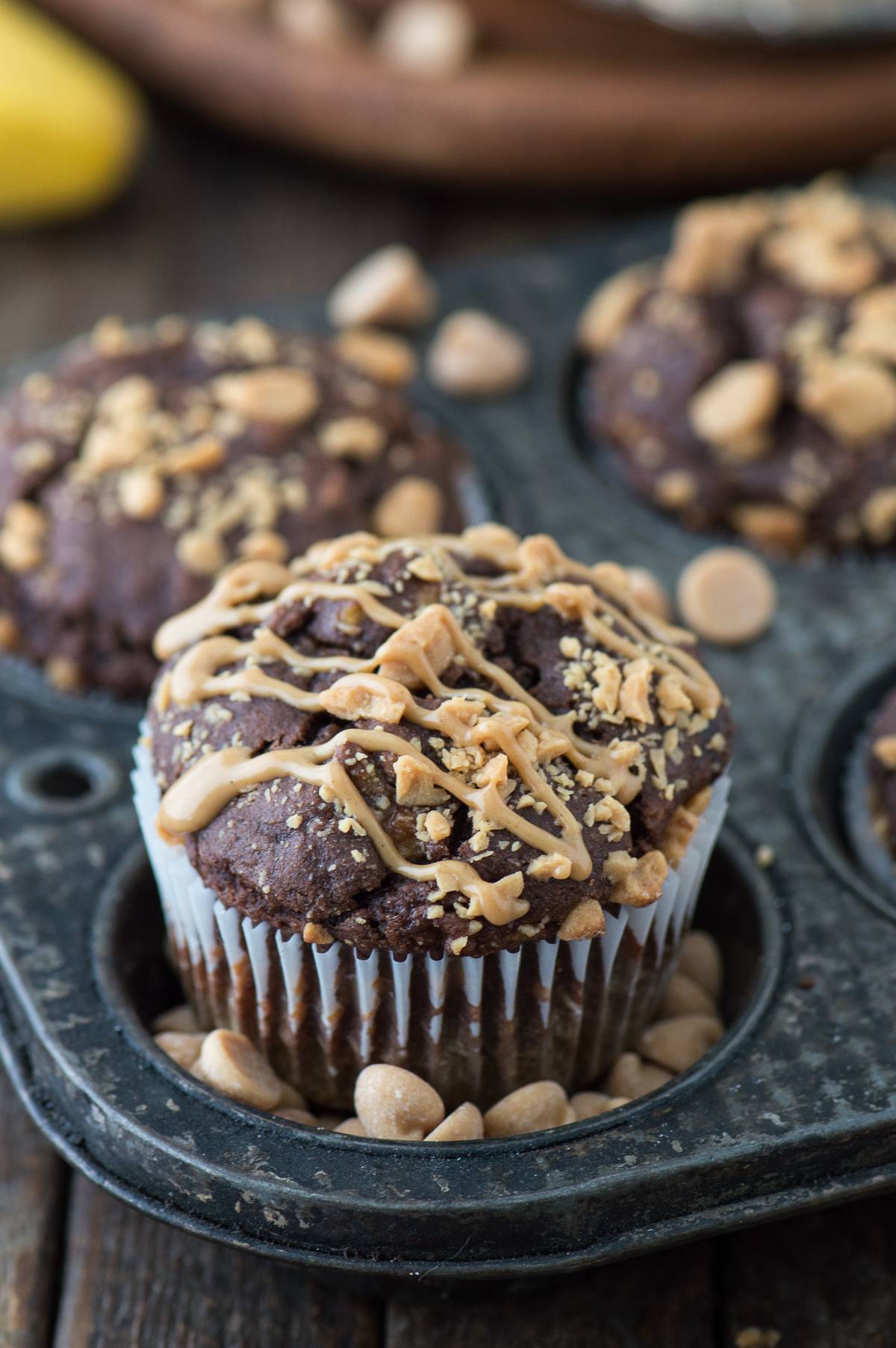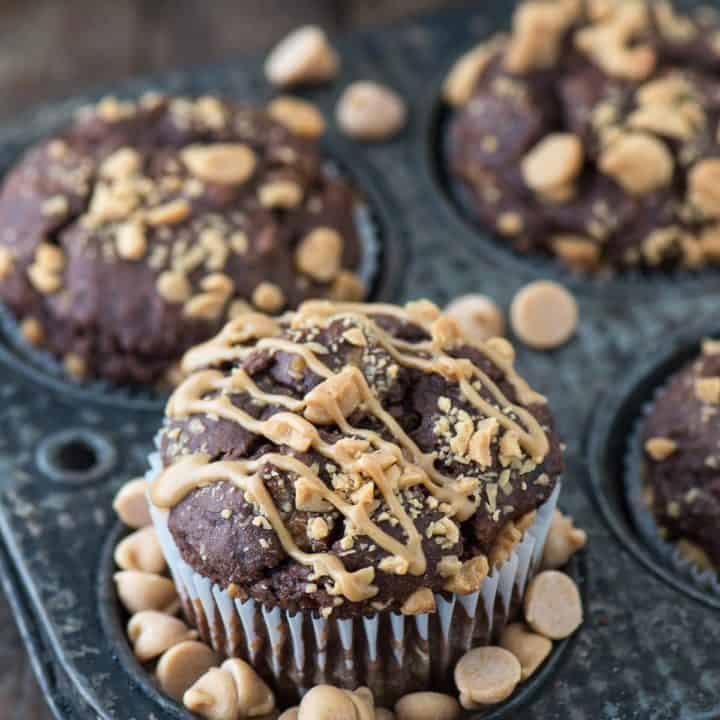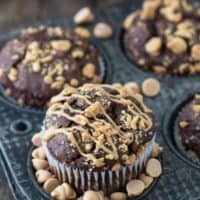 Healthy Chocolate Peanut Butter Chips Muffins
Healthy Chocolate Peanut Butter Chip Muffins made with greek yogurt, honey, and bananas!
Print
Pin
Rate
Servings: 12 muffins
Ingredients
3 bananas ripe
½ cup greek yogurt vanilla or plain
½ cup honey
1 tsp vanilla extract
2 tbsp creamy peanut butter
1 large egg
1 ½ cups all purpose or whole wheat flour
¼ cup cocoa powder
1 tsp baking soda
⅓ cup peanut butter chips tossed in small amount of flour
Instructions
Preheat the oven to 350º F.

Line a muffin pan with 12 liners.

In a blender or bowl, combine the bananas, greek yogurt, honey, vanilla, and peanut butter. Blend until smooth, 1-2 minutes.

Pour the blended mixture into a mixing bowl if you used a blender. Add the egg and mix in.

Add the flour, cocoa powder, and baking soda, mix until incorporated.

Add the peanut butter chips, mix.

Evenly divide the batter among the muffins cups. Add additional peanut butter chips to the top of each muffin if desired.

Bake for 17-22 minutes or until a toothpick inserted in the center comes out clean.

Cool in the pan 8-10 minutes before removing them.
Nutrition
Calories: 177kcal | Carbohydrates: 34g | Protein: 6g | Fat: 4g | Saturated Fat: 2g | Polyunsaturated Fat: 1g | Monounsaturated Fat: 1g | Trans Fat: 1g | Cholesterol: 17mg | Sodium: 123mg | Potassium: 230mg | Fiber: 3g | Sugar: 18g | Vitamin A: 43IU | Vitamin C: 3mg | Calcium: 22mg | Iron: 1mg