Great Green Pasta Sauce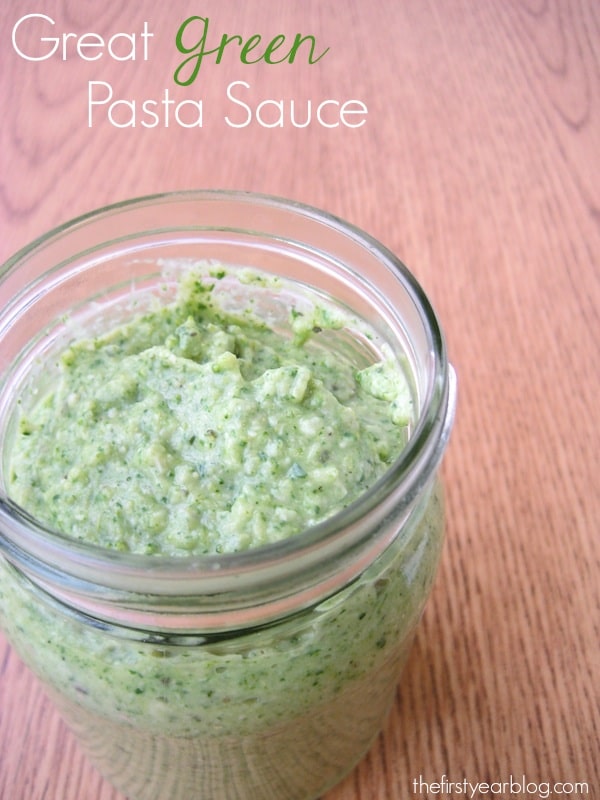 So you've heard of red sauce and white sauce, but have you heard of green sauce? I'm not talking about pesto (I love pesto and could put it on anything) – I am talking about mean-green-eat-your-veggies pasta sauce!
You really could sneak any vegetable into this pasta sauce. For example, we had some left over broccoli that needed to be used up, so I threw it into the food processor with everything else. Kale would be another great vegetable to incorporate in this recipe. When we have kids, I'll probably be the type of mom to sneak extra veggies into things – "Mom why are their peas in my cereal?" "Oh, those are just round mini marshmallows!"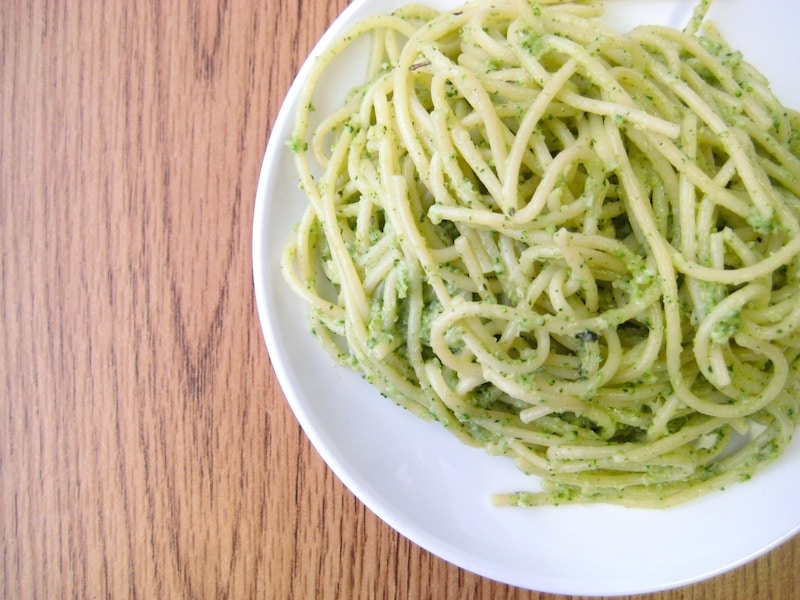 This recipe originally suggested adding some roasted tomatoes to the finished dish, but Ryan has an aversion to that red round vegetable, so it was a no-go at my house, but I think that would be a delightful addition.

Ingredients
For the sauce

12-16 oz. pasta
2 tbsp butter
1 tbsp olive oil
3/4 cup chopped yellow onion
3-4 cloves garlic, minced
1/2 tsp red pepper flakes
16 oz spinach
1 avocado, split and pitted
6 tbsp fresh basil leaves, packed
6 tbsp greek or plain yogurt
1/2 cup grated Parmesan cheese, plus more for serving
*Plus any additional green vegetables you want to add
Instructions
Cook pasta according to the package directions.  Drain, reserving 1/2 cup of the pasta water for use in the sauce.
While the pasta is cooking, melt the butter with the olive oil in a large sauté pan over medium-high heat.  
Add the onion and cook until softened, about 5 minutes.  
Stir in the garlic and red pepper flakes, cook about 1 minute more.  
Add the spinach, cover the pan, and reduce the heat to medium.  (You may have to add the spinach a little at a time if there isn't room for all of it right away)  
Stir occasionally until all the spinach has wilted.
In a food processor or blender combine the onion-spinach mixture with the avocado, basil, yogurt and parmesan.
Process until the mixture is smooth, adding a small amount of pasta water as necessary to achieve a smooth consistency.  
Toss the sauce with the noodles and serve immediately. Add roasted tomatoes and additional parmesan, if desired.
https://thefirstyearblog.com/great-green-pasta-sauce/
Voila, great green pasta sauce! This recipe really makes a ton of sauce, so be prepared to share or freeze some of it, or cut the recipe in half.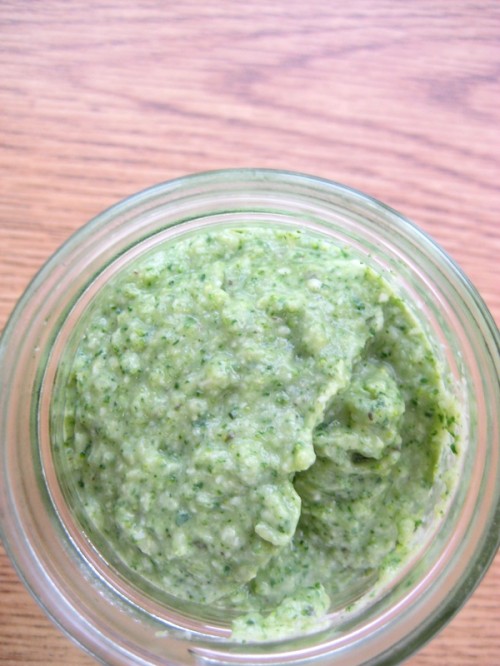 So, Sunday morning catch-up.. how was your week? It's always busy around here, but last night Ryan and I went star-gazing. There were clear skies and when I was getting home from work, I looked up and had a "Wow, I forgot there are stars in the sky" moment. You don't see a ton of stars when living in Minneapolis, but I guess that's one thing I like about the wide open corn fields of Illinois.