Gingerbread Pumpkin Parfaits
A delicious Thanksgiving treat that uses gingerbread cake and semi-homemade pumpkin pudding. They are incredibly easy to make!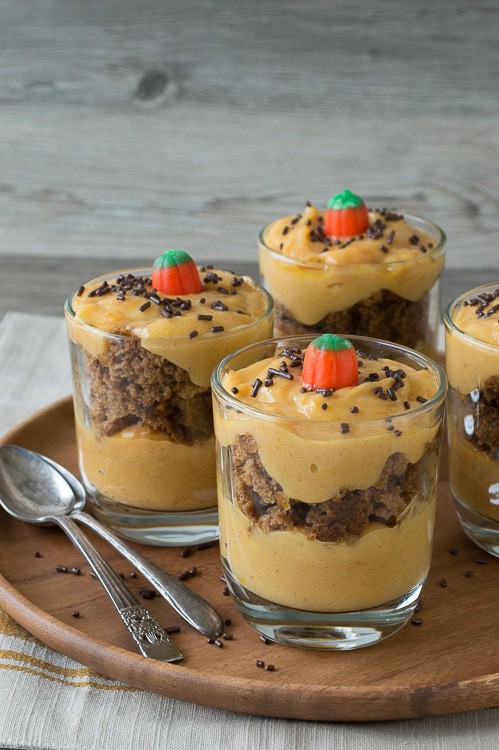 Who likes recipes that are really easy?
I'm talking about easy peasy, minimal ingredients and minimal directions kind of recipes!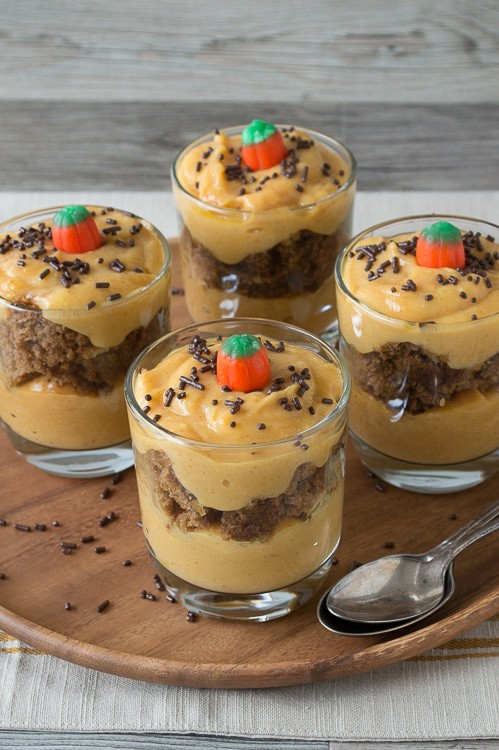 I think there are several different kinds of easy recipes..
1. recipes with 5 ingredients or less AND takes less than 35 minutes to make
2. slice and bake recipes, like refrigerated cookie dough, or mix and bake recipes like cake mix
3. buy it from the store and use it to make a recipe, like pumpkin pie filling and a ready-to-bake pie crust
See, all easy recipes. Let's embrace easy because easy is nice, especially with Thanksgiving approaching.
So what kind of recipe is today's recipe? Type #1 – technically this kind of easy recipe requires the most work compared to the other types of easy recipes, but it's also the type that contains the most love because it's still homemade :)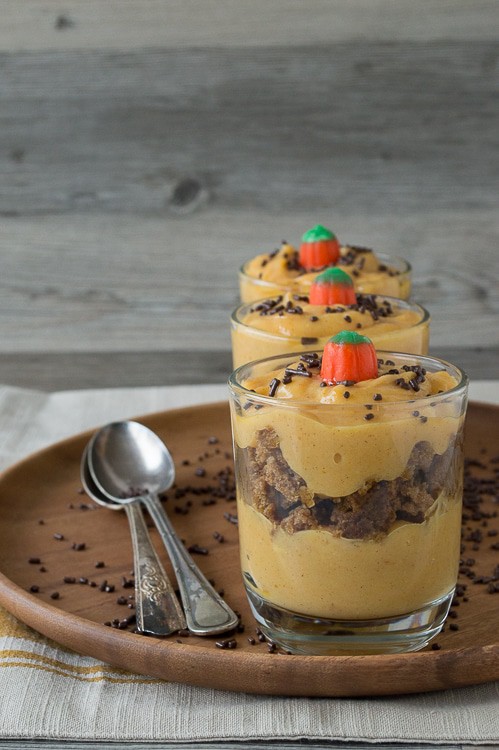 Even though Pumpkin Month is over, pumpkin recipes are still popular.. I mean what's everyone's favorite dessert on Thanksgiving?! Pumpkin pie!
This recipe is a mash up of everyone's favorite fall flavor, pumpkin and a popular Christmas flavor, gingerbread!
Yep! I said the C word in November… CHRISTMAS!! We might mention Christmas a lot this month because we all know that thanksgiving is really just preparing us for Christmas!

Gingerbread Pumpkin Parfaits
Ingredients
14.5 oz box of gingerbread cake mix, prepare as directed on the box and bake in a 9x13 inch pan
2 packages of instant vanilla pudding (3.3oz each), prepared as directed
1/2 15 oz can pumpkin puree
1/2 tsp pumpkin pie spice
brown sprinkles, to top
candy pumpkins, to top
Instructions
Prepare the cake mix as directed on the box, bake in a 9x13 inch pan.
While the cake is baking, prepare the vanilla pudding as directed on the box. Put in the refrigerator to set.
Once the pudding is set, combine the pumpkin puree and pumpkin pie spice with the pudding.
Once the cake is done baking, break half of the cake up into small pieces.
To assemble the parfaits, layer the pumpkin pudding mixture in the bottom of the glasses, then gingerbread cake crumbles, layered with more of the pumpkin pudding mixture. Top with sprinkles and a candy pumpkin. Serve immediately.
https://thefirstyearblog.com/gingerbread-pumpkin-parfaits/
Pumpkin and gingerbread are fantastic together. Smooth & creamy paired with spicy & sweet.
For this recipe we paired something kind of dry, gingerbread cake, with something moist, pumpkin pudding to give you the best of both worlds. I'm not picky when it comes to dry or moist things, but my husband is and I think it's totally funny because I say, just eat what you feel like eating! I don't ask myself, 'do I want a moist treat or a dry treat?' If you do have those (crazy) people in your family, I think this easy thanksgiving recipe will satisfy :)