Want our top 10 essential dessert recipes?
Get our favorite classic recipes in your inbox! It's 100% free, but we might make you hungry!
Garlicky Tomato and Eggplant Stacks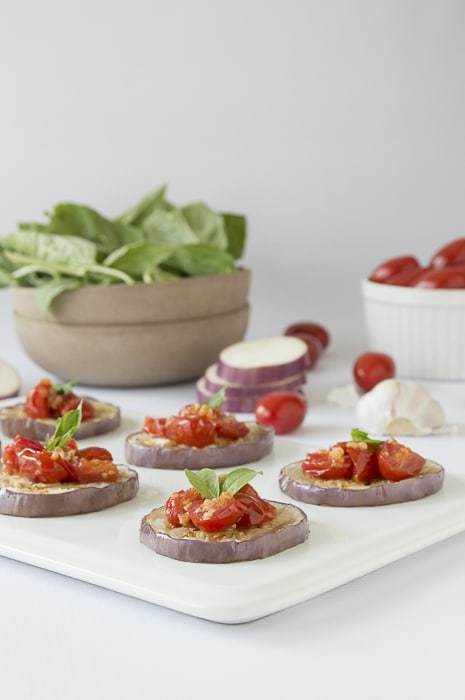 Raise your hands if you like tomatoes! **throws hands in the air**
I love fresh tomatoes, cooked tomatoes, canned tomatoes, tomato soup, and salsa.. that counts because it's mainly made of tomatoes, right?!
But, I do have to confess, I don't like whole cherry tomatoes. I don't like the way they burst in my mouth, it scares me every time! Is anyone else the same way? Good thing this recipes calls for SLICED cherry tomatoes :)
This recipe for garlicky tomato and eggplant stacks calls for eggplant, cherry tomatoes, garlic, parmesan cheese and fresh basil. Ingredients that you can find at any grocery store, right? Well.. not exactly.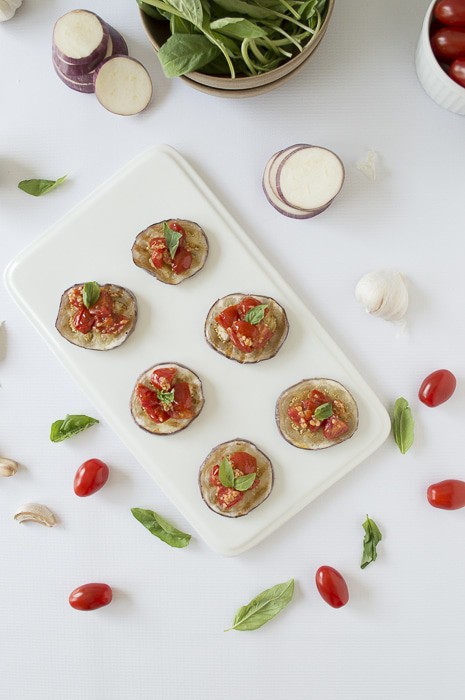 So I was going to use basil from our basil plant for this recipe, but I accidentally killed the plant, so I had to buy some at the grocery store. The first store I went to was all sold out because the basil was on super sale and everyone snatched it up before me. The second store I went to, I looked and looked for 15 minutes and I couldn't find the basil or an associate to ask, so no luck. The third store I went to had basil, but only extra large containers for like $10, and all I needed were a few baby pieces. So I gave in and bought the large container of basil because the recipe needed basil.
Food blogger friends, do you ever give in and buy some ridiculous item or spend more than you wanted to get the ingredients you need? I hope I am not alone!
While I was grilling the eggplant slices, I kept having to dodge our new neighbors. They are scary and fly around with menacing looks – I am talking about cicada killer wasps. The internet says that they don't sting unless provoked, but I would have felt much better if I had been wearing a bee suit while I was grilling. If you have any tips for getting rid of them, please tell me! I will give you the recipe for garlicky tomato and eggplants stacks in exchange :)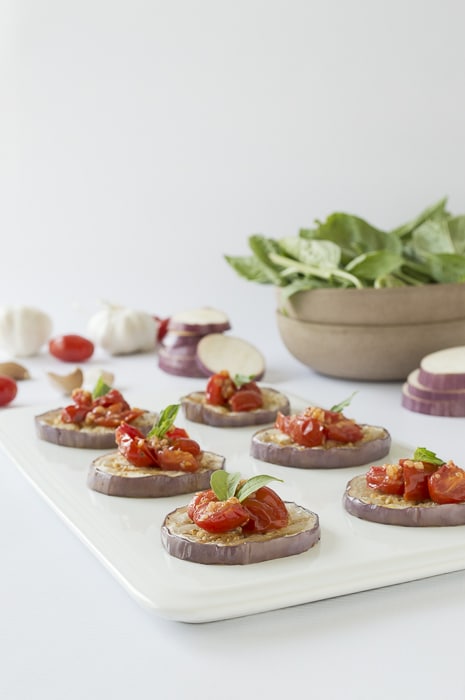 Don't forget, you can save our recipes to your Recipe Box and create meal plans by clicking "Save Recipe."

Garlicky Tomato and Eggplant Stacks
Ingredients
1 eggplant
2 tbsp olive oil, plus extra for brushing
2 garlic cloves, minced
2 handfuls of cherry tomatoes, sliced in half
Baby basil leaves, enough to top each stack
Salt and pepper
Shaved parmesan cheese
Instructions
Heat a grill or griddle to medium. Slice the eggplant into 1/4 to 1/2 inch thick slices, brush them with olive oil and season with salt and pepper.
Grill the slices for about 3-5 minutes on each side, transfer to a dish to keep them warm.
Heat the olive oil in a medium pan over medium heat and cook the garlic for 1 minute. Add in the tomatoes and sauté for 7-10 minutes, until soft.
Arrange the eggplant rounds on a serving platter, top each one with a spoonful of tomatoes/garlic, top with a basil leaf or two and sprinkle with shaved parmesan cheese.
Recipe adapted from 500 Appetizers by Susannah Blake
https://thefirstyearblog.com/garlicky-tomato-and-eggplant-stacks/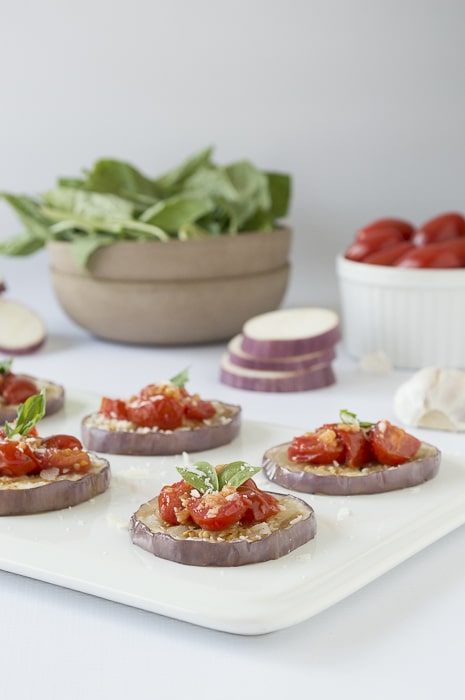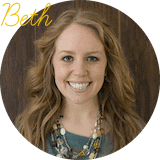 Similar recipes:
Carrot Salad with Pearl Onions and Parsley
and
Summer Vegetable Carpaccio