Want our top 10 essential dessert recipes?
Get our favorite classic recipes in your inbox! It's 100% free, but we might make you hungry!
Garlic Butter and Cheddar Scones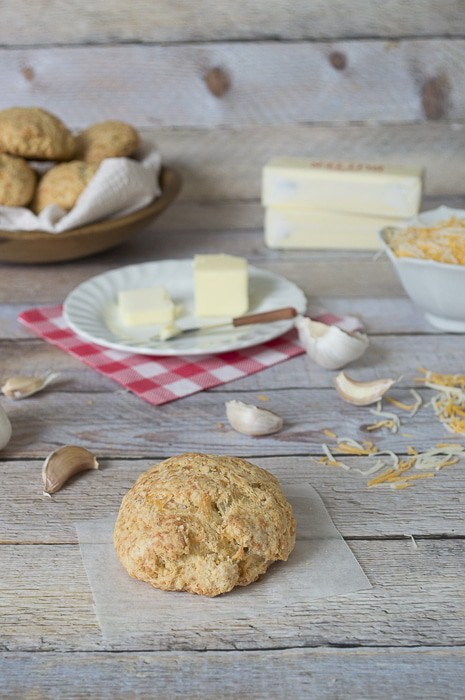 Oh my deliciousness. My mouth is already salivating thinking about these garlic butter and cheddar scones.
Bread. Cheese. Butter. Garlic. Am I speaking your food love language?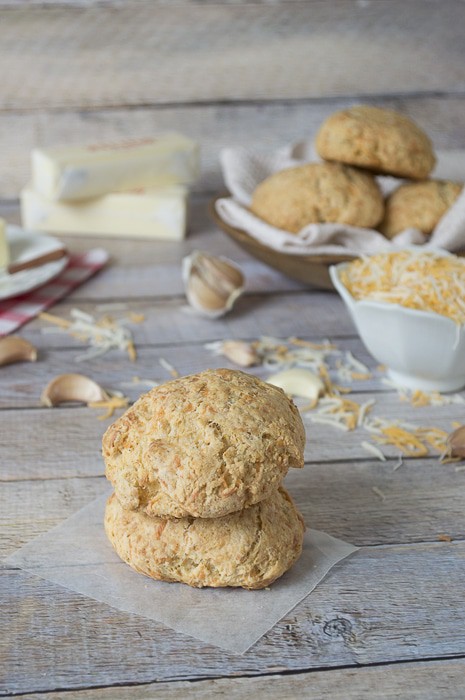 These scones are best paired with 2 words..
fried chicken.
I don't care if it's from KFC or if I have to dig out the imaginary deep fryer.. whenever I whip up these scones I turn into a mishmash of Paula Deen and "The Colonel".
Given the butter in the background of my pictures, I'll just start endorsing Paula's butter melting dish now.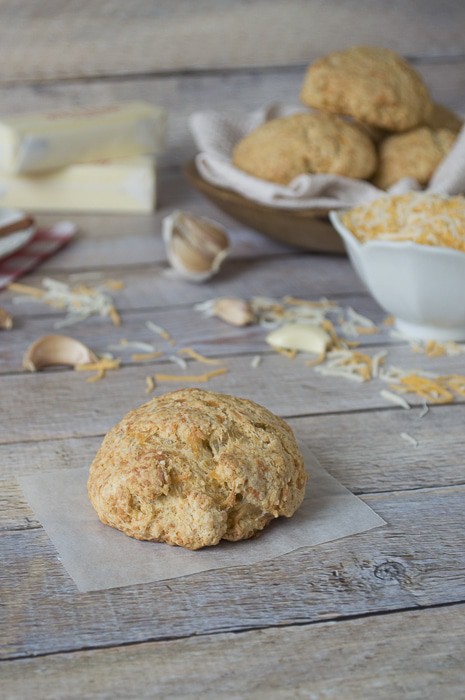 But in all seriousness, this recipe only has 4 tbsp of butter. Plus if you use whole wheat flour and low fat yogurt, you're already on your way to healthier savory scones!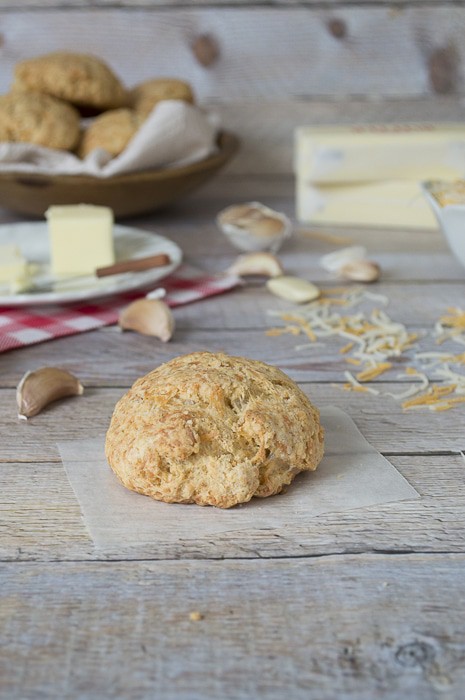 As much as I adore these scones with fried chicken, we love them with pasta too.

Garlic Butter and Cheddar Scones
Ingredients
3/4 cup all purpose flour
3/4 cup whole wheat flour
2 tsp ground mustard
1/4 tsp paprika
1/4 tsp chili powder
2 tsp baking powder
1/2 tsp salt
1 tsp brown sugar
1 garlic clove, minced
4 tbsp butter, cut into cubes
1 cup cheddar cheese, shredded
1 egg
1/4 cup plain low-fat yogurt
Instructions
Preheat the oven to 400 degrees F and line a baking sheet with a silpat or parchment paper.
Mix the flour, ground mustard, spices, baking powder, salt, and brown sugar in a bowl.
Add the garlic and butter, then use your hands to combine it into the dry ingredients until the butter is mostly gone.
Add in the cheese and mix.
In a separate bowl mix the egg and yogurt. Add this to the dry ingredients, and stir or use your hands to combine until a soft dough forms. The dough may seem dry, but keep kneading and all of it will combine.
Divide the dough into 6 equal balls and flatten with your hand so they are about 3-4 inches wide.
Place them on the baking sheet and bake for 20-23 minutes.
Recipe adapted from Short & Sweet
https://thefirstyearblog.com/garlic-butter-and-cheddar-scones/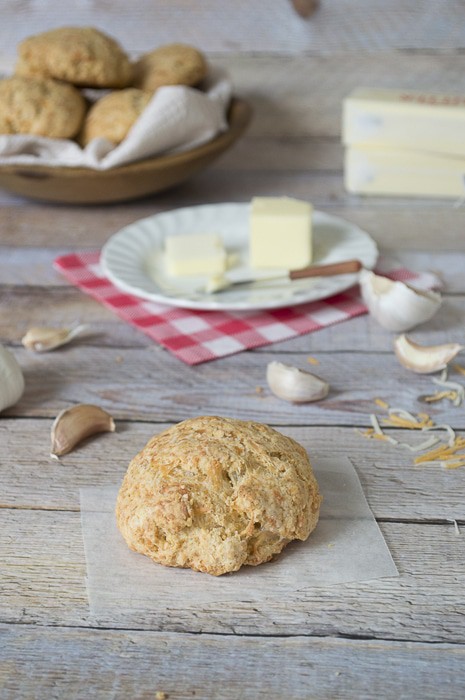 Sunday dinner is all set – pair these cheesy, buttery scones with one of our favorite pasta dishes –
mostaccioli
or
sun dried tomato spinach pasta
.