Garden Vegetable and Feta Muffins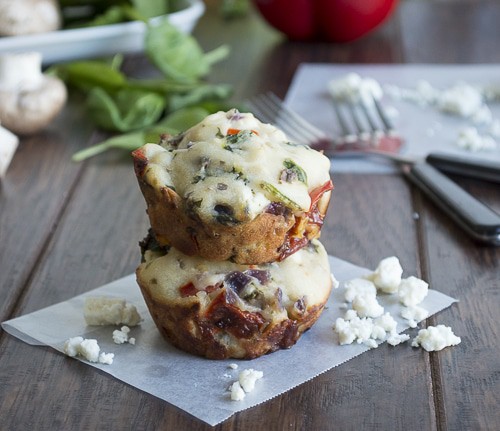 Are you dreaming about your summer garden around this time of the year?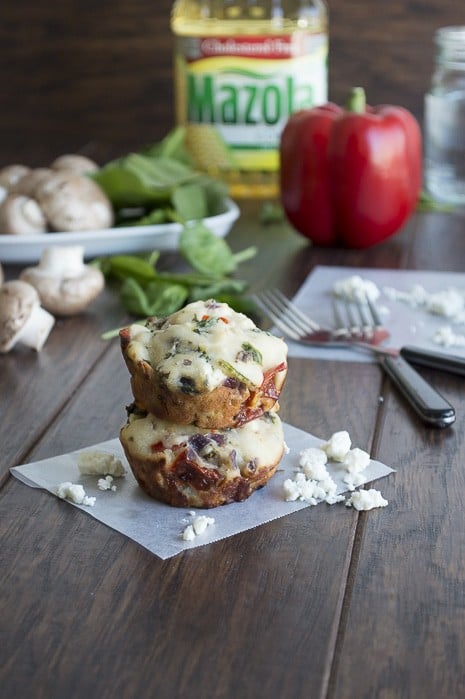 I know I am. Well, I'm dreaming of being a better gardener.. last year my garden only consisted of basil.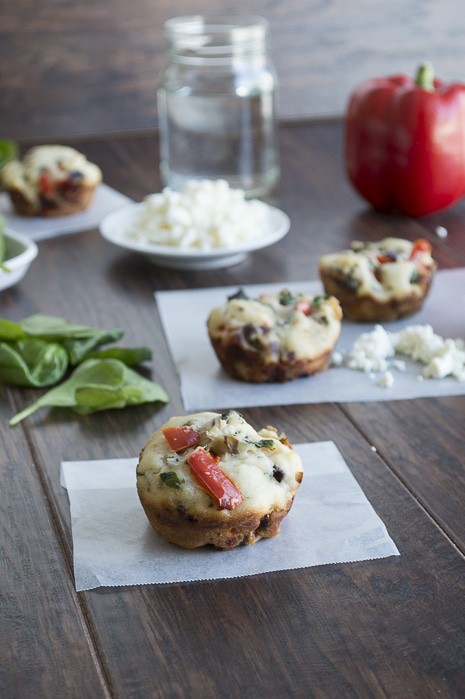 If I was a better gardener, I would somehow make my garden grow these Garden Vegetable and Feta muffins perfectly packaged and ready to eat.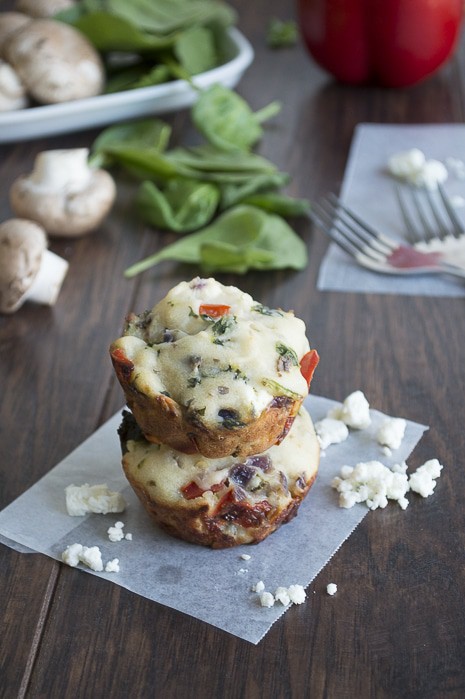 Let's talk about the vegetables packed in these muffins: mushrooms, red bell pepper, onion, and spinach.
I'm not sure about you, but usually the only way I will eat all of those things is in a salad, covered in vinaigrette.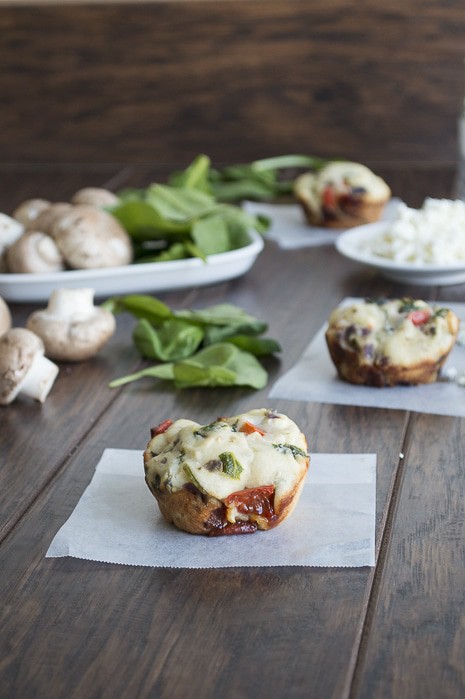 But this is a fantastic, wholesome recipe if you're looking to eat more vegetables or change up your vegetable routine.
Using Mazola Corn Oil in this recipe is also a great healthy choice because it is cholesterol free, 100% pure corn oil made with zero grams of trans fat. And you can replace it in any recipe where you would use oil without noticing a taste difference!
Mazola has an awesome recipe collection, and I actually pinned a couple of recipes to try later. You can view their collection here.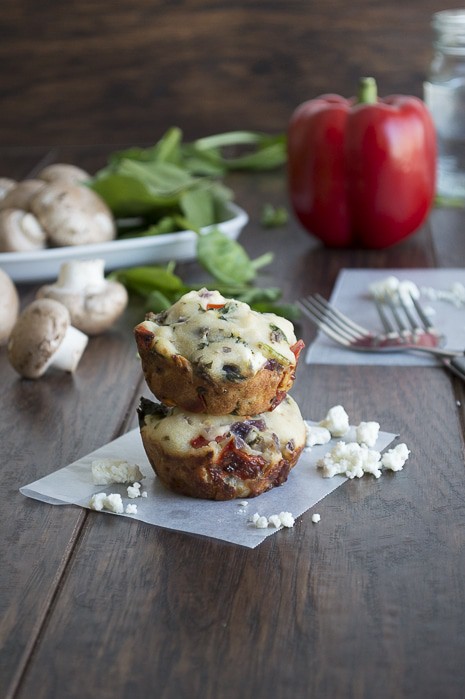 These Garden Vegetable and Feta Muffins are perfectly delicious and go great with hot soup, creamy pasta, or paired with your favorite meat.

Garden Vegetable and Feta Muffins
Ingredients
2 tablespoons Mazola® Corn Oil
1/2 cup chopped onion
5-6 mushrooms, sliced
1/2 medium red bell pepper, chopped (about 3/4 cup)
4 cups packed fresh spinach, finely chopped
1 tsp garlic salt
2 & 1/2 cups all-purpose flour (or substitute 1 cup whole wheat for 1 cup all-purpose)
1 envelope rapid rise yeast
2 tbsp sugar
1 tsp salt
1 & 1/4 cups very warm water (120º to 130ºF)
1 tablespoon Mazola® Corn Oil
1/2 cup crumbled feta cheese
Instructions
Heat 2 tablespoons of oil in a large skillet over medium heat.  Add onion and cook for 2 to 3 minutes. 
Add mushrooms and bell pepper and cook until tender, about 5 to 6 minutes. 
Add spinach and garlic salt and cook for 1 to 2 minutes just until spinach is wilted.  Place vegetables in a colander to drain any excess liquid.
Combine 1 & 1/2 cups flour, undissolved yeast, sugar and salt in large mixer bowl. 
Add water and 1 tbsp oil; beat 2 minutes on medium speed.  Gradually add the remaining 1 cup of flour to make a stiff yet sticky dough. 
Stir in the vegetables and feta cheese. 
Portion dough into 12 generously greased muffin cups using a scoop (do not use paper liners). 
Put the muffin pan in the oven, which should be OFF, and let the dough rise for 20 minutes, it may not rise a whole lot.
Remove the pan and preheat the oven to 375 degrees F. Once ready, put the pan in and bake for 20 to 25 minutes.
Let the pan cool on a wire rack for 5 minutes. Remove muffins from the pan.  Serve warm.  Refrigerate any leftovers.
*These can be frozen. Thaw in the refrigerator before using and microwave for 15 to 20 seconds and serve immediately.
Recipe adapted from Mazola.
https://thefirstyearblog.com/garden-vegetable-and-feta-muffins/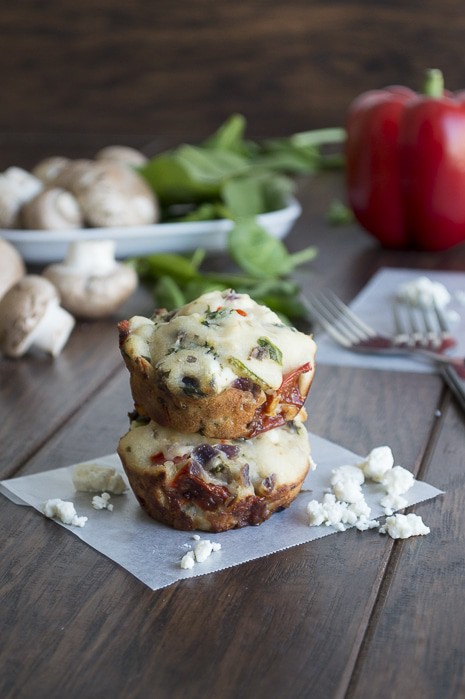 A new study shows Mazola Corn Oil lowers cholesterol more than extra virgin olive oil. Try it today for sautéing, stir frying and baking. Go to
Mazola.com
to learn more.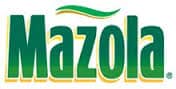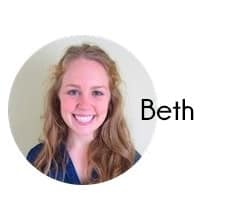 Disclosure: Compensation was provided by Mazola via Glam Media. The opinions expressed herein are those of the author and are not indicative of the opinions or positions of Mazola.