Want our top 10 essential dessert recipes?
Get our favorite classic recipes in your inbox! It's 100% free, but we might make you hungry!
Funfetti Cheesecake Popsicles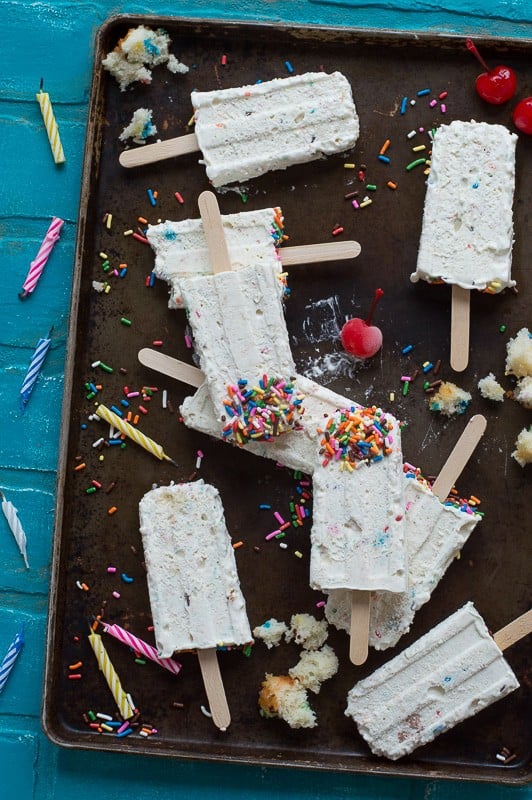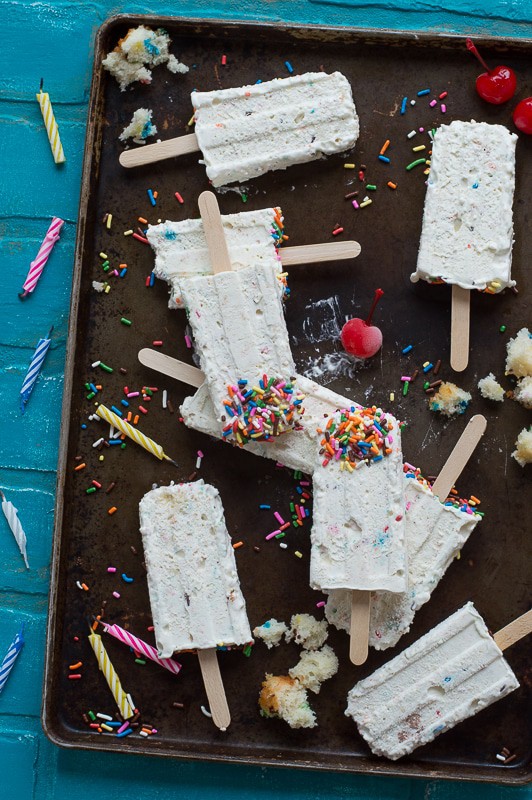 When we were visiting family in Minnesota last month, my mom gave me the best present ever.
Beat up old cookie sheets!
She's been baking with them for years, so they are scuffed up and worn in. Trash to some but a food blogger's dream. A beat up old cookie sheet is like equal to gold in my eyes. In fact, if my mom didn't have some for me, I'd probably try to get someone to sell me their old cookie sheets. Yeah, I'd pay money for those!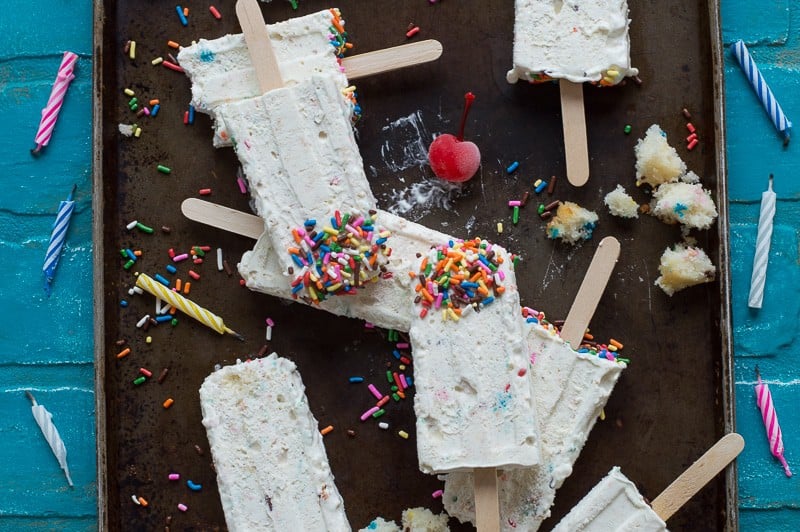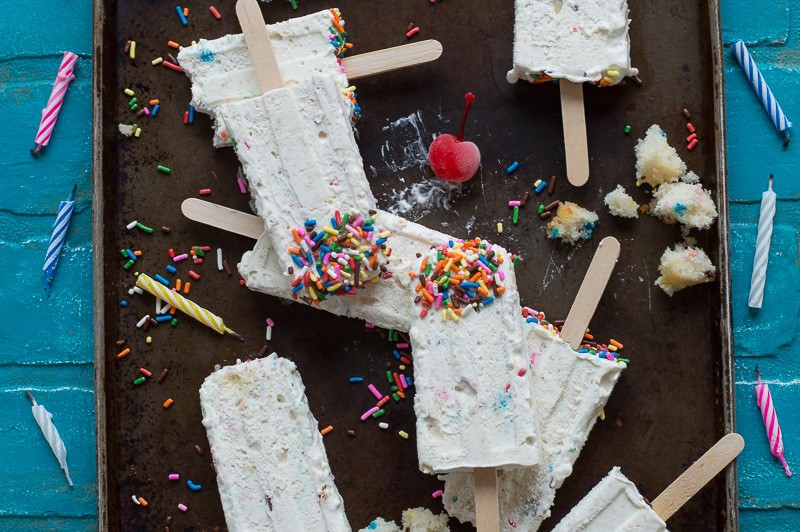 So beat up cookie sheets are the perfect surface to shoot popsicles on. The cookie sheet contains the mess and I don't have to worry about my backgrounds getting dirty, soggy, or sticky :)
I've also been using the cookie sheets as stand in cake plates and as backgrounds. Every time my mom and I talk, she'll mention how she saw her cookie sheets in a shoot, and I think she's happy that I love them so much. THANKS MOM!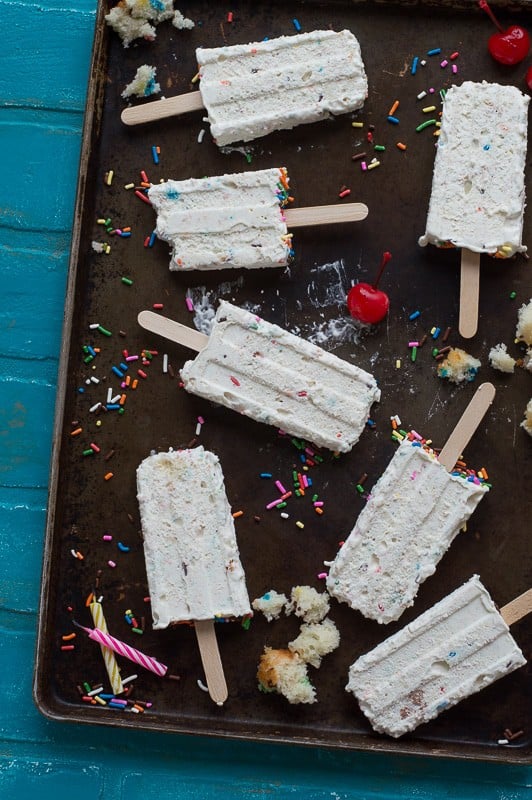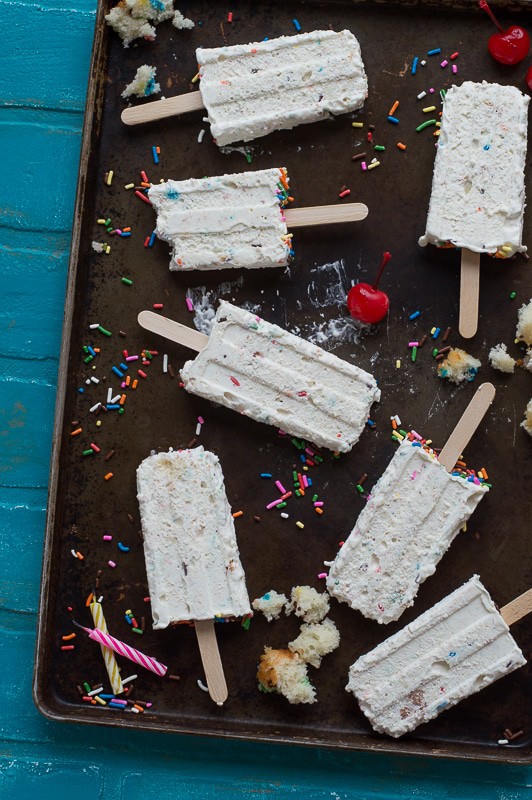 My friend Lindsay makes the most amazing looking ice cream cakes. I just drool every time I'm on her site. I was reading that instead of using regular ice cream in her cake she uses a combination of cream cheese and cool whip, and when frozen, it practically tastes like ice cream! I've been wanting to give it a try, so with my birthday approaching I baked up some homemade funfetti cake and boom – funfetti cheesecake popsicles were born. With extra sprinkles of course :)
Ingredients:
Funfetti Cake (Note: This recipe will make one 8 inch cake or two 6 inch cakes.
 6 tbsp butter, softened
 2/3 cup sugar
 3 egg whites
 1/2 cup sour cream
 1 tsp vanilla extract
 1 cup + 2 tbsp all purpose flour
 1 & 1/2 tsp baking powder
 1/4 tsp salt
 1 tbsp jimmies sprinkles
Cheesecake Ice Cream
4 oz cream cheese, softened
1/2 cup sugar
2 tbsp milk
1 tsp vanilla
12 oz cool whip (1 and 1/2 containers)
Directions:
Funfetti Cake
Preheat the oven to 350º F. Using butter grease the bottom and sides of an 8 inch round cake pan or two 6 inch pans, line the bottom with a round piece of parchment paper. To ensure even baking, place a bake even strip around the pan. You can make your own homemade bake even strip by cutting a towel or shirt to fit the size of your pan. Get the fabric really wet, then squeeze out the dripping water but do not squeeze it too dry. Secure the fabric around the pan with a safety pin.
In a mixing bowl, combine the butter and sugar, beat using an electric mixer until fluffy. Add in the egg whites, beat again.
Add in the sour cream and vanilla extract, mix until smooth.
In a smaller bowl, combine the flour, baking powder and salt, gently mix with a spoon. Gradually add half of the flour mixture to the wet ingredients, do not dump it in, rather take spoonfuls of the flour mixture and gently shake it over the wet ingredients, as if you were sifting in the flour. Fold in the mixture until no flour remains. Repeat with the other half of the flour, folding it in and scraping the sides and bottom of the bowl to incorporate everything.
Add in the sprinkles and mix gently.
Scrape the batter into the prepared cake pan, if using two 6 inch pans put about 1 & 1/4 cup batter in each. Use a spatula to evenly spread it out.
Bake for 23-25 minutes, or until a toothpick inserted in the center comes out clean. Using a bake even strip will slow down the baking time, so if your cake is still wobbly in the center, allow it to bake longer.
Once the cake is done, allow it to cool in the pan on a cooling rack for 10 minutes. After 10 minutes, carefully remove the cake from the pan. If using a springform pan, remove the sides and bottom. Allow the cake to cool completely on a cooling rack.
Cheesecake Ice Cream
In a mixing bowl, beat together the cream cheese, sugar, milk, and vanilla until smooth. Fold in the cool whip until it's incorporated.
Assembling the popsicles
Break the funfetti cake into smaller pieces and add it to the bowl with the cheesecake. Add as much or as little cake pieces as you'd like. You will have leftover cake.
Add in 1 tbsp of sprinkles then mix the cake and cheesecake mixture by hand until everything is blended.
Transfer the mixture into a popsicle mold. Insert wooden popsicle sticks. Allow the popsicles to freeze overnight.
To remove the popsicles, fill your kitchen sink with room temperature water. Carefully dip the popsicle mold into the water, allowing the popsicles to unstick to the sides of the container. Place the mold on the container and gently remove the popsicles. If they seem stuck, put the mold back in the water for a few seconds.
Wrap any extra popsicles in plastic wrap and store them in the freezer.
Our recipe for homemade funfetti cake makes either one 8 inch cake or two 6 inch cakes. I used almost an entire 6 inch cake to make these popsicles, so if you choose to bake two 6 inch cakes, you'll have one leftover that will be perfect for covering in frosting and eating!