Want our top 10 essential dessert recipes?
Get our favorite classic recipes in your inbox! It's 100% free, but we might make you hungry!
Espresso Chocolate Moose Cookies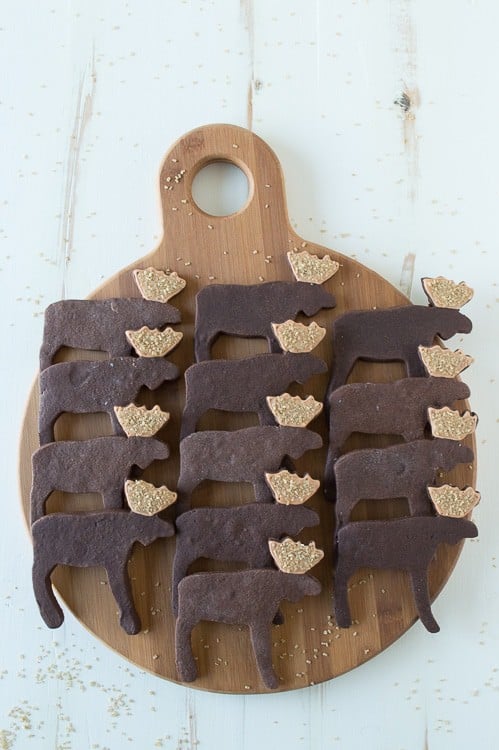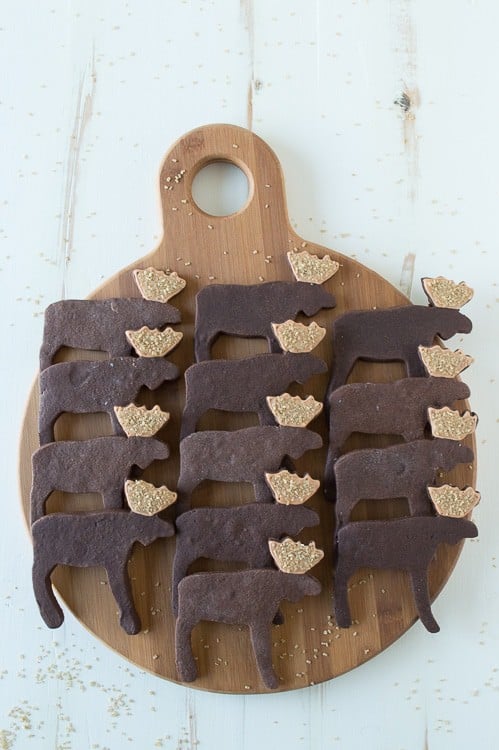 I'm sure we all have weird kitchen gadgets. Like a musical cake server that plays various songs. Or an asparagus peeler.. Um, I don't peel my asparagus.. should I be? Or a Sensor Fresh.. which is a really strange gadget that sniffs meat to determine if it is fresh or not.
We all have weird kitchen gadgets.. so where do you store yours? In that drawer? I'm talking about the junk drawer. Or the junk cupboard, perhaps :) Or how about that box that you don't really open, but you know exactly what's in it. That's how it goes in our house. We have a box. A junk box. Not a bad junk box, but a box that holds lots of things that we use occasionally.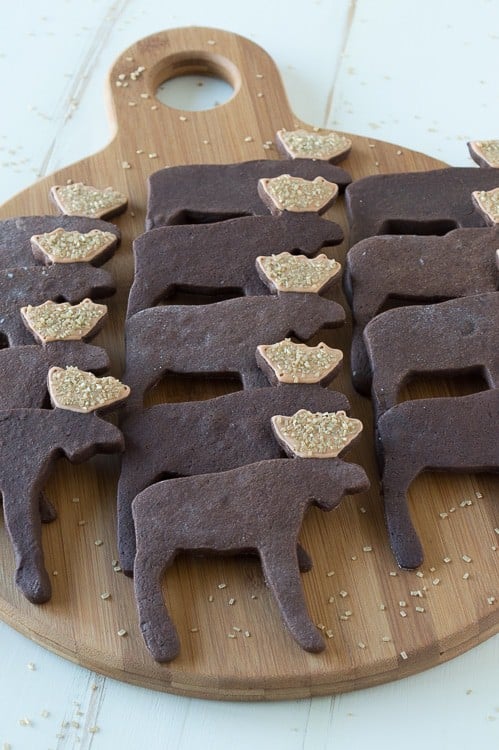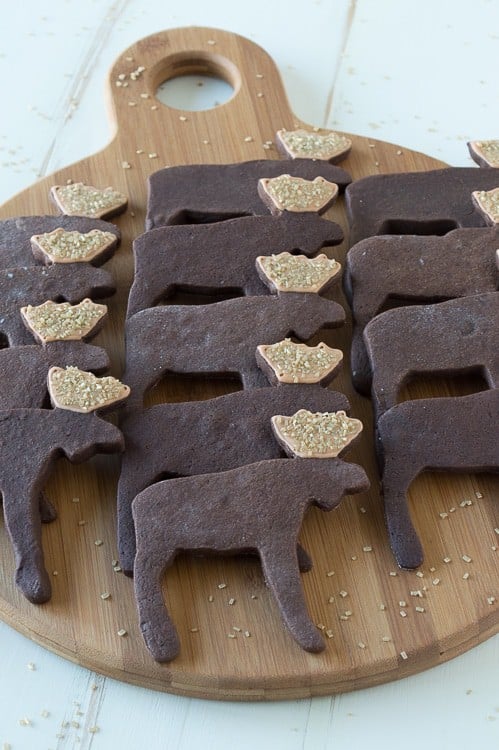 The moose cookie cutter I used to make this recipe would be the kind of item you could find in the box. But it actually never made it to the box.
Ryan went to Maine for a chemistry conference this past summer and he brought it home for me. How sweet, right? :) Well, the moose cookie cutter was too cute to go in the box.. so it went on top of the kitchen cupboards, to be displayed.
And the cookie cutter sat, and sat, and sat. Until I had an idea to use the moose cookie cutter to make espresso chocolate sugar cookies with gold sprinkles on the antlers. I think I secretly wanted to use the gold sprinkles more than I wanted to use the moose cookie cutter but now that I used the moose cookie cutter, I'm going to have to find more excuses to take it down from the top of the kitchen cupboards.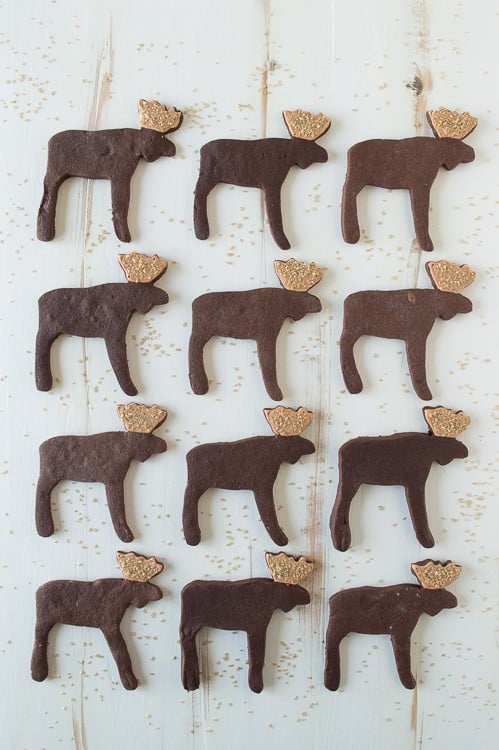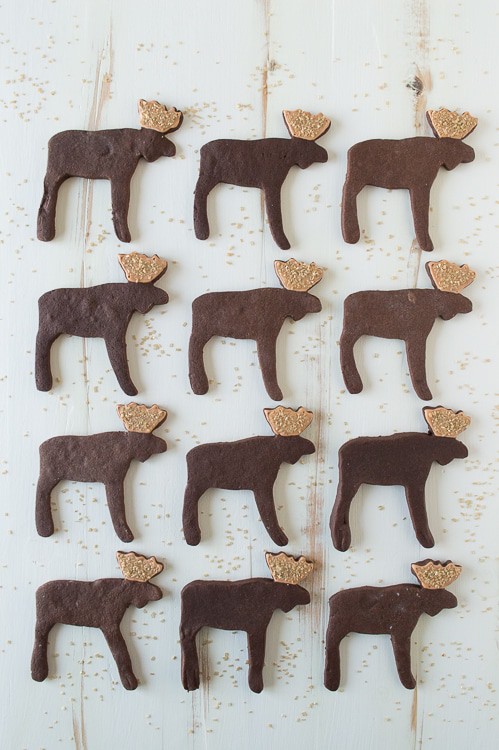 I couldn't find the exact moose cookie cutter I have online, but there are tons of cute options to choose from if you're looking to buy one. Before you dive into the recipe, I do want you to know that I recommend using the double freeze method when making sugar cookies. This will ensure that your sugar cookies don't expand or "melt" when baking.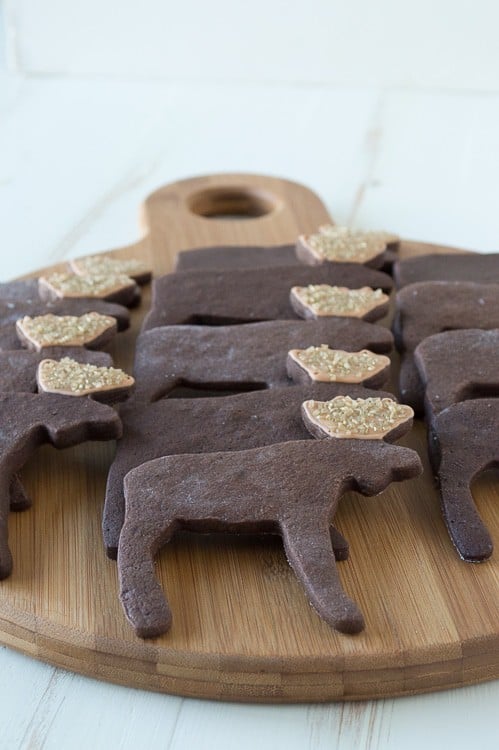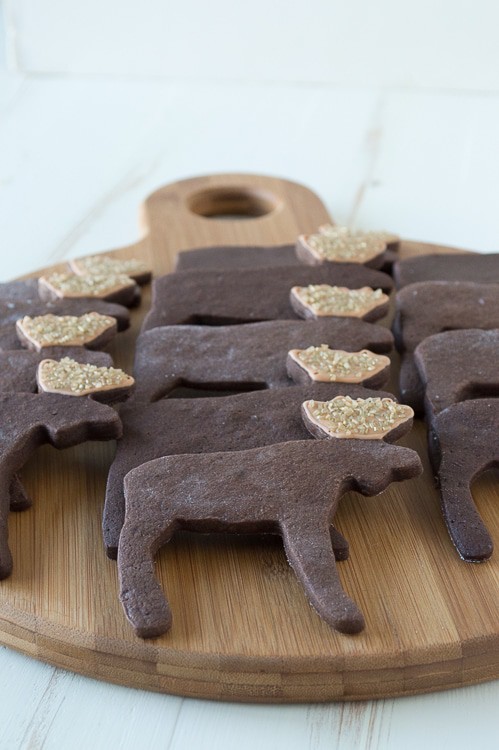 If you want this recipe to be more kid-friendly, I would suggest omitting or cutting back the amount of ground espresso, depending on what you feel is appropriate. But for my coffee loving friends, I'm sure you'll join me in dipping these cookies in a cup of joe :)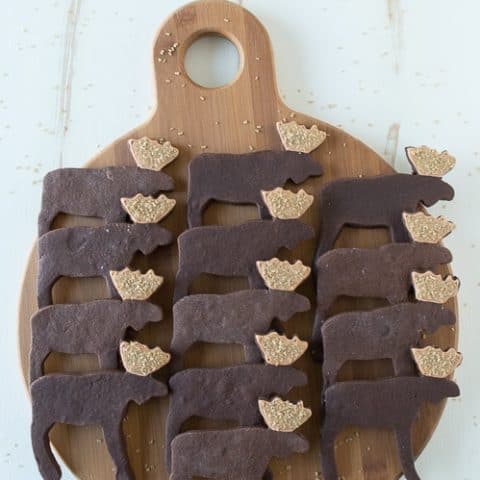 Espresso Chocolate Moose Sugar Cookies
Ingredients
Espresso Chocolate Sugar Cookies
1 & 1/2 cups all-purpose flour, plus more for work surface
1/2 cup plus 2 tablespoons unsweetened cocoa powder
1/8 tsp salt
2 tbsp ground espresso
1 & 1/2 sticks unsalted butter, room temperature
1 & 1/2 cups powdered sugar, sifted
1 large egg, lightly beaten
1/2 tsp pure vanilla extract
Royal Icing
2 cups powdered sugar
1 tbsp meringue powder
2.5 tbsp water
copper or brown food coloring
gold sprinkles
Instructions
Espresso Chocolate Sugar Cookies
In a bowl combine the flour, cocoa, salt, and espresso. Set aside.
In a mixing bowl, cream the butter and powdered sugar with an electric mixer until fluffy.
Add in the egg and vanilla, and beat to combine. Reduce the speed and gradually add the flour mixture, beating until the dough is just combined.
Gather the dough and wrap it in plastic wrap, place in the refrigerate for at least 1 hour, preferably longer or overnight.
Once the dough is chilled and ready, preheat the oven to 350 degrees F.
Roll the dough on a sheet of parchment paper sprinkled with flour. Roll to 1/4 inch thickness. Place the parchment paper on a cookie sheet and freeze the entire thing for 15 minutes.
Get another baking sheet and line that with parchment paper.
Remove the dough from the freezer and begin to use your cookie cutter to cut the shapes. Place the cookies on the second baking sheet, about 1 inch apart from each other and place in the freezer for 15 minutes.
After freezing again, bake the cookies for 8 minutes or until they feel crisp to the touch.
Repeat the above steps until all the cookie dough has been used.
Allow the cookies to cool completely on a wire rack before icing them.
Royal Icing
Combine the powdered sugar, meringue powder, and water in a mixing bowl and mix on low speed until the icing has a matte appearance, about 7-10 minutes.
Slowly add in the copper or brown food coloring to get your desired color.
Transfer some of the icing to a squeeze bottle and cover the remaining icing in the bowl with a damp washcloth. This is to prevent the icing from hardening.
Begin to outline the edges of the moose's antlers. It is best to have your arm and hand resting comfortably on a table. Continue until all of the antlers are outlined.
Clean the squeeze bottle as you will need it again.
Now we want to use the icing to flood and color in the antlers. In order to do that, you will need to add more water to the icing so the consistency is thinner. Add 1/2 tsp of water at a time, stirring by hand, until the icing runs off the back of a spoon.
Transfer some of the icing to the squeeze bottle. Begin to flood the inside of the antlers with icing, using a tooth pick to help spread the icing to the edges. You don't want to add too much icing, as this could cause the icing to overflow beyond the edges. Practice until you know how much icing you need. Immediately after flooding the antlers, add the gold sprinkles.
Continue to flood and add sprinkles to all of the antlers.
When all of the cookies are finished and set, store them in an air tight container.
Products used to make this recipe
(may include affiliate links)