Want our top 10 essential dessert recipes?
Get our favorite classic recipes in your inbox! It's 100% free, but we might make you hungry!
Coconut Chocolate Chip Oatmeal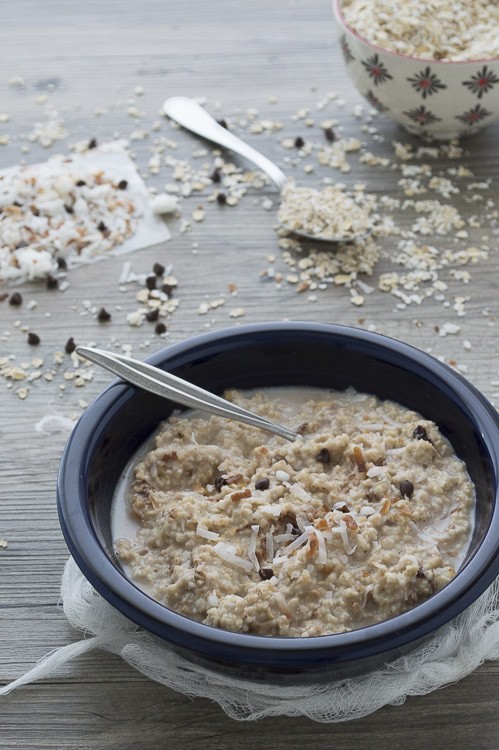 Let's talk oatmeal. I love it, do you? There are an infinite amount of flavor combinations. You could make your oatmeal creation with a subtle flavor or with a whole lotta craziness. Think about your kids going to town if you put them in front of a fully stocked oatmeal bar. I think I could see some flavor combinations involving gummy bears and marshmallows. Or if my husband was creating his own, there might be some sriracha involved, gotta get your spice at every meal I suppose!
My oatmeal creation would be this delicious combo, toasted coconut chocolate chip. Chocolate for breakfast, it's a thing, and I really like it. I would be okay with eating a little bit of chocolate at every meal. I am sure some of you completely agree! As for coconut, I've already revealed my love for the shredded fruit. It's great with kiwi ice cream and and in granola balls. And I go extra crazy if it's toasted. Here's a secret tip: I'll toast a big batch of shredded coconut and put it in freezer bags and stick it in the freezer for when I need it. So it's a no brainer that this is my favorite flavor combination.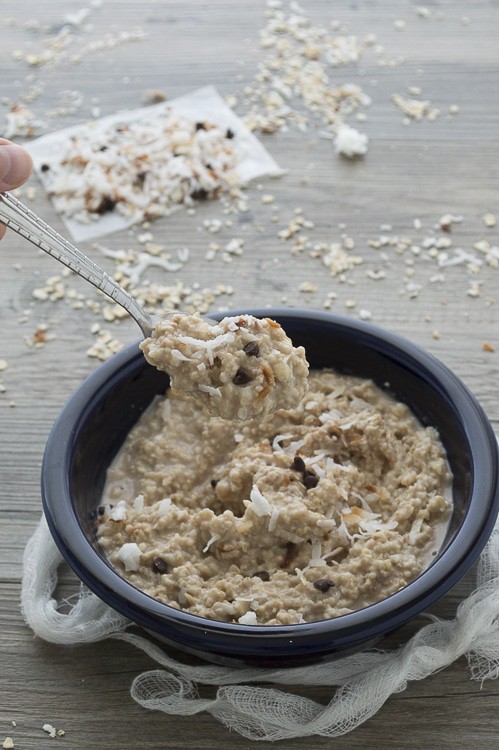 For the most part, there aren't any rules when it comes to oatmeal. I'm open to different flavor combinations, using steel cut and quick cooking oats, and using the microwave, stove, or crock pot to make oatmeal. But, I do have one rule, don't make it as thick as dough. No one can stomach that, even if its loaded with chocolate chips and toasted coconut. If you find that your oatmeal has become too thick, add in a little bit of milk and your back to having edible oatmeal :)

Coconut Chocolate Chip Oatmeal
Ingredients
1 cup quick cooking oatmeal
1 & 1/2 cups water
1 & 1/2 tsp coconut oil
1 tsp coconut sugar
1-2 tbsp toasted coconut, divide between 2 bowls
1 tbsp mini chocolate chips, divide between 2 bowls
milk, optional if too thick
Instructions
In a microwave safe bowl, mix the oatmeal and water and cook for 60 to 90 seconds, depending upon if you prefer runny or thicker oatmeal.
Mix in the coconut oil and coconut sugar, stir.
Divide the oatmeal into 2 bowls, and top the oatmeal with toasted coconut and mini chocolate chips.
https://thefirstyearblog.com/coconut-chocolate-chip-oatmeal/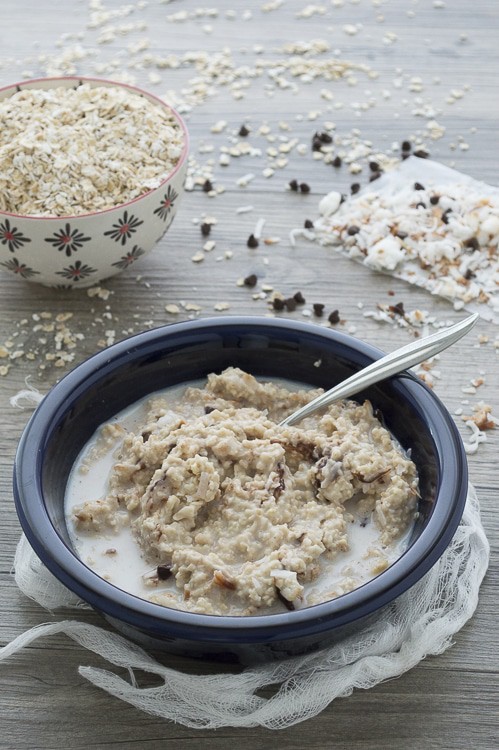 One of our other favorite oatmeal creations involves sautéed pears that are glazed in maple syrup, make it this weekend!