Classic Fruit Pizza
Easy fruit pizza recipe on a soft sugar cookie crust! A traditional cream cheese topping loaded with your favorite fresh fruit! Perfect fruit pizza for a crowd!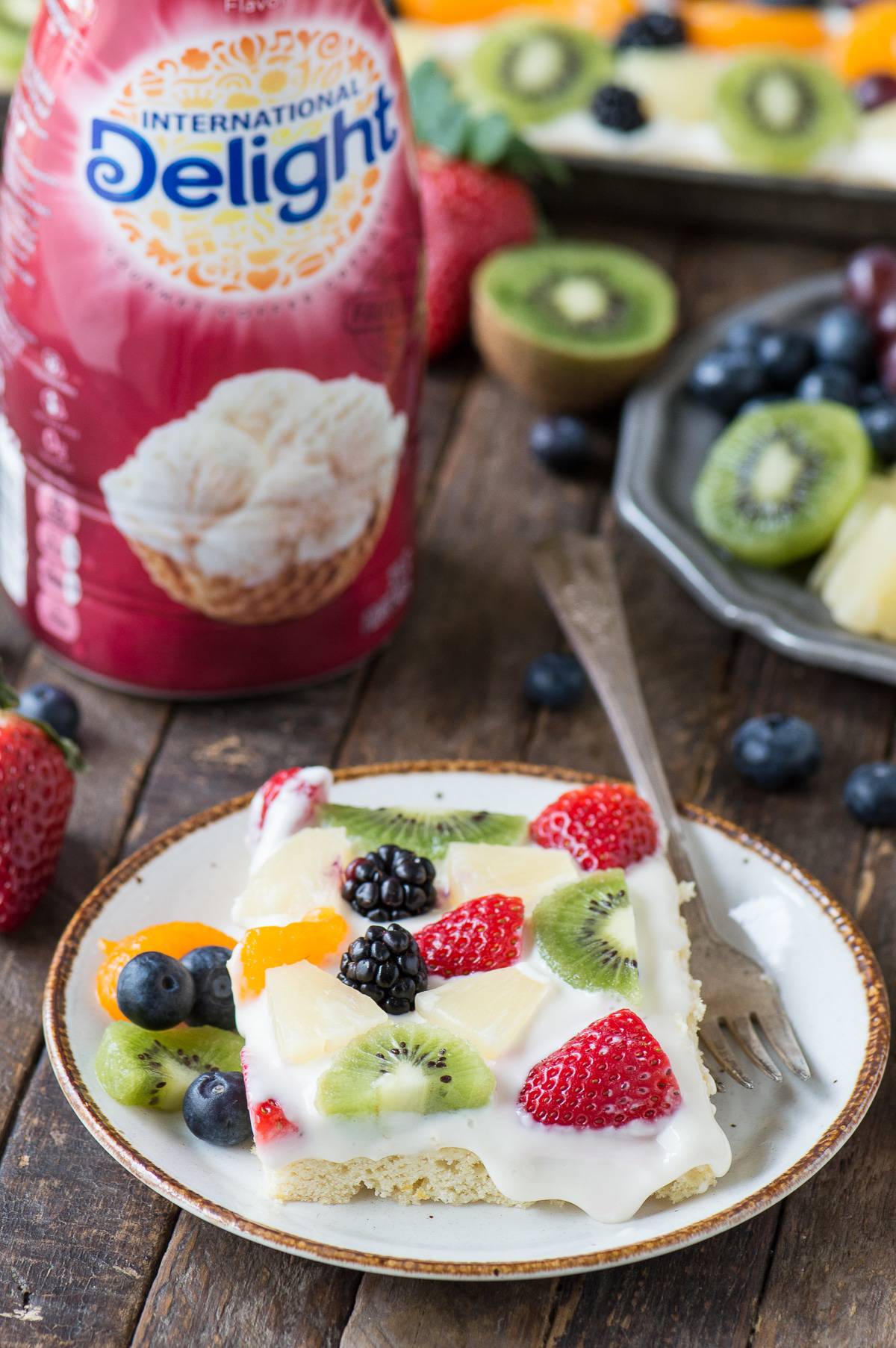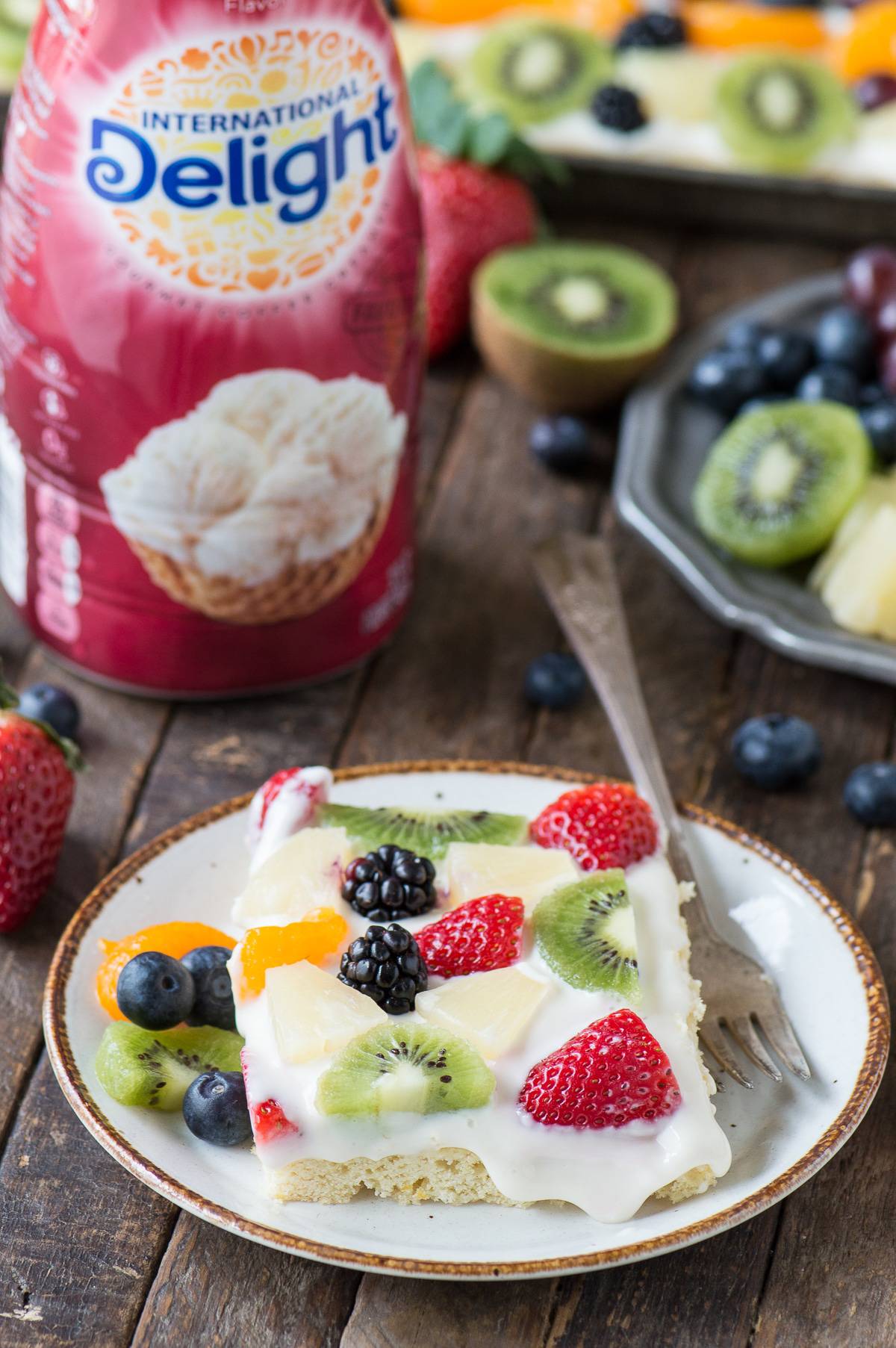 My husband Ryan is my go-to taste tester. Normally he'll make comments like…
"this is too dry"
"I think you burnt the bottom" (yes, even food bloggers!)
but of course the comment I want to hear is, "This is AMAZING!" I asked Ryan to try this fruit pizza and you know what he said?
He said there is too much cookie crust in this fruit pizza.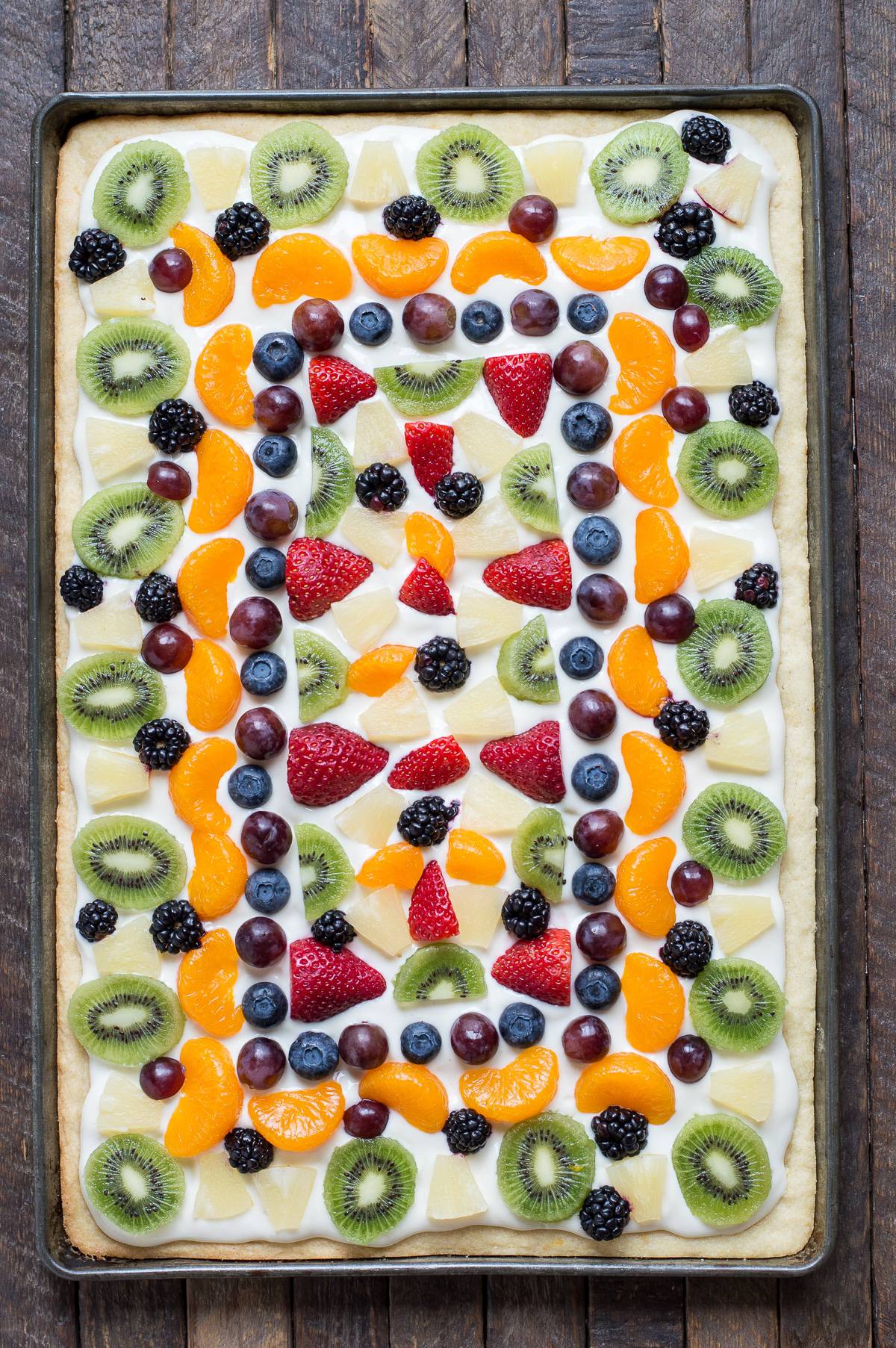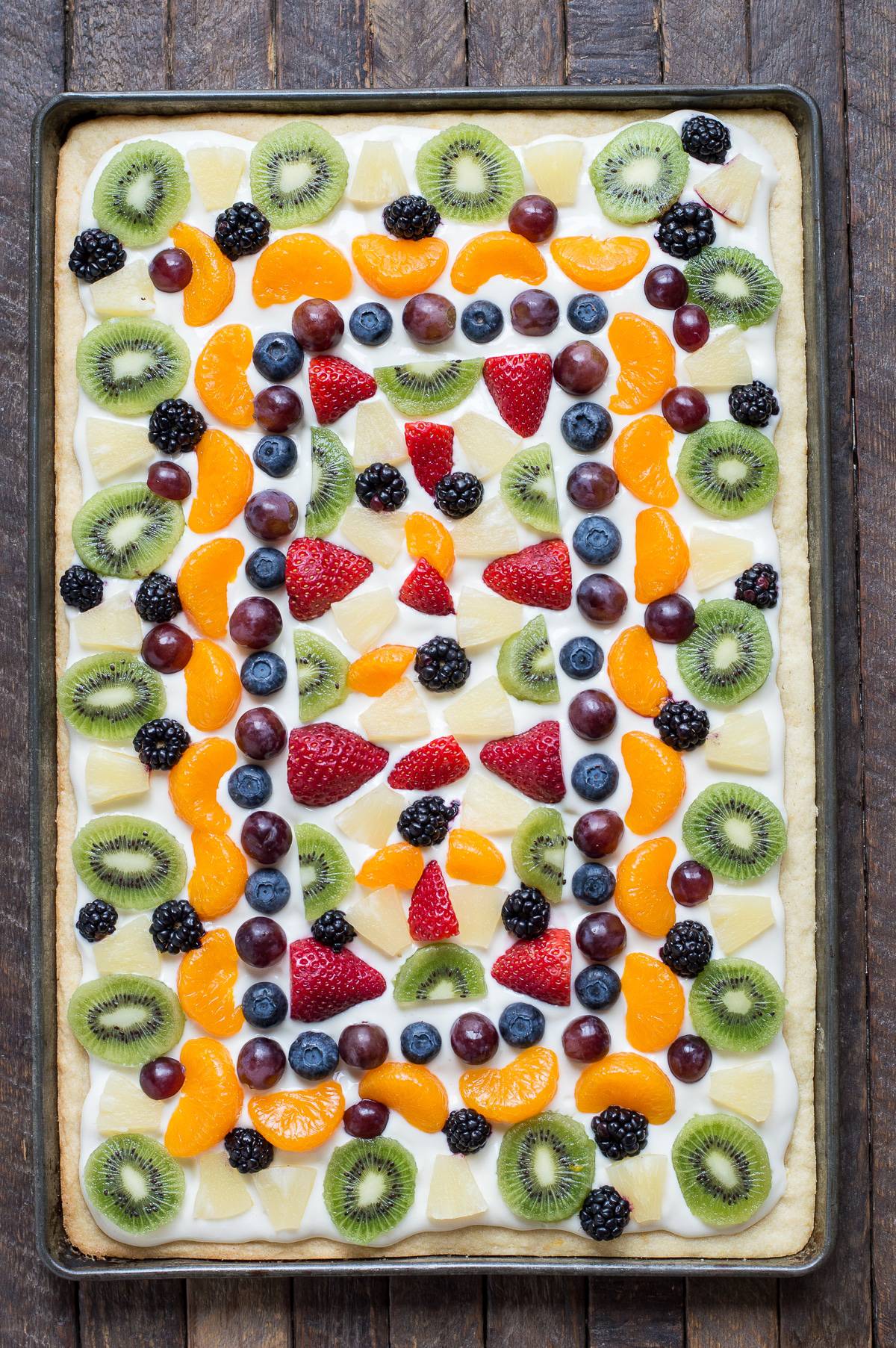 WHAT?! How can there ever be too much cookie crust?! Isn't that the best part of the fruit pizza?!
I'm a firm believer that fruit pizza crust shouldn't be too crunchy. No one wants to eat burnt or overly crispy pizza crust, so I feel like the same rule applies for a cookie crust. You want to bake it to perfection, where it's firm enough to slice and pick up but soft and fluffy when you eat it :)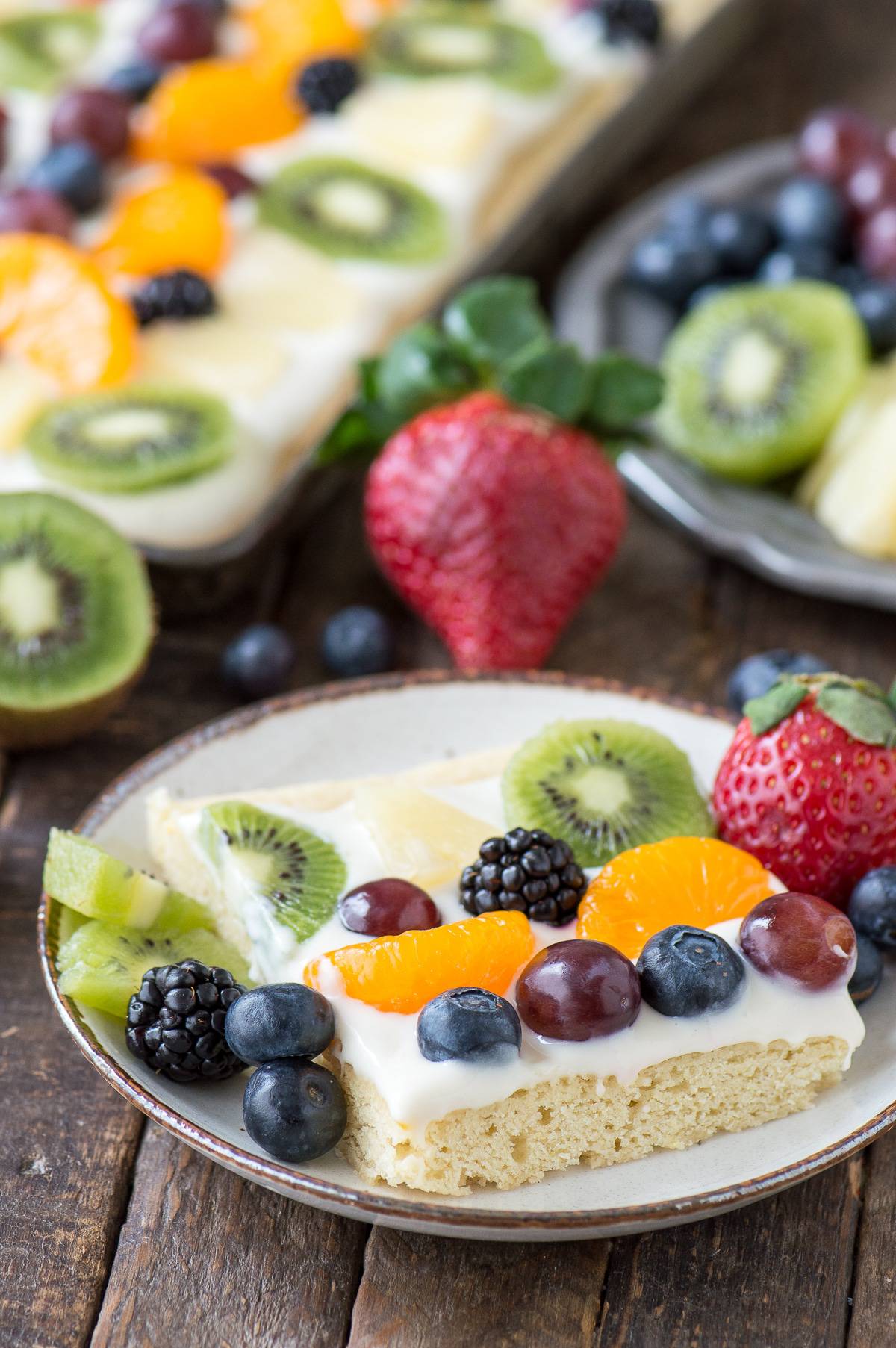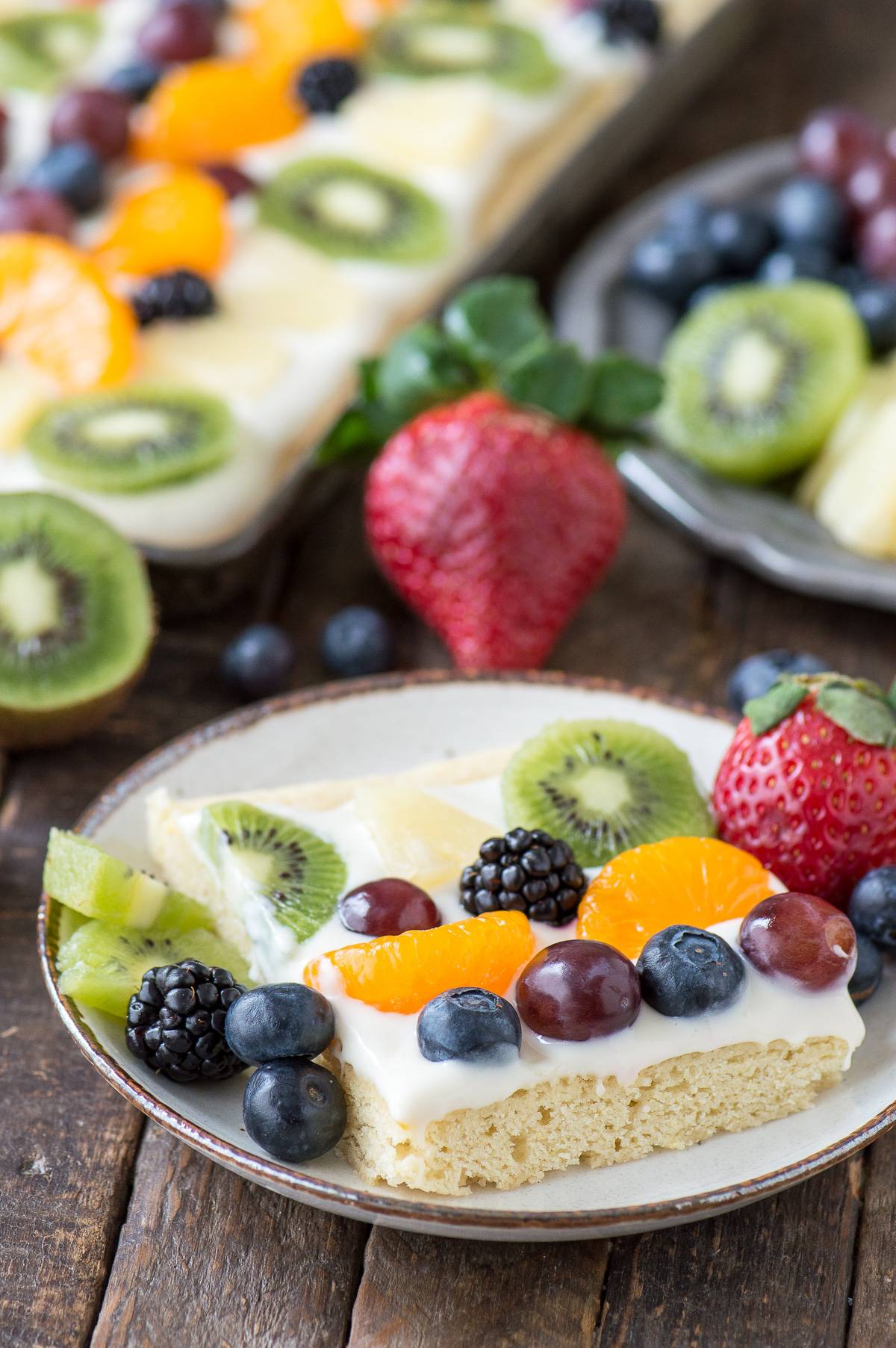 Now that we have the crust nailed down, it's all about the topping!
The topping on fruit pizza is traditionally cream cheese based but to cut down on the amount of tang, I like to add powdered sugar. You'll need a little bit of liquid to thin out the "sauce". You could use milk or heavy cream but I love to use coffee creamer!
A little bit of coffee creamer works great to make the topping not too thick and more spreadable. Plus the creamer adds a bit of sweetness too, or if you use a flavored creamer, that flavor will shine through in the topping! I used International Delight's Sweet Cream creamer because hello there's a picture of ice cream on the container and it tastes amazing!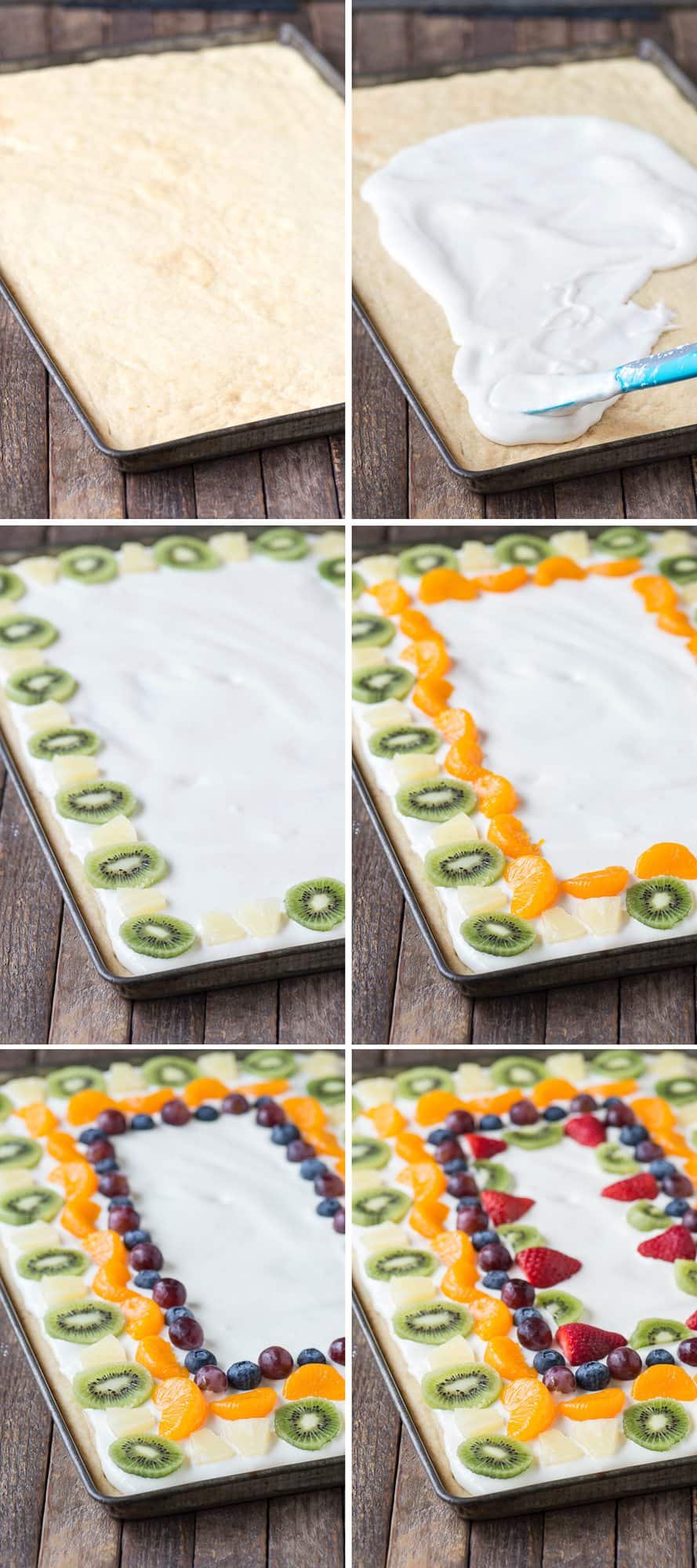 The best part about fruit pizza is that you get to choose the fruit! I loaded this pizza with kiwi, pineapple, mandarin oranges, grapes, blueberries, blackberries and strawberries.
Other great additions could include peaches, raspberries, bananas, nectarines, mango, and even some shredded coconut :)
I used a 17 by 12 inch pan, so this is a great recipe for a crowd!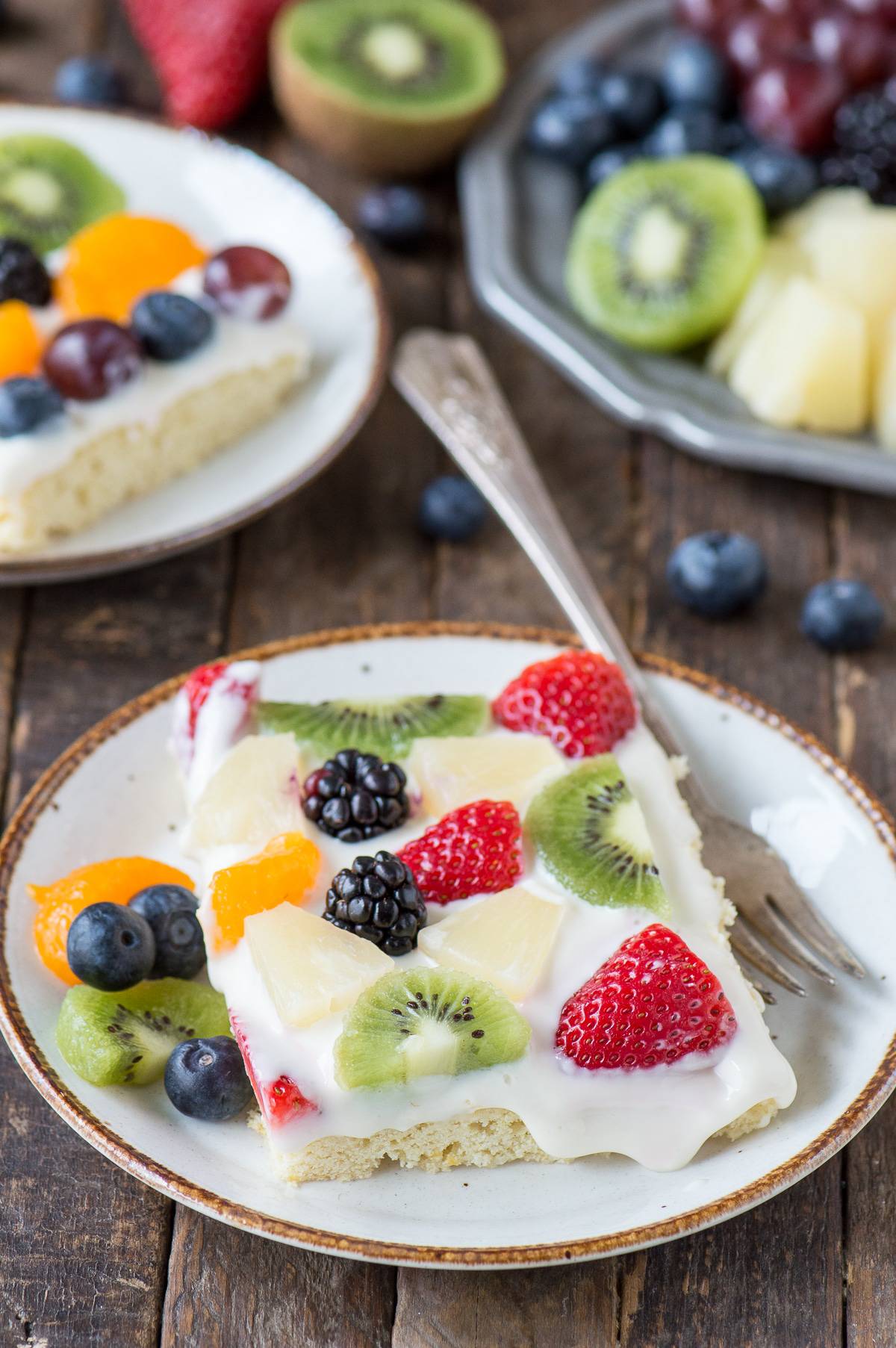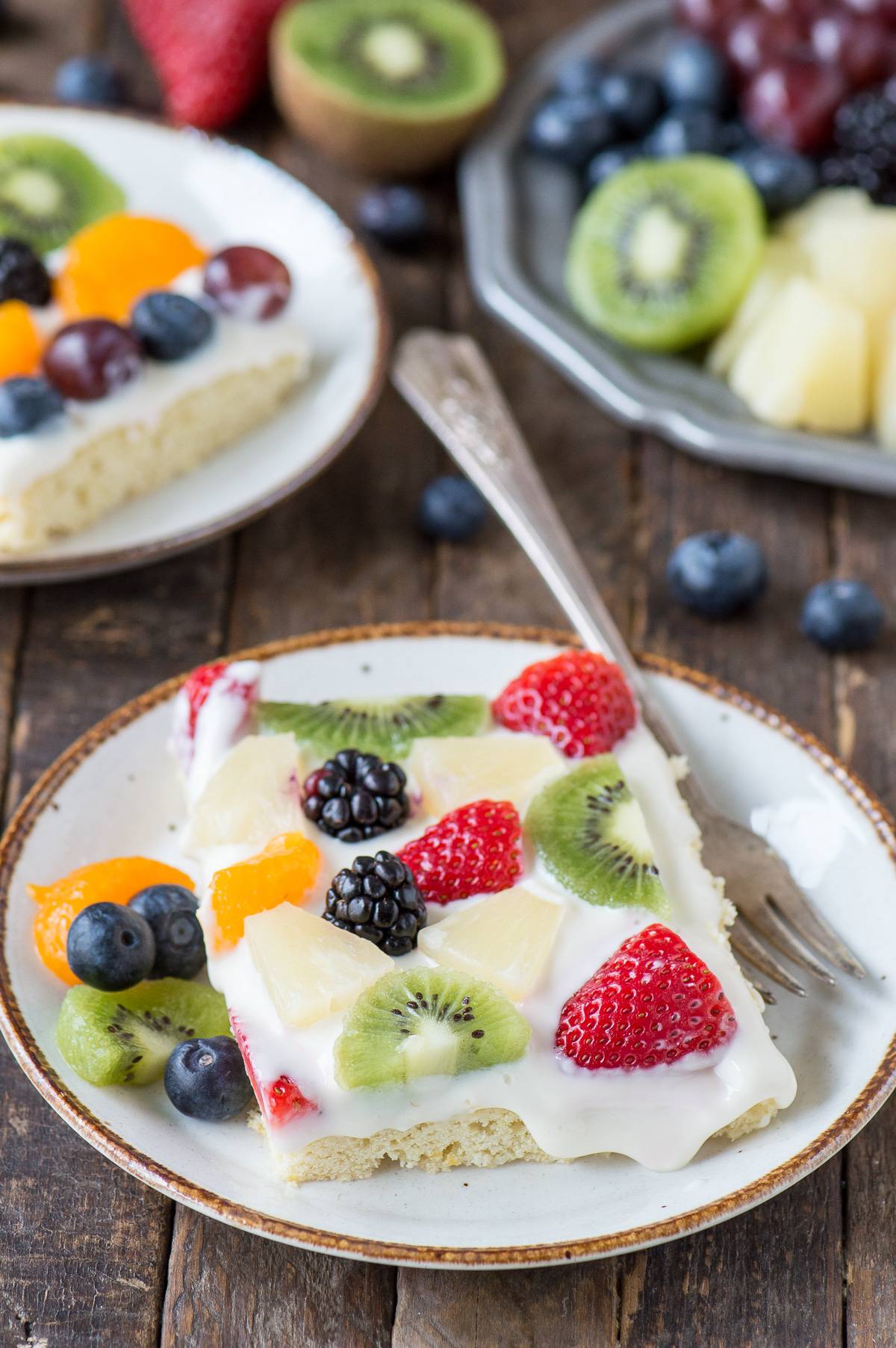 This is a sponsored conversation written by me on behalf of International Delight. The opinions and text are all mine.
Classic Fruit Pizza
Yield: one 17 by 12 inch fruit pizza
Total Time: 2 hours 45 minutes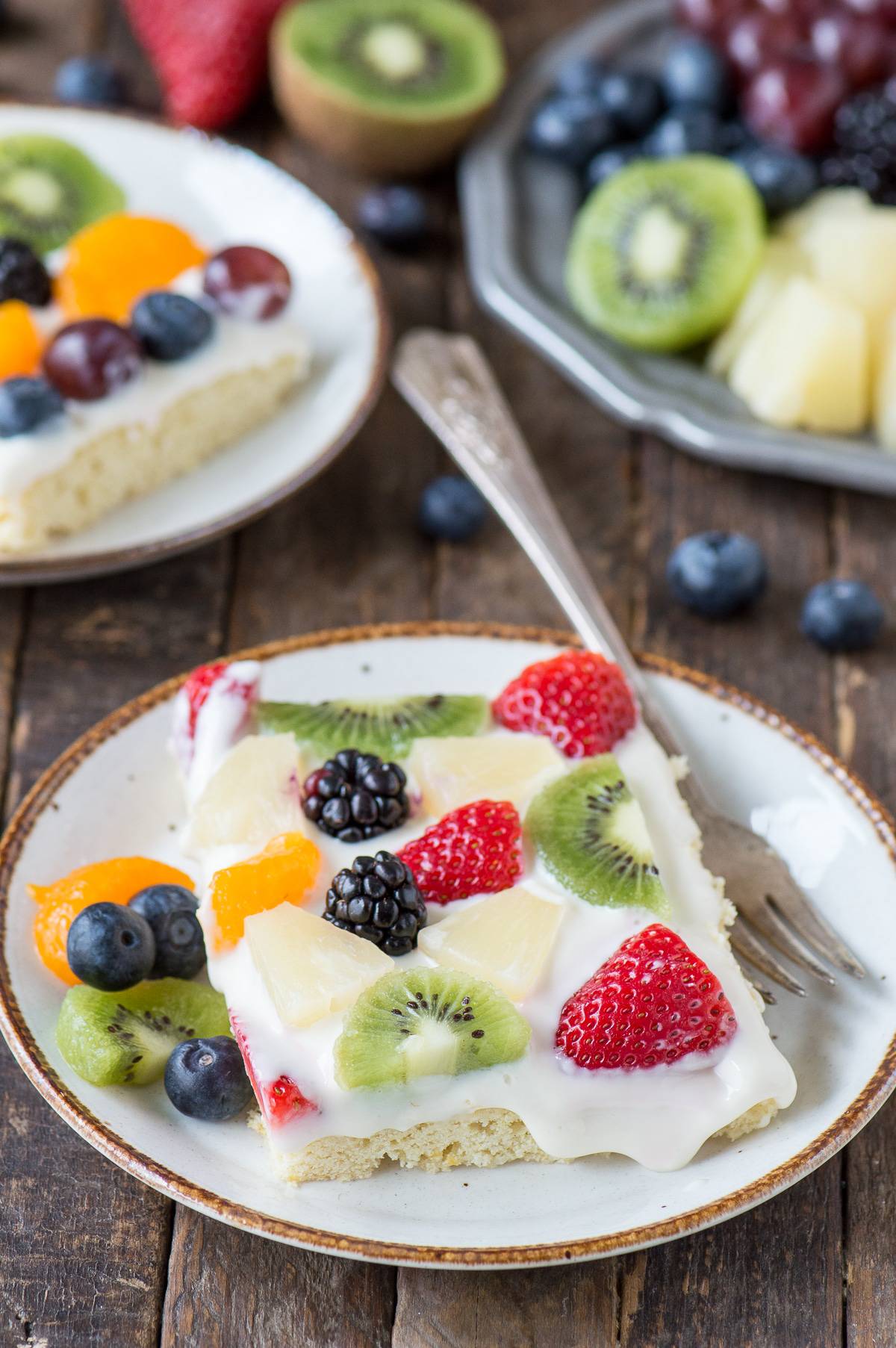 Ingredients:
Cookie Crust
3 cups all purpose flour
2 tsp baking powder
1/2 tsp salt
1 & 1/4 sticks butter (10 tbsp), softened
1 & 1/3 cups sugar
2 eggs
1 tsp vanilla extract
zest of 1/2 lemon
1 tbsp International Delight Sweet Cream creamer
Topping
2 packages cream cheese, 8 oz each, softened
1 & 1/3 cups powdered sugar
1/4 cup International Delight Sweet Cream creamer
Directions:
Cookie Crust
In a bowl combine the flour, baking powder, and salt.
In a separate bowl, beat the butter and sugar with an electric mixer until fluffy, 1-2 minutes.
Add in the eggs, beat lightly with the mixer.
Add in the vanilla extract, lemon zest, and International Delight creamer, mix using a spatula.
Gradually add in the flour mixture, mixing with a spatula until all of the flour is incorporated.
Wrap the dough in plastic wrap and refrigerate for 2 hours.
Remove the dough from the fridge.
Preheat the oven to 350º F.
Spray a 17 by 12 inch pan with non-stick spray.
Either use a rolling pan to roll out the dough to fit the pan or use your hands to shape the dough to the pan.
Bake for 12-16 minutes or until the crust just begins to turn golden.
Topping
In a mixing bowl, beat the cream cheese with an electric mixer until smooth and fluffy, about 2 minutes.
Gently mix in the powdered sugar using a spatula.
Add the creamer and mix one last time with the electric mixer.
Spread the topping evenly over the cookie crust.
Add your desired fruit. You can arrange in a design for a fancy display.
The crust and topping can be prepared in advance. Assemble the fruit pizza just before serving for best results.