Want our top 10 essential dessert recipes?
Get our favorite classic recipes in your inbox! It's 100% free, but we might make you hungry!
Chocolate Graham Crackers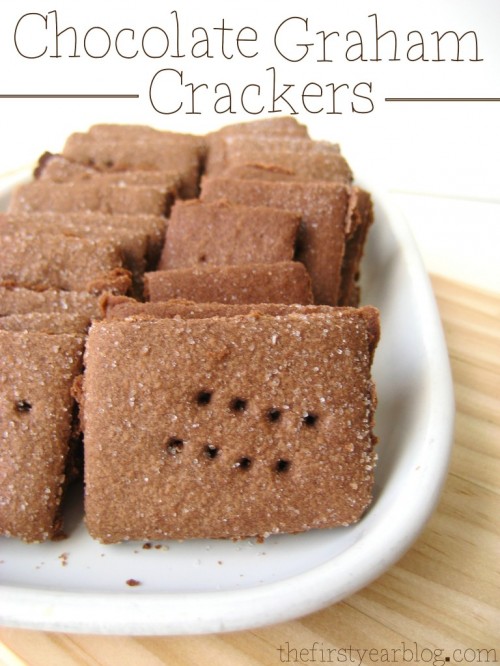 I love making homemade grahams. I first tried my hand at cinnamon graham crackers, and now I added chocolate graham crackers to the collection, maybe I am turning into a graham fanatic. Mmmm, that got me thinking, maybe I'll try banana bread graham crackers next.
I've made homemade graham crackers 5 or 6 times now, but initially it was difficult getting the baking time correct. You don't want soft cookies but you also don't want burnt crackers. The key is to keep a close eye on the crackers during the last half of baking.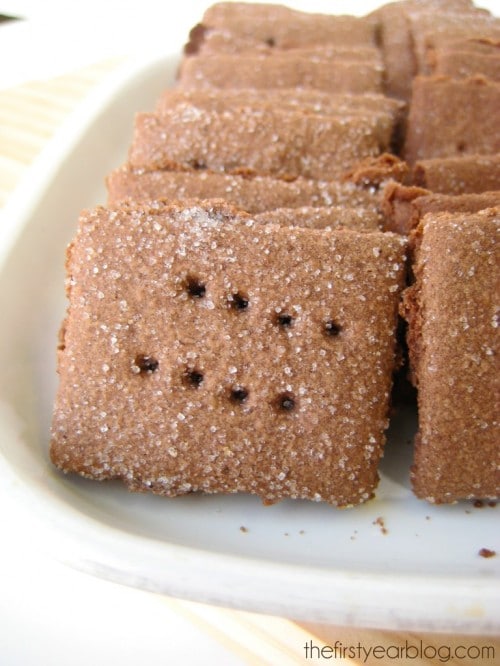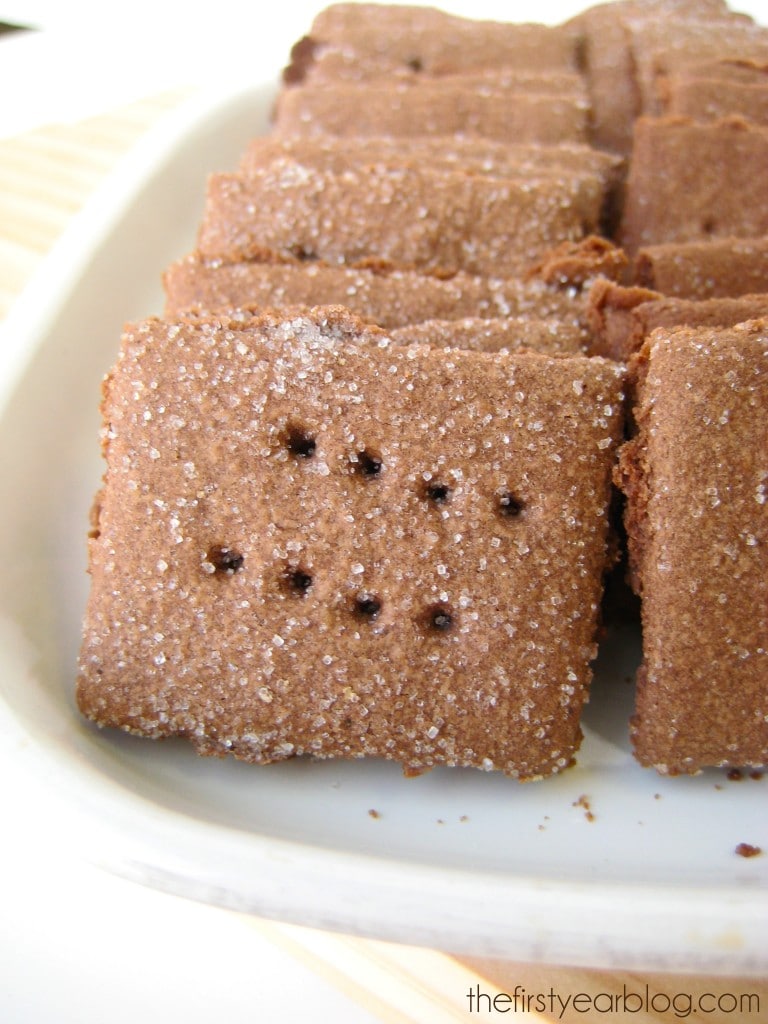 Chocolate Graham Crackers
Ingredients
1 1/4 cup all-purpose flour (I use Cooqi Gluten Free)
1/2 tsp salt
1/2 cup cocoa powder
1 1/4 cup powdered sugar
1 tsp baking powder
1/2 cup (1 stick) butter
2 tablespoons honey
2 tablespoons cold milk
Instructions
Preheat your oven to 325 degrees. 
Cut two pieces of parchment paper to fit in your cookie sheets or use silpat.
In a medium bowl, whisk the flour, salt, cocoa, sugar, and baking powder together.
Cut the butter into the flour mixture using a pastry blender or your fingers, until it is incorporated and crumbly.
Next, combine the honey and milk in a small bowl, stirring until the honey dissolves completely in the milk.
Add the liquid into the bowl with the dry ingredients and mix in with a fork until the dough comes together.
You might need to add a little more milk to the dough, but start with 1/2 tsp more.. I accidentally put in an additional tablespoon of milk and I had to add a bunch more flour to get it workable.
Split the dough in half, set one aside.
Set up a well floured surface. I used a silpat with some flour rubbed on top so I could easily put the silpat on top of a cookie pan and into the oven, but parchment paper works too!
Begin to roll the dough out to about 1/16-inch thick.
Use a pizza cutter to cut the dough into squares and then use a fork to make holes in each cracker.
Bake for 7 minutes, then pull it out of the oven to sprinkle with sugar.
Put it back in the oven for 20-30 minutes.. remember you want crispy crackers. You can always pull them out if you think they are done and if you decide that they aren't after they've cooled, but them back in until their crispy.
Repeat with the other half of the dough.
https://thefirstyearblog.com/chocolate-graham-crackers/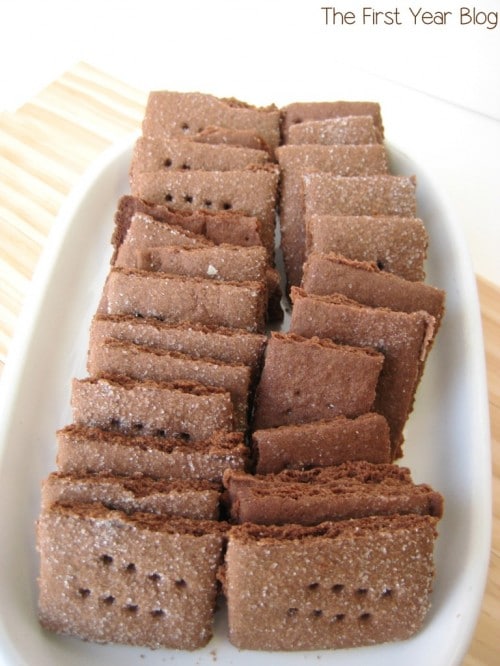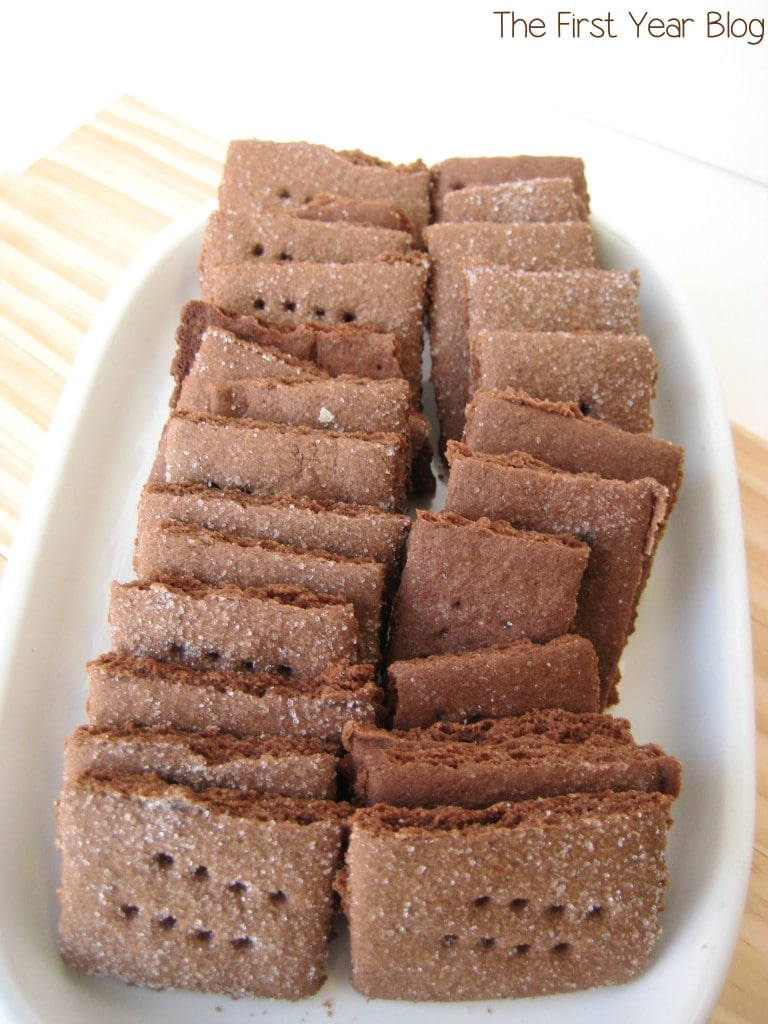 Homemade grahams are the best! It beats buying a box of the gluten free ones for about $7 for 20 crackers.
Adapted from the kitchenarian.
What other graham cracker flavors can I try?