Chocolate Bowls with Peanut Butter Mousse, Peanut Butter Cup Crumbles and a Chocolate Dipped Pretzel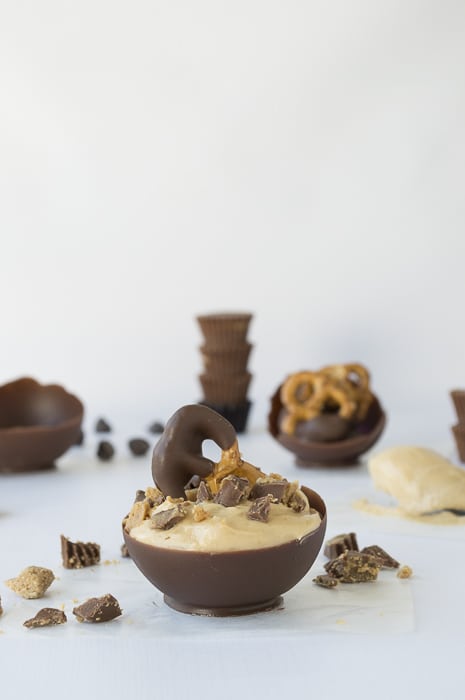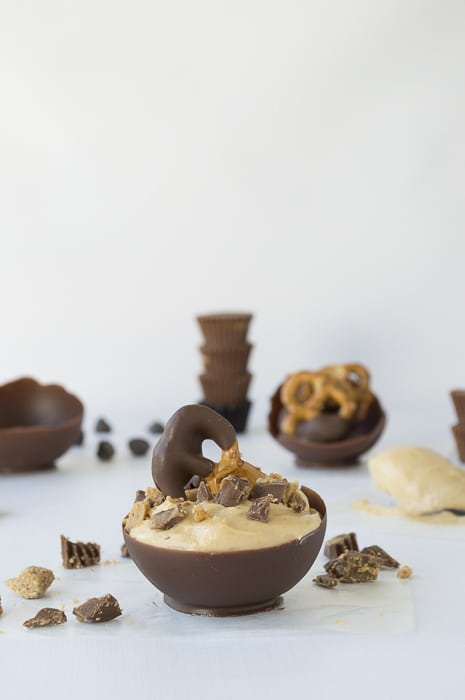 How often do you have a dessert served to you in a bowl that you can eat? I'm thinking not very often, unless you count eating ice cream in a waffle cone, but that's not overly fancy. But these chocolate balloon cups – now that's fancy! What better than eating your dessert AND being able to eat the bowl? Think dessert times two – who doesn't like twice as much dessert?
If you follow along with us on Instagram, you might have seen some of the sneak peeks I posted about this recipe. Well, maybe I should say the setbacks I encountered in trying to make chocolate balloon cups. The first set of chocolate balloon cups were a disaster. Just check out this picture and you'll understand. But after a few fails, I learned some tricks.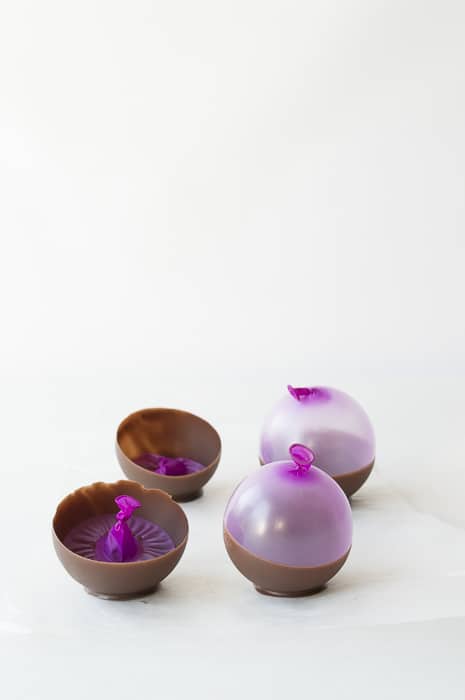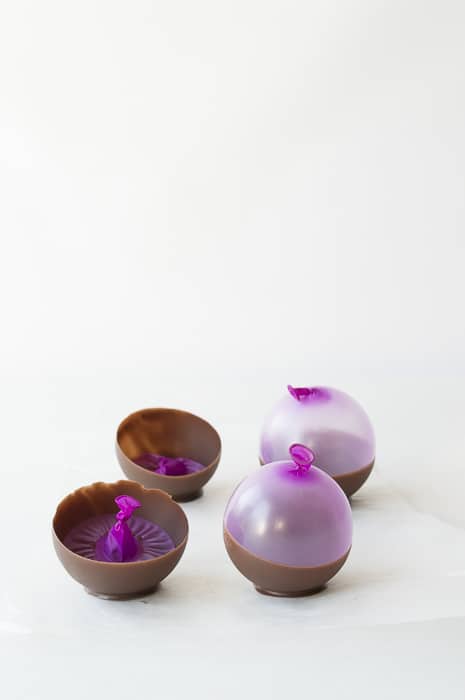 Here is what I call "Beth's Tips for Making the Perfect Chocolate Balloon Cups/Bowls"
1. Use Candiquik Chocolate, not chocolate chips
2. Spray the balloons with a tiny bit of non-stick cooking spray
3. Be patient – let the chocolate set on the balloons for 1 hour (okay, this may be a bit lengthy, but 20 minutes isn't enough time)
4. Once the chocolate has hardened, let the air out of the balloons as slowly as possible – whatever you do, do NOT pop the balloon with a knife or scissors, if you do you will end up with chocolate bowls that look similar to the fail I posted on Instagram.
5. Make extras just in case some break while taking the balloons out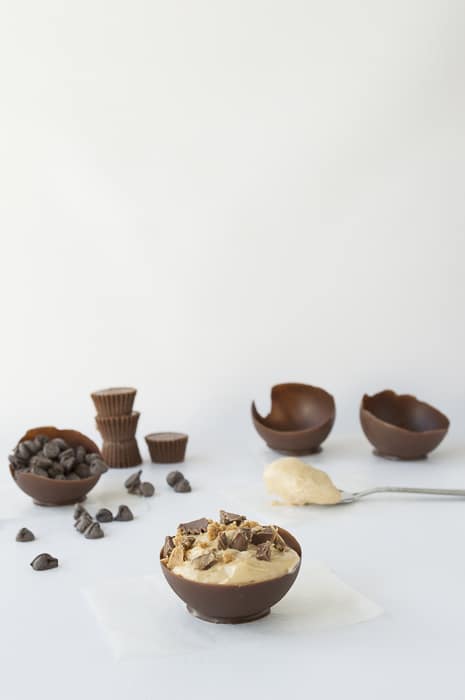 So now that you know how to make chocolate bowls, you have to figure out what to put inside of them! Nothing is better than the chocolate and peanut butter combo, so I filled ours with homemade peanut butter mousse, peanut butter cup crumbles and a chocolate dipped pretzel. When I make dessert, I go big!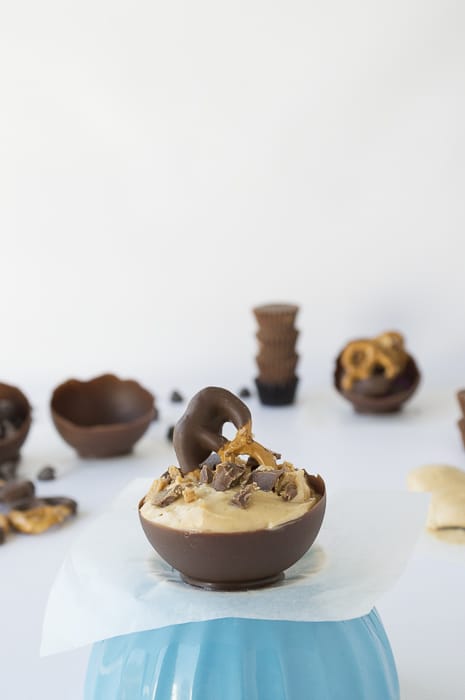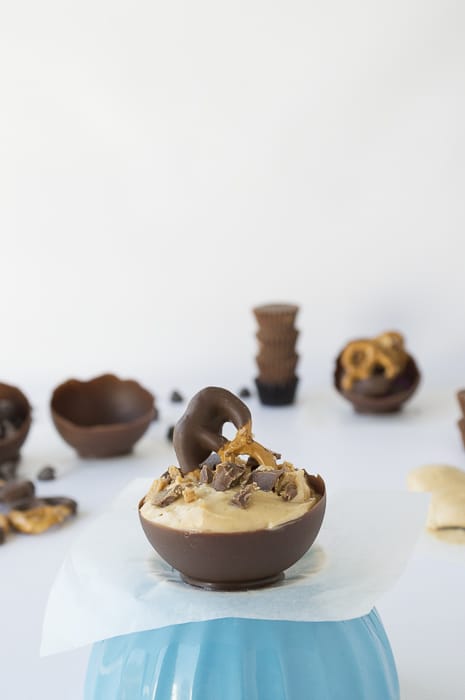 Will I be making more chocolate bowls? You bet! They are so fun to serve to a crowd.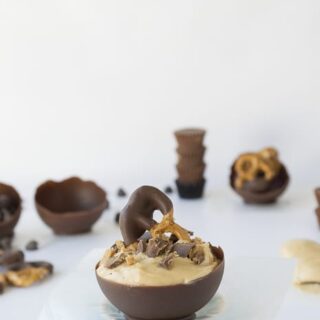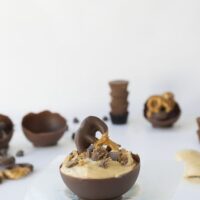 Chocolate Bowls with Peanut Butter Mousse, Peanut Butter Cup Crumbles and a Chocolate Dipped Pretzel
Ingredients
Chocolate Bowls
Water balloons
Candiquik chocolate
Peanut Butter Mousse
2 oz cream cheese, softened
1 cup creamy peanut butter
1/4 cup confectioners sugar
1 cup heavy cream
Peanut butter cups, chopped
Pretzels dipped in extra Candiquik chocolate
Instructions
Inflate your water balloons to your desired size. Set them aside.
Melt the candiquik chocolate according the instructions on the package. The amount you should melt will depend on how many bowls you want to make. Let the melted chocolate sit for several minutes to prevent popping the balloons.
Once the chocolate is ready, spray the balloons with a small amount of cooking spray, and dip each balloon into the chocolate. I suggest dipping each balloon at least 2 times to build up the chocolate walls. Place the balloons on a baking sheet covered with wax paper. Place the baking sheet in the refrigerator for 30-60 minutes to help harden the chocolate.
While the chocolate bowls are setting, make the chocolate dipped pretzels by dipping pretzels into the extra chocolate. Place the dipped pretzels on wax paper and set aside.
Once the chocolate is set, use a pin or a cut a very small hole with a scissors in the balloon to let the air out slowly. As the air is releasing, the balloon will shrink and pull away from the chocolate. If the balloon sticks to the bottom of the chocolate bowl, use your fingers to carefully pull the balloon out.
Peanut Butter Mousse
Whip the heavy cream until stiff peaks form. In a separate bowl combine the peanut butter and cream cheese. Once combined, mix in the confectioners sugar. Slowly combine the whip cream and peanut butter mixture, stirring until combine.
Assembling the cups
Carefully fill the chocolate cups with peanut butter mousse. Top with chopped peanut butter cups and a chocolate dipped pretzel.