Want our top 10 essential dessert recipes?
Get our favorite classic recipes in your inbox! It's 100% free, but we might make you hungry!
Chicken and Black Bean Tacos with Mango Green Apple Salsa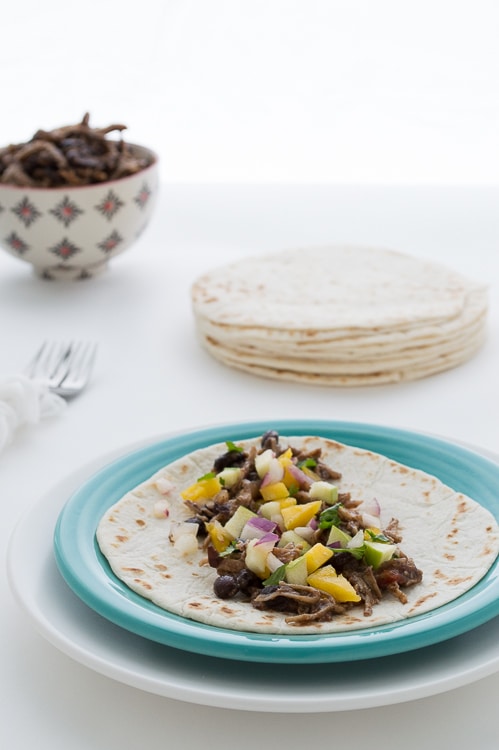 I'm just going to come right out and say it.. I, even as a food blogger, struggle with finding recipes to make for dinner. Some of you may gasp and think how can that be, especially when you've shared so many recipes on your blog. Well, it's the truth. I'm a working girl, so once I get home from work I don't want to spend hours preparing and making dinner. Gosh, I don't even want to spend 1 hour making dinner. If I go to the gym after work, and then come home and have to make dinner, I'm like a hungry hippo who can easily become a roaring lion if I don't get something substantial in my stomach. I am sure some of you have kiddos who are like that. Well, great news for you (haha, I'm kidding) it won't necessarily go away as they get older.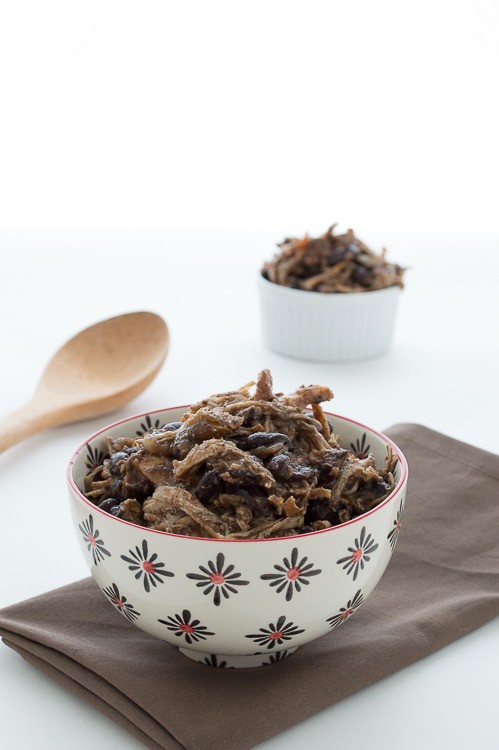 Since Ryan works a lot later than I do, and he's really quite busy – if you haven't been around long, Ryan is working on getting his Ph.D in chemistry, I like to call him soon-to-be Dr. Ryan – I'm the one who takes care of the meals. Ryan did make dinner for me one time, last summer I think. I was served a box of Zatarain's and for dessert we had pears marinated in light syrup, also known as fruit cups. I think we can clearly see who should be responsible for making dinner. But I get stuck in dinner ruts, and when I'm not sure what to make, I tend to fall back on our go-to recipes, which can become a little repetitive. So I am always checking cookbooks out from the library and recently I brought home a book full of crock pot dinner recipes. You should know that I l-o-v-e the crock pot, I frequently refer to it as the magical crock pot because it's an amazing appliance. There hasn't been one thing that I've made in my crock pot and haven't liked. However I'm not making crazy things in my crock pot like cakes or yogurt. If I want to bake a cake, I have an oven for that and I know the grocery store will never run out of yogurt.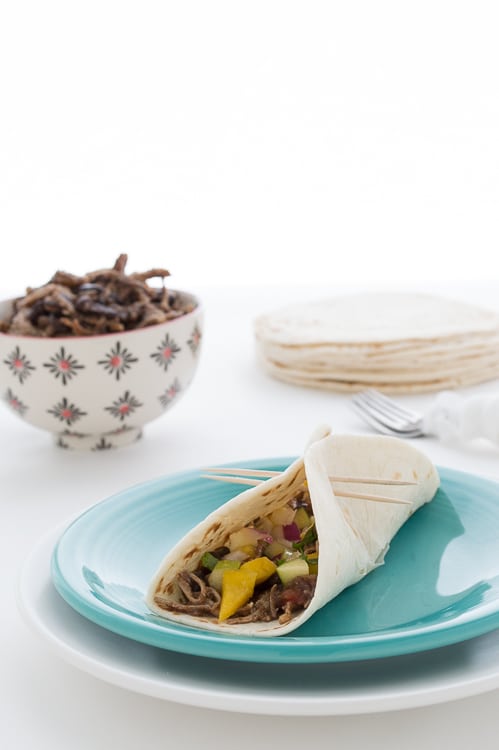 So what's our latest crock pot creation? Chicken and black bean tacos served with mango green apple salsa. No fancy tools or crazy ingredients with this recipe – you'll love it!

Chicken and Black Bean Tacos with Mango Green Apple Salsa
Ingredients
Chicken and Black Bean Taco Meat

1 to 1& 1/2 pounds chicken breast
1 tbsp brown sugar
1 tbsp garlic powder
1 tbsp chili powder
1 tbsp cumin
1 tsp italian seasoning
1/2 tsp paprika
1 medium red onion, diced
1, 15oz, can black beans, do not drain
1/4 cup salsa
Serve with tortillas

Mango Green Apple Salsa

1/2 to 1 mango, peeled, pitted and diced into small squares
1/4 cup Granny Smith apple, diced into small squares
1/4 cup cilantro, chopped
1/4 cup red onion, diced
juice from 1 lime
Instructions
Spray your slow cooker with non-stick cooking spray. Place the chicken breasts in the slow cooker.
Combine all the seasonings in a bowl, once combined spoon this mixture on top of the chicken. Add the onion, black beans, and salsa. Cover and cook on low for 4-5 hours, or until the chicken naturally falls apart when you pick it up.
Remove the chicken from the slow cooker and shred using 2 forks. Return the chicken to the slow cooker for 30 minutes.
Combine all of the ingredients for the salsa in a small bowl. Serve the chicken on tortillas and top with the mango green apple salsa.
https://thefirstyearblog.com/chicken-and-black-bean-tacos-with-mango-green-apple-salsa/