Want our top 10 essential dessert recipes?
Get our favorite classic recipes in your inbox! It's 100% free, but we might make you hungry!
Chicken and Black Bean Taco Salad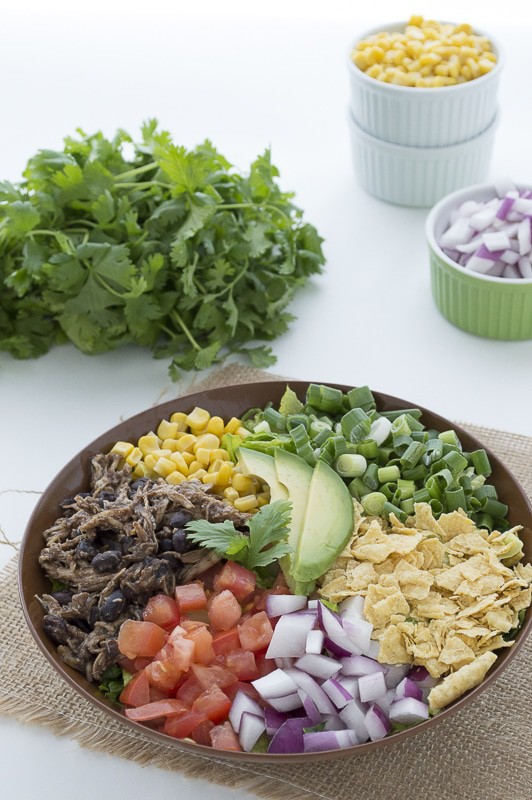 I bet if you ask Ryan what he wants for dinner he will say either mostaccioli or taco salad. Sometime I should make a taco mostaccioli casserole then Ryan won't have to decide between Italian and Mexican. But I like both of those dinner options, so I don't complain when he suggests them, unless we just ate it last week and he asks for it again. I have this strange thing about not eating the same dish too often. For example, if I make taco salad, we'll eat that for several days as leftovers until its gone, but then I won't want to make taco salad again until several weeks go by. It's kind of like how some people have a weird thing about leftovers, I don't mind leftovers, but I have a weird thing about eating the same dish too frequently. Do you have any strange food 'rules'?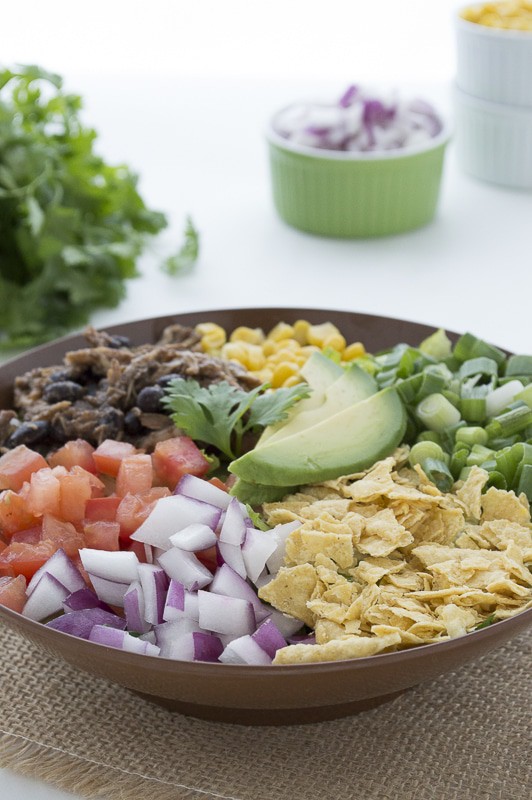 Whenever this chicken and black bean taco salad comes up on the menu rotation, Ryan is psyched to eat it and I enjoy making it because it's so darn easy. The meat is prepared in the crock pot and its amazing, but you should already know that because the crock pot is a magical appliance. As the seasons begin to change, I'll slowly make the transition from using the grill to using the crock pot to make dinner. There is just something about coming home from work and being able to smell dinner cooking – it's definitely a sign that cooler weather is around the corner.
Whether you are preparing this salad with your A/C or heat on, all of the ingredients are readily available all year long – well, the avocados will be more expensive in the off season, but I don't mind spending a tad bit more to be able to put avocado on my taco salad. I like to top my salad with catalina dressing and Ryan likes using salsa or habanero hot sauce. Whats your go-to dressing?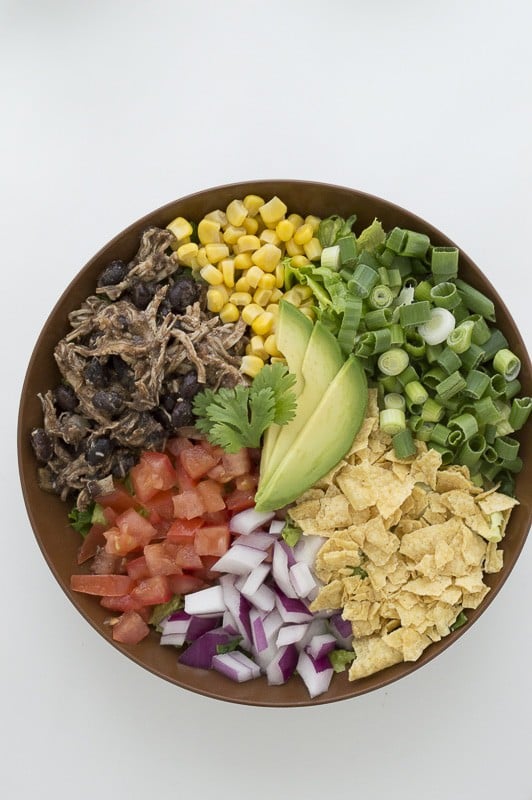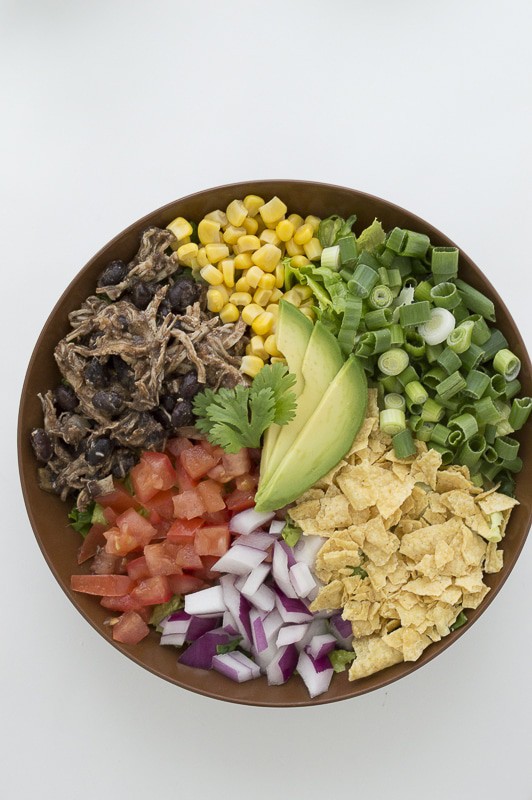 Chicken and Black Bean Taco Salad
Ingredients
Lettuce of your choice
1 small red onion, diced
1-2 tomatoes, diced
Fresh cilantro, chopped
1 bunch of green onions, chopped
1/2 cup corn
Tortilla chips, crushed
Avocado, sliced

Chicken and Black Bean Taco Meat

1 to 1/2 pounds chicken breast
1 tbsp brown sugar
1 tbsp garlic powder
1 tbsp chili powder
1 tbsp cumin
1 tsp italian seasoning
1/2 tsp paprika
1, 15oz, can black beans, do not drain
1/4 cup salsa
Instructions
Spray your crock pot with non-stick cooking spray. Place the chicken breasts in the slow cooker.
Combine all the seasonings in a bowl, once combined spoon this mixture on top of the chicken.
Add in the black beans and salsa. Cover and cook on low for 4-5 hours, or until the chicken naturally falls apart when you pick it up.
Remove the chicken from the slow cooker and shred using 2 forks. Return the chicken to the slow cooker for 30 minutes.
Prepare the taco salad using the vegetables you already prepped. Combine the lettuce, red onion, tomatoes, cilantro, green onions, corn, crushed tortilla chips, avocado slices and taco meat in one bowl. Top with your desired dressing.
https://thefirstyearblog.com/chicken-and-black-bean-taco-salad/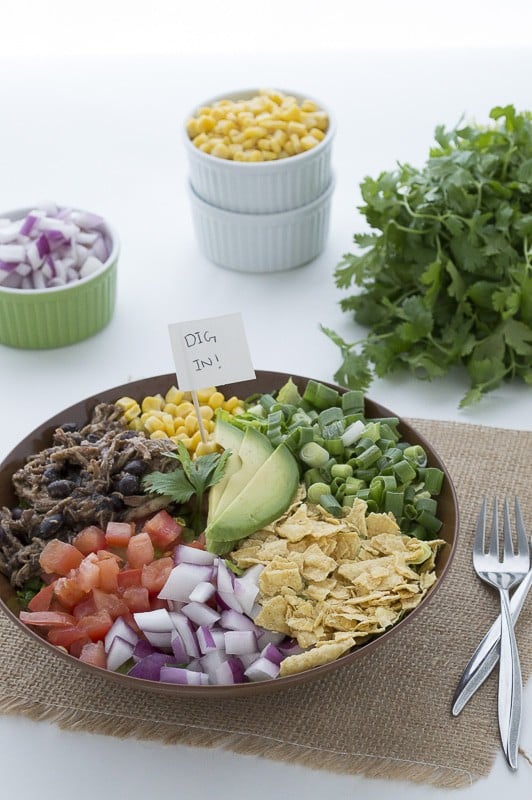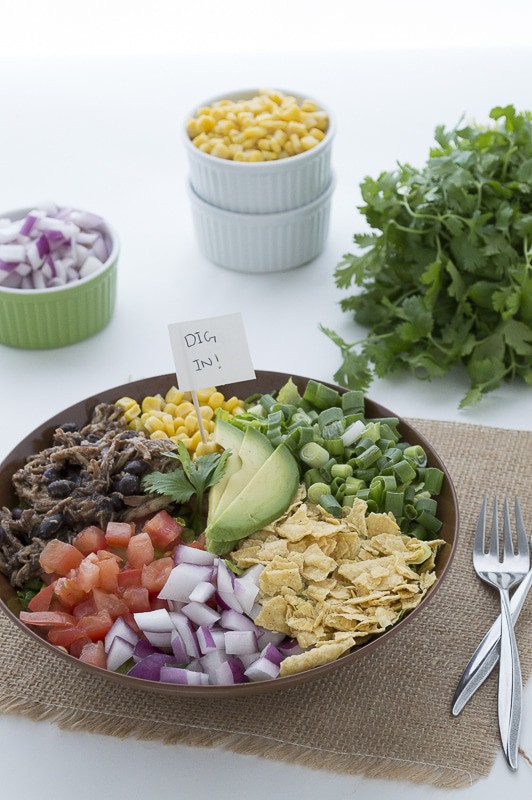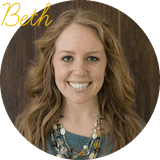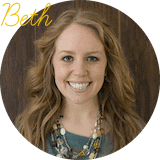 Similar recipes: Tex Mex Frito Salad and Quinoa Bell Pepper Salad with Rosemary.