Want our top 10 essential dessert recipes?
Get our favorite classic recipes in your inbox! It's 100% free, but we might make you hungry!
Carrot Salad with Pearl Onions and Parsley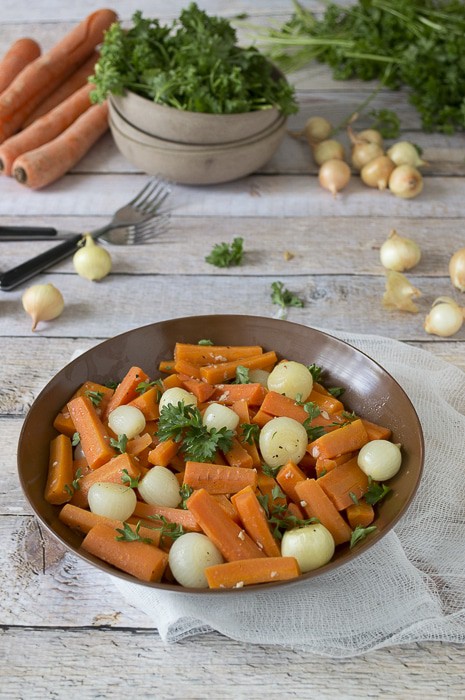 I made a salad to show you that I don't just eat donuts and popsicles. See, Mom and Dad.. I do eat vegetables! I'm actually a pretty big fan of vegetables, I just happen to like donuts and popsicles too.
Of course this salad is a bit different, it's not made of leafy greens and it doesn't have a dressing. But if you like steamed carrots and onions you'll enjoy this dish – Ryan and I did!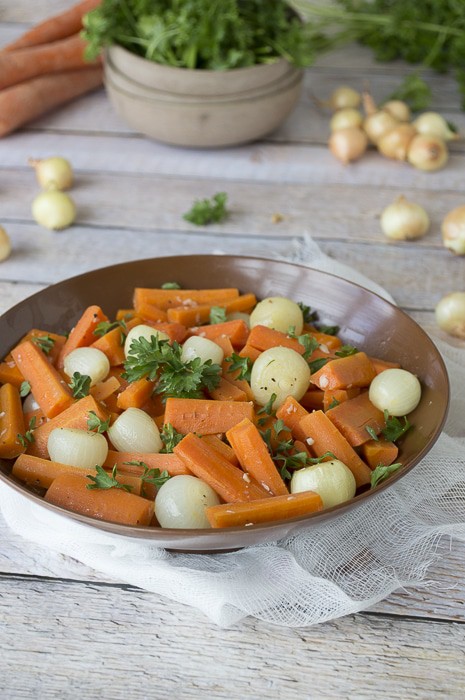 Ryan, our resident chemist, is heading to Maine for a week long chemistry conference. The conference is at a resort, so I am a tad bit jealous because it sounds like vacation. Plus, Martha Stewart's ranch is in Maine, so I keep dropping hints that if he runs into her, he should do a little promotion for the blog :)
Having a chemist for a husband has it major perks. For example, when we were shopping for tooth paste this past weekend, it was kind of overwhelming – there's the cavity protection, the whitening paste, the kind for sensitive teeth. Let's not forget about the name brand vs the store brand dilemma.
After I've walked up and down the aisle 3 times, Ryan picks up 3 different tubes, looks at the ingredients and says "These all have the exact same compounds in them." Those tooth paste companies can't pull one over on me anymore!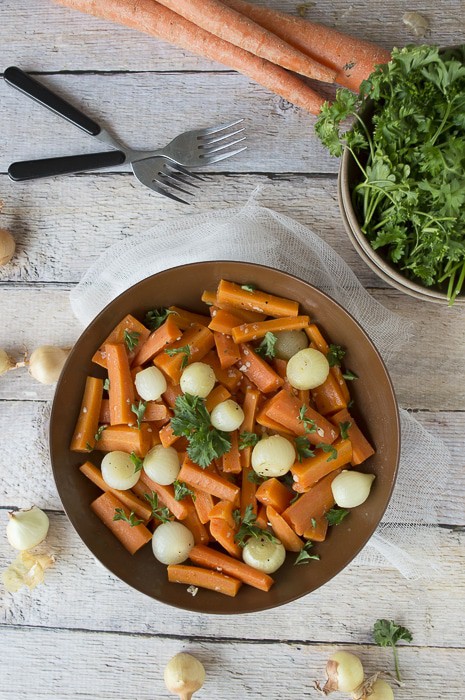 To reward Ryan for his chemistry prowess (and saving us money!) I whip up delicious things for him. Like Carrot Salad with Pearl Onions and Parsley. You were probably thinking something along the lines of double chocolate cake.
Carrot Salad with Pearl Onions and Parsley
Ingredients
1-2 pounds carrots, cut into large pieces
15-20 pearl onions
3 tbsp butter
1 tsp garlic
dash of salt & pepper
1/4 cup fresh parsley
Instructions
Peel and chop the carrots into large pieces.
In a large pan over medium heat, sauté the carrot pieces in the butter, for 4 minutes. You can cover the pan with a lid and stir occasionally.
Add the pearl onions, and cover until the carrots and onions are soft, stirring occasionally.
Add in the salt & pepper, and garlic, stir and cook for 1 minute.
Remove the pan from the heat, and add in the fresh chopped parsley.
Serve hot or cold.
https://thefirstyearblog.com/carrot-salad-with-pearl-onions-and-parsley/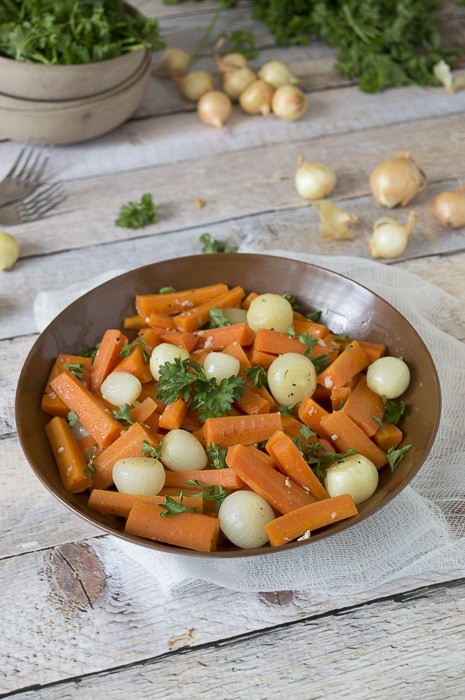 So why no chocolate cake? We're trying to eat healthy! Like you believe me though since I post a new donut recipe every other week! I eat the carrot salad so I can eat the donuts!