Want our top 10 essential dessert recipes?
Get our favorite classic recipes in your inbox! It's 100% free, but we might make you hungry!
Caramel Apple Cookie Dessert Pizza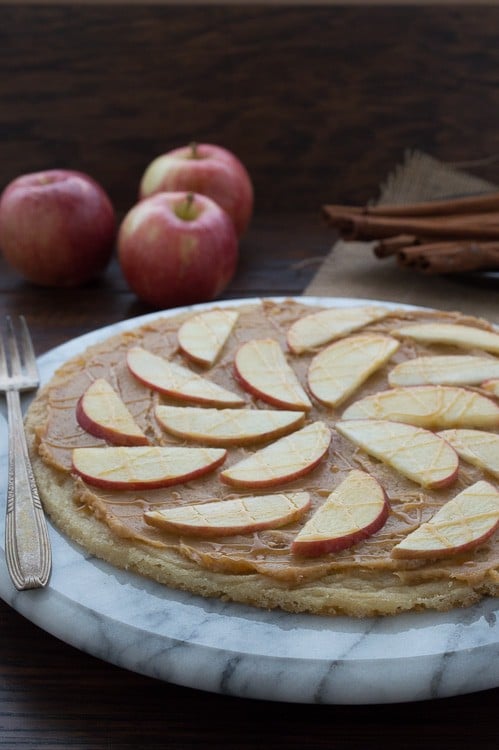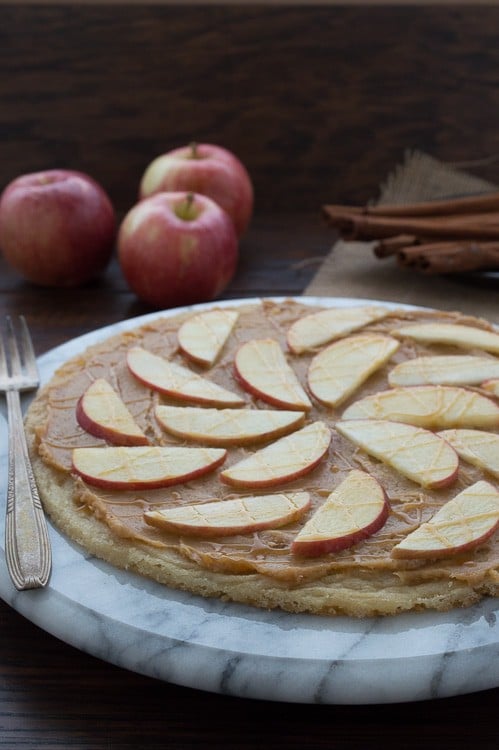 It's APPLE week!! I like apples, and I hope you like apples, so we are celebrating our love for apples with a full week of apple recipes. The recipe we shared on Monday will make you feel like a kid again. Ever remember eating those delicious square pastries that you warm up in the toaster? I'm talking about pop tarts! If you want to make your own homemade pop tarts get our recipe for Apple and Maple Butter Pop Tarts. You'll feel like Betty Crocker and your family will ask you to make them again and again! So that's apple recipe number one.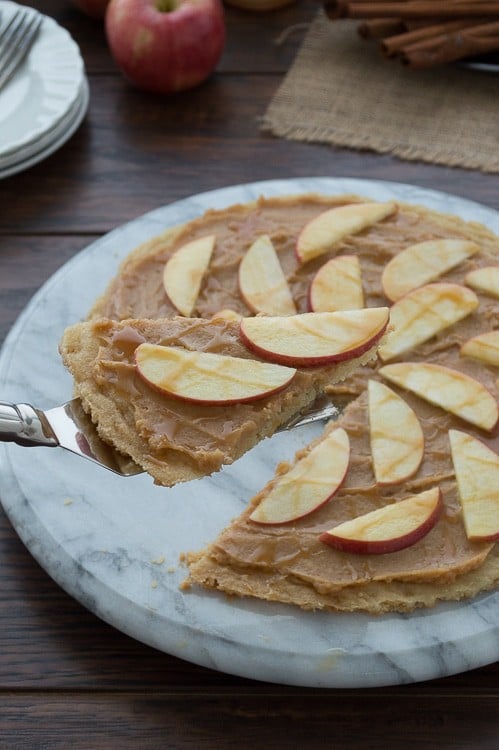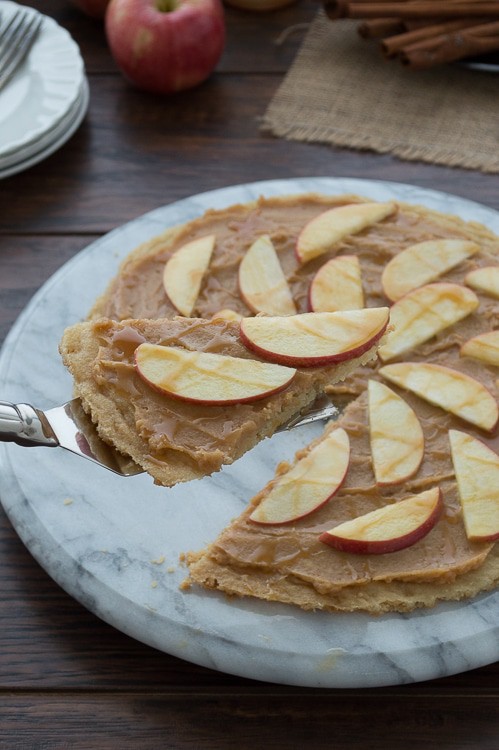 Apple recipe number two – Caramel Apple Cookie Pizza. Whoever created the dessert pizza was a clever person. Humans love pizza and they also love dessert. And just like that, the best mashup was created. I wish I was the person who came up with the idea. I have no problem adding more pizza to my diet, be it full of delicious dessert flavors or full of veggies. Or full of apples, which is a great option because apples are healthy. Here's a fun fact – I eat an apple as a pre-work out snack everyday. It's suppose to keep you full, and boost your exercise endurance. And it works – so if you're a runner, that's my one and only tip! It probably wouldn't have the same effect if I ate a slice of this caramel apple cookie pizza though. I'll save the dessert pizza as a post-work out snack. It will give me motivation to keep running.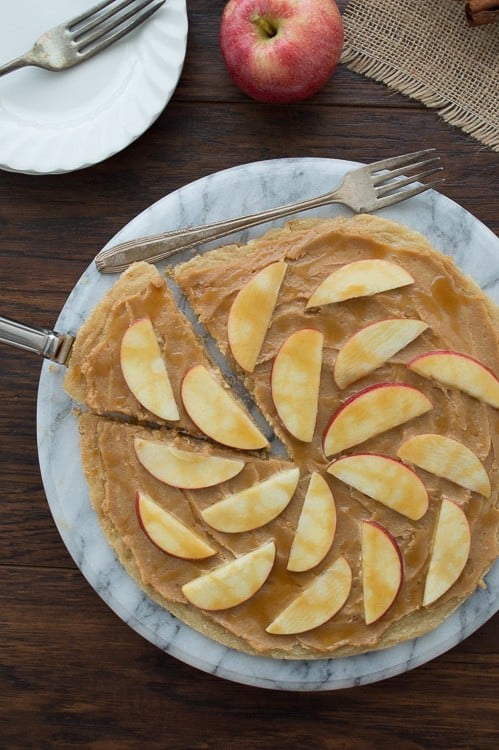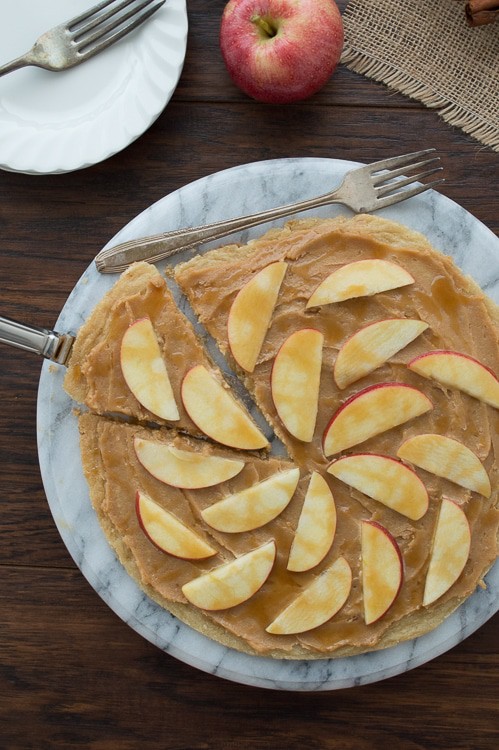 This dessert pizza is ridiculously easy to put together, and I bet your kids would love it as an after school snack. They would probably even have fun helping roll the dough out into a large cookie. Gather up the ingredients and make it this weekend!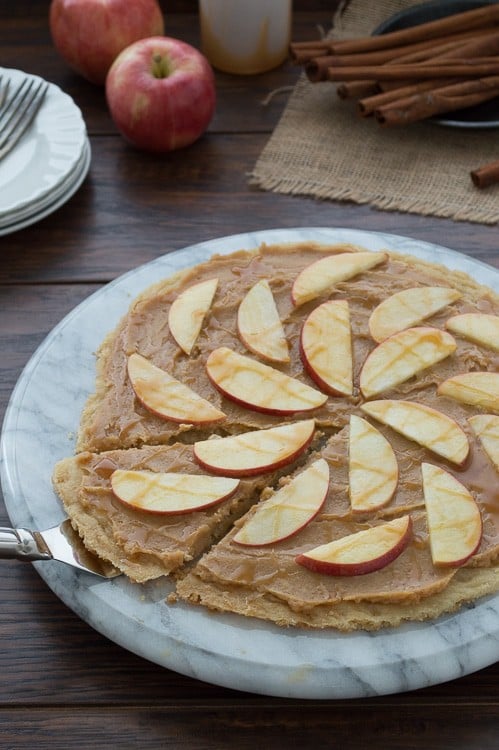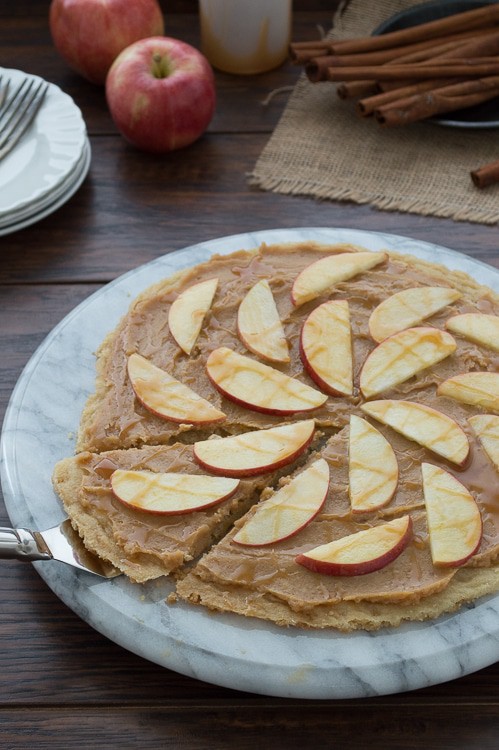 Caramel Apple Cookie Dessert Pizza
Yield: one 14 inch cookie dessert pizza
Total Time:30 minutes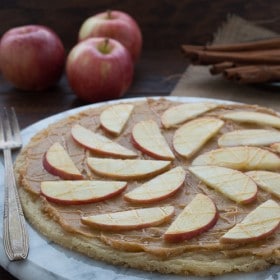 Ingredients:
1, 18 oz, package refrigerated sugar cookie dough
1, 8 oz, package cream cheese, softened
1/2 cup brown sugar
1/4 cup creamy peanut butter
1 tsp vanilla extract
1 apple, thinly sliced
Caramel, for drizzling
Directions:
Preheat the oven according to the temperature on the cookie dough package. Take the sugar cookie dough and form it into a ball and place it on a large greased pizza pan. Use a rolling pin to roll out the dough, you may need some flour to keep the dough from sticking. You want about a 14 inch circle. Bake in the oven for 14-18 minutes or until golden brown.
Meanwhile, combine the cream cheese, brown sugar, creamy peanut butter and vanilla in a bowl and mix well. Thinly slice the apple.
Once the cookie is done, allow it to cool for 10-15 minutes before removing it from the pan, that is if you want to remove it and place it on something else.
Spread the cream cheese mixture evenly over the cookie. Arrange the apples on the cookie and drizzle with warm caramel sauce. Cut with a pizza cutter and serve.
Recipe inspired by Quick & Easy Autumn Cookbook.