Want our top 10 essential dessert recipes?
Get our favorite classic recipes in your inbox! It's 100% free, but we might make you hungry!
Buster Bars
Buster Bars – homemade buster bars with oreos, peanuts and chocolate just like Dairy Queen!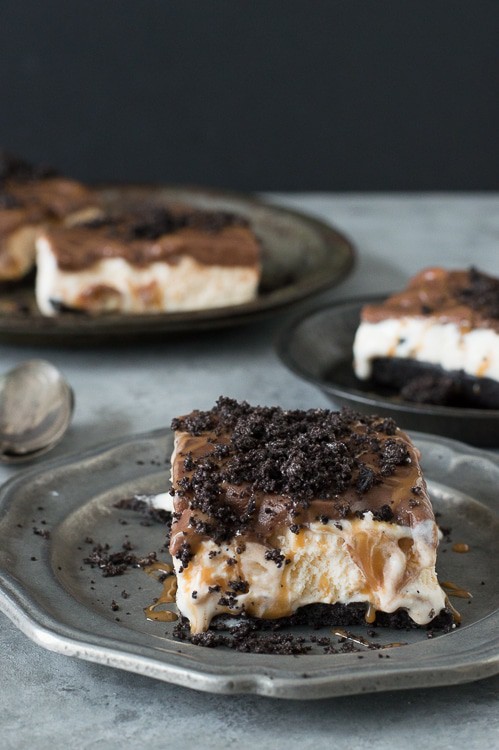 Now that it's mid-February, it's practically summer.
Kidding :)
Ryan and I were having a conversation this weekend about how we are almost out of old man winter's grip. I asked him what the snowiest month of the year is, he said January. So being that it is mid-February, I'm hoping that it won't snow again. But being from Minnesota, I shouldn't be surprised if we experience another snowpocalypse in February or March. Whomp whommmp.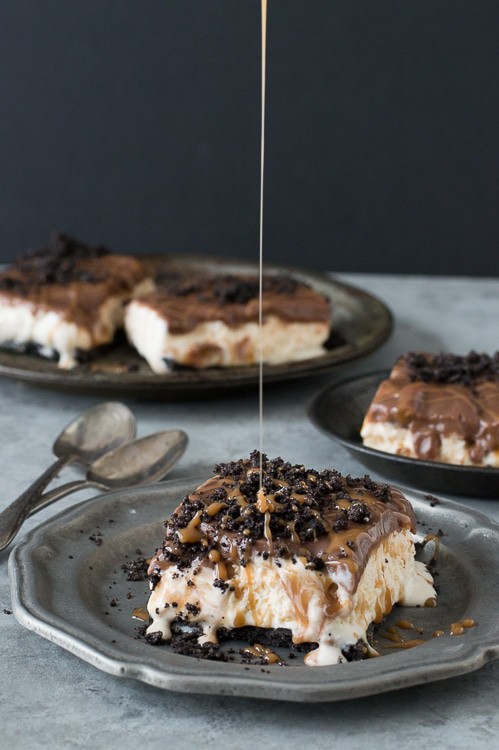 But there is hope in sight! February will fly by, I mean there are only 28 days, then we have March and St. Patrick's Day, then Easter is right around the corner, so summer is almost here. Logical, right?
I'm almost in shock that I am beginning to make and share recipes that involve cold, frozen things, i.e. ice cream and popsicles. So today I bring you a frozen dessert, but it's somewhat funny because I have a recipe for homemade marshmallows I'll be sharing next week. I guess I can't decide which season I want :) And even when it is summer, I'm not sure if I will ever put the heated blanket away. It's the world's best invention!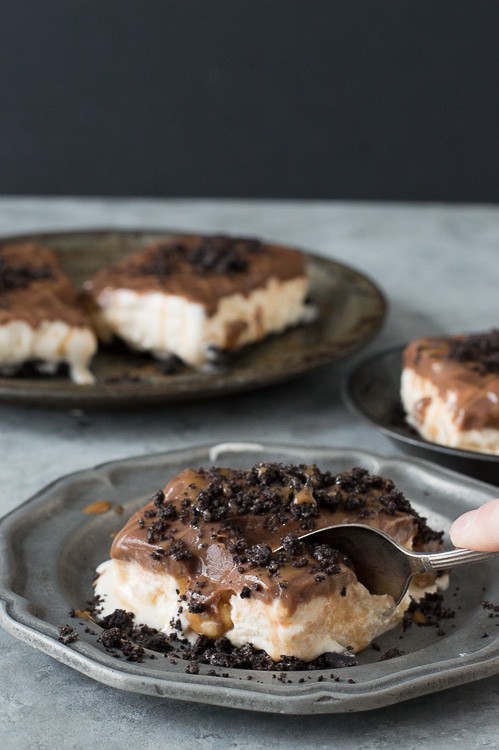 So to celebrate the return of summer and to get us all excited for trips to the ice cream parlor, or the new latest craze.. the self serve fro-yo shop, we're sharing an awesome recipe for homemade buster bars!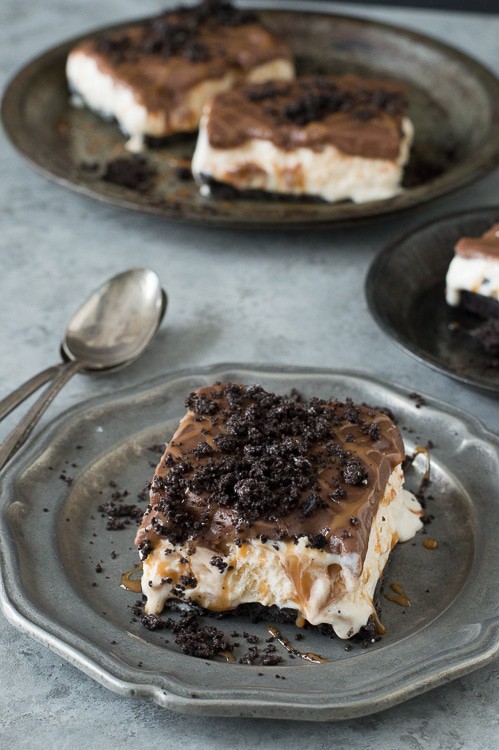 I think this recipe will significantly help Ryan and I decrease the amount of money we spend at Dairy Queen in the warmer months :)
Buster Bars
Yield: 9x13 inch pan
Total Time:24 hours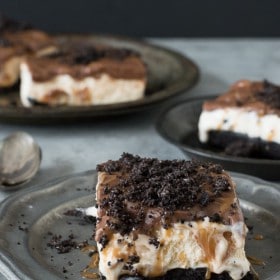 Ingredients:
1 package oreos, pulsed into crumbs
1 stick butter, melted
one half gallon vanilla ice cream (or ice cream of choice)
1 & 1/2 cups peanuts
1 large can evaporated milk
2/3 cup chocolate chips
1/2 stick butter
2 cups powdered sugar
1 tsp vanilla
To top: caramel sauce and extra oreo crumbs (you will need about 1 row of oreos if you want to top the bars with oreo crumbs, so be sure to buy an extra package of oreos).
Directions:
Using a food processor or blender, pulse the oreos into crumbs. Combine the oreo crumbs and melted butter in a bowl and mix until well combined.
For easy removal, line the 9×13 inch pan with tin foil or wax paper, allow excess to hang over. Lightly spray with non-stick cooking spray.
Evenly distribute the oreo mixture and press into the bottom of the pan.
Spread the softened ice cream on top of the oreo layer.
Sprinkle the peanuts over the ice cream. Cover and freeze until set, preferably overnight.
In a saucepan over medium-high heat, combine the evaporated milk, chocolate cups, butter, and powdered sugar. Stir to melt the mixture melt, once the mixture starts boiling, let it boil and stir continuously for 8 minutes. Add in the vanilla, and stir once more.
Allow the mixture to cool before spreading on top of the ice cream. Once cool, maybe 30 minutes, pour the chocolate mixture on top of the ice cream and freeze until set, around 4 hours.
Before serving, remove the ice cream from the pan by using the excess tin foil. Cut the ice cream into bars and top with caramel sauce and extra oreo crumbs. Serve or freeze bars immediately.