Want our top 10 essential dessert recipes?
Get our favorite classic recipes in your inbox! It's 100% free, but we might make you hungry!
BBQ Chicken Roasted Vegetable Egg Scrambler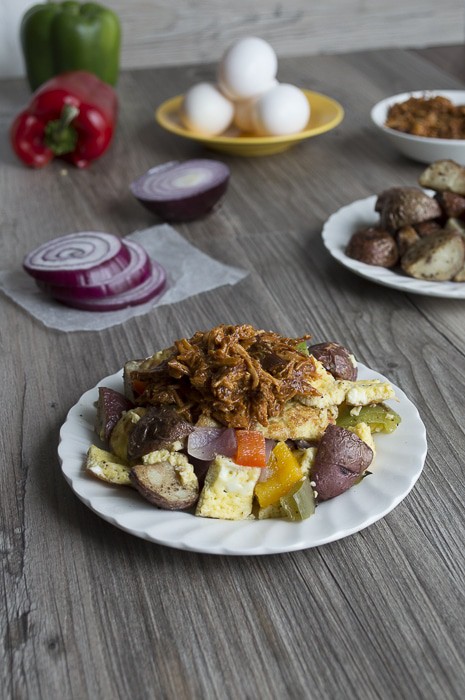 Breakfast, lunch or dinner – this bbq chicken roasted vegetable egg scrambler will fill you up!
It especially makes waking up for breakfast 100 times better! BBQ chicken for breakfast? I'm in!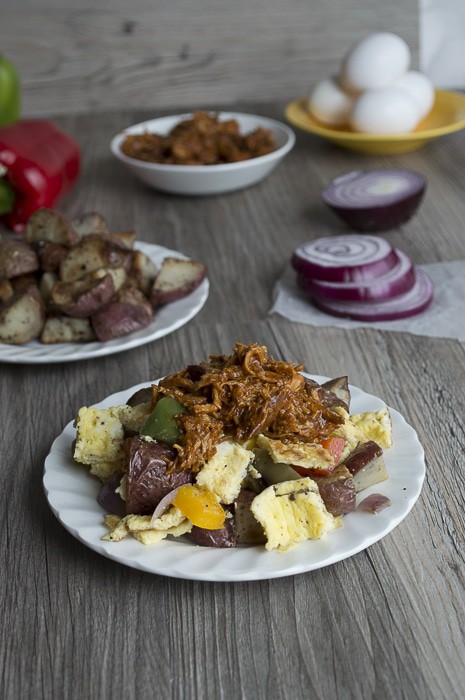 This dish can be made one of 2 ways.
You could prep the bbq chicken and roasted vegetables just to use in this dish. Or if you happen to find that you have leftover chicken or vegetables from the night before, that makes this dish even easier to prep.
This recipe is a great way to use up leftovers, so feel free to use your own bbq chicken or roasted vegetable recipe if you already have a favorite, but I'll include my trusted bbq chicken and roasted vegetable recipes so you can check those out.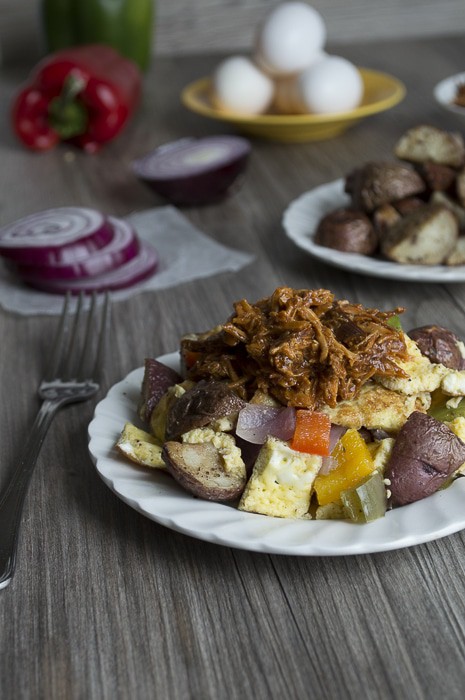 BBQ Chicken Roasted Vegetable Egg Scrambler
Ingredients
Eggs

1 whole egg
2 egg whites
salt & pepper to taste

BBQ Chicken (this would make more than you would need for just the egg scrambler)

3 chicken breasts
1 cup BBQ sauce
1/4 cup italian dressing

Roasted Vegetables

Potatoes
Peppers
Onions
Olive oil
Seasonings: italian, garlic powder, pepper, etc.
Instructions
Eggs

Spray a small amount of cooking spray into a skillet over medium heat.
Whisk the eggs and add to the skillet. Use a wooden spoon to redistribute the eggs as they cook, also known as scrambling.
Once they are scrambled and cooked, set aside.

BBQ Chicken

Combine all of the ingredients in a crock pot sprayed with cooking spray.
Cook on low for 7-8 hours or high for 3-4 hours.
Remove the chicken from the crock pot to shred, return the shredded chicken to the crock pot for 30 more minutes.

Roasted Vegetables

Dice as many potatoes, peppers and onions as you'd like. Toss all of the vegetables in olive oil and add your seasonings.
I like to roast my vegetables in a grill pan on the grill over medium heat, until the potatoes are soft. You can also roast them on a baking sheet in the oven at 375 degrees F for 30-40 minutes or until the potatoes are soft.

Putting it all together

Combine all of the scrambled eggs, with 1/3 cup bbq chicken, and 1/2 cup roasted vegetables to make about 2 servings.
https://thefirstyearblog.com/bbq-chicken-roasted-vegetable-egg-scrambler/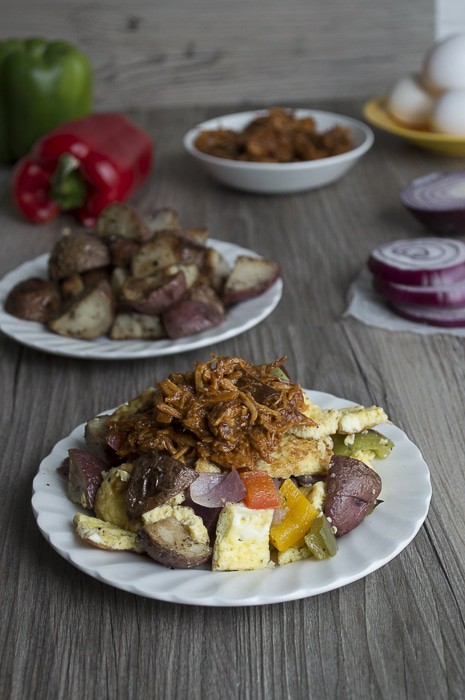 Leftover day just got a whole lot better.