Banana Streusel Bread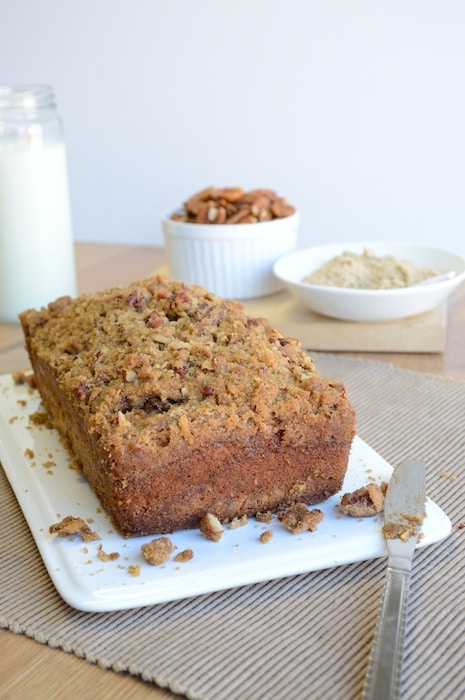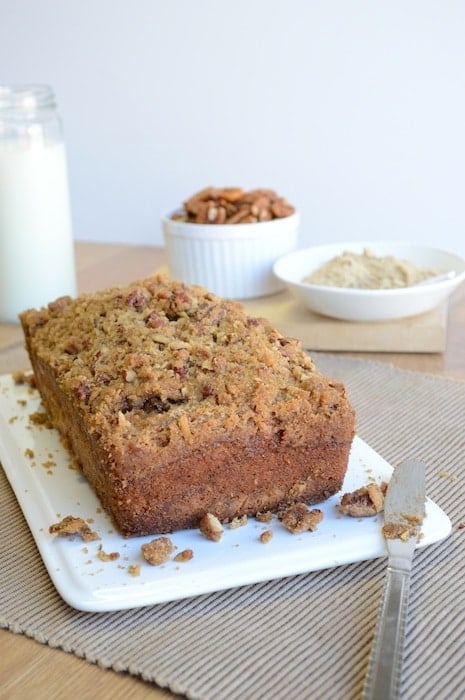 This recipe has been waiting in the recipe box for a while.
A little longer than it probably should have because it is so good. SO GOOD!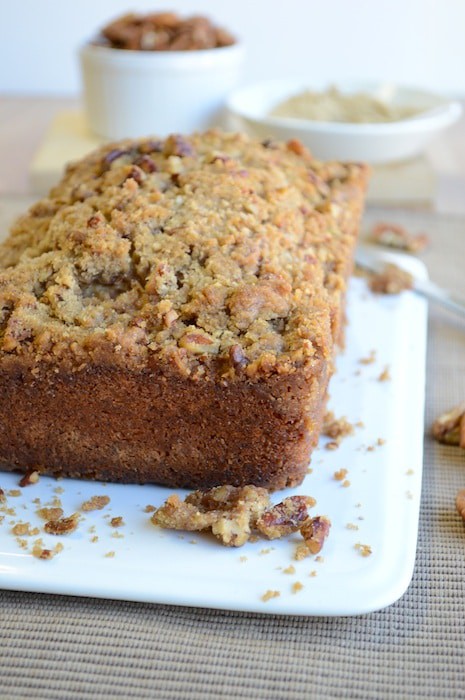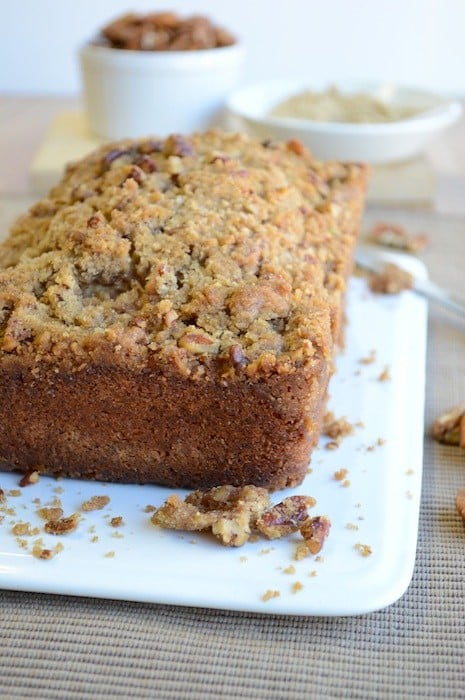 Confession: I made this and didn't share with Ryan.
Well technically I feel off the hook because I made it gluten free so I would be able to eat it. And we kind of have this unspoken rule that if I make a baked good with gluten free flour it's all mine.
Let's give sympathy to the gluten free girl and let her eat the entire loaf of banana streusel bread.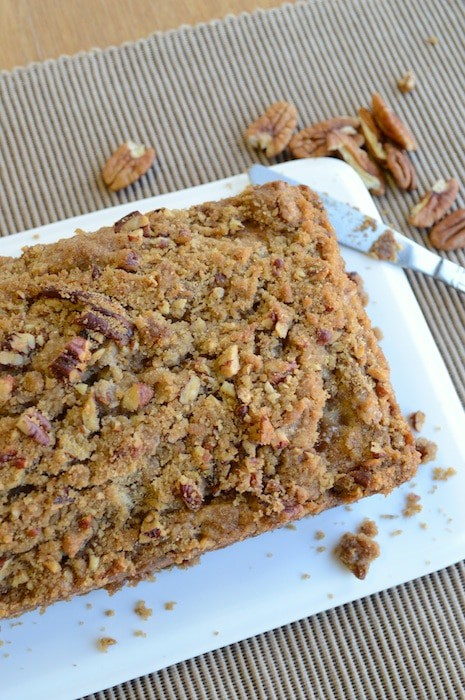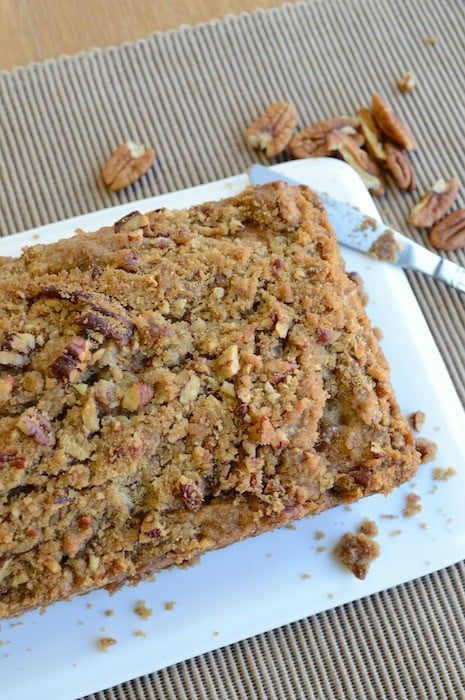 Just gaze at that streusel topping!
Brown sugar, cinnamon and chopped pecans – sounds like it's own dessert!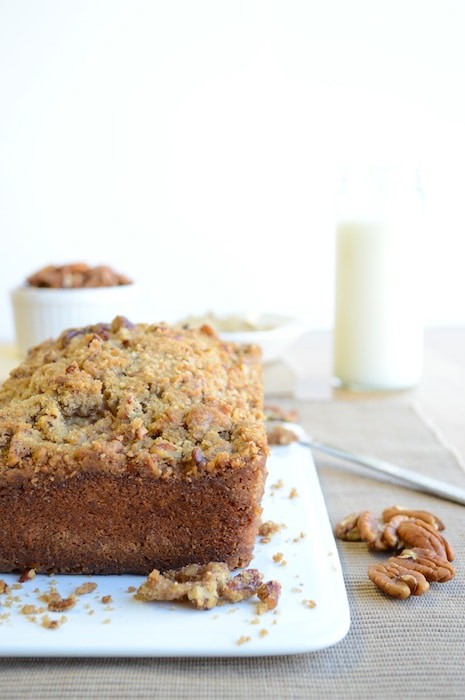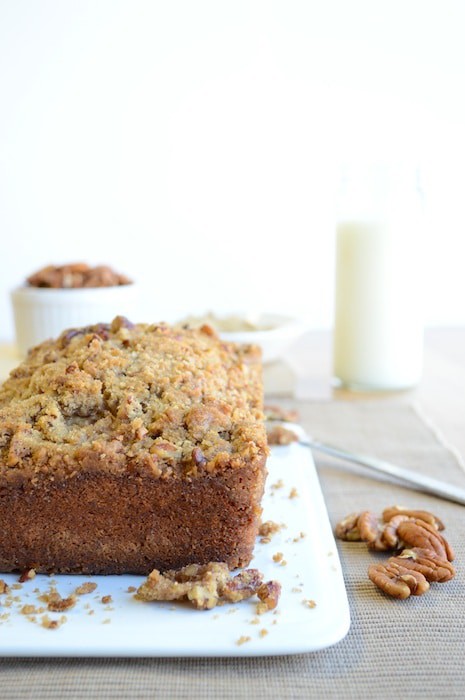 This is the type of recipe you have got to have on hand when you need something fancy to serve for breakfast, when guests are coming over, or when you have ripe bananas :-)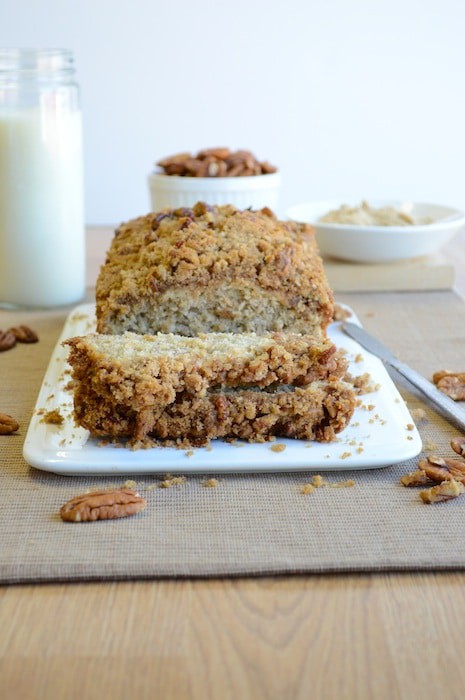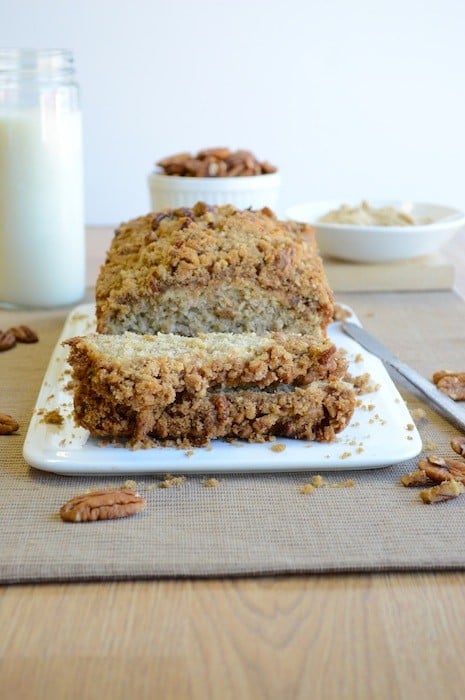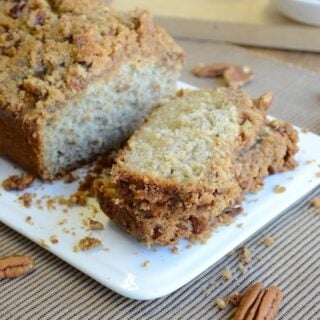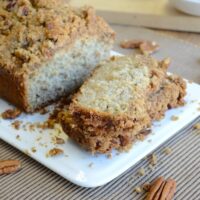 Banana Streusel Bread
Yield: One 9x5 inch loaf
Additional Time: 1 hour 30 minutes
Total Time: 1 hour 30 minutes
Ingredients
Loaf
1 & 1/2 cups mashed ripe bananas (about 3 really large or 5 smaller ones)
1/2 cup granulated sugar
1/2 cup butter, melted
2 eggs
1 tsp vanilla
2 cups all-purpose flour
1 & 1/2 tsp baking powder
1/4 tsp baking soda
1/4 tsp salt
Streusel Topping
1/3 cup packed brown sugar
1/4 cup all-purpose flour
1/2 teaspoon cinnamon
2 tbsp cold butter
1/2 cup chopped pecans
Instructions
Preheat the oven to 350 degrees F.
Grease and flour a 9×5 inch loaf pan; set aside.
Prepare the streusel: In small bowl, stir together the brown sugar, flour, and cinnamon. Using your fingers, cut in the butter until mixture resembles coarse crumbs. Stir in chopped pecans, then set aside.
Batter
In large bowl, beat together bananas, sugar, butter, eggs, and vanilla. In separate bowl, whisk together flour, baking powder, baking soda, and salt.
Pour the flour mixture into the banana mixture, and mix.
Pour the batter into the prepared pan.
Dump the streusel topping on top of the batter, slightly pressing it into the batter.
Bake for 60 to 70 minutes, or until a toothpick inserted in the center comes out clean.
Let the loaf cool in the pan for 15 minutes, then remove it from the pan and cool completely.