Banana Split Pudding Pops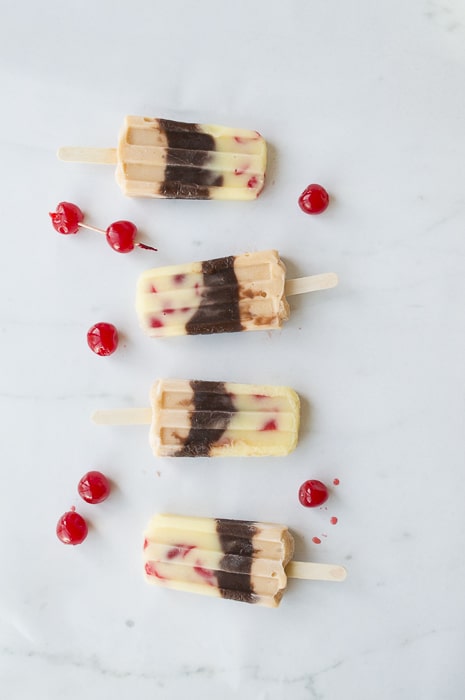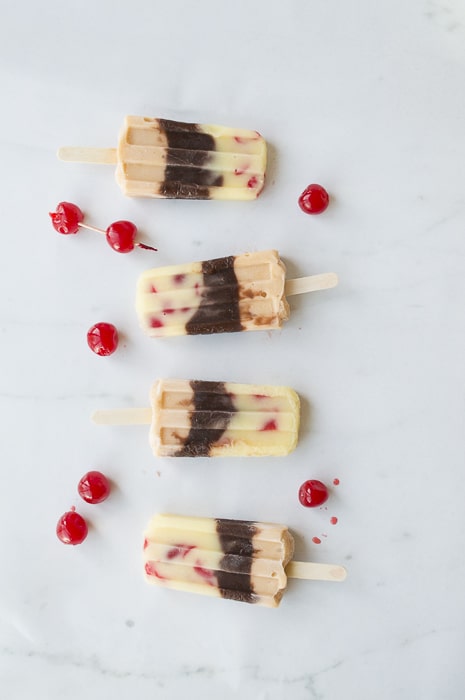 Summertime is banana split time.
I remember when I was young, my mom would take us to go get ice cream and we'd all share a banana split.
When my mom and nephew were in town visiting last week, we went to get ice cream, and what did my mom get? A banana split! Just like good old times. It was fun, but unfortunately I didn't split it with her because I was too consumed with my snickers and reese's blizzard.. mmm.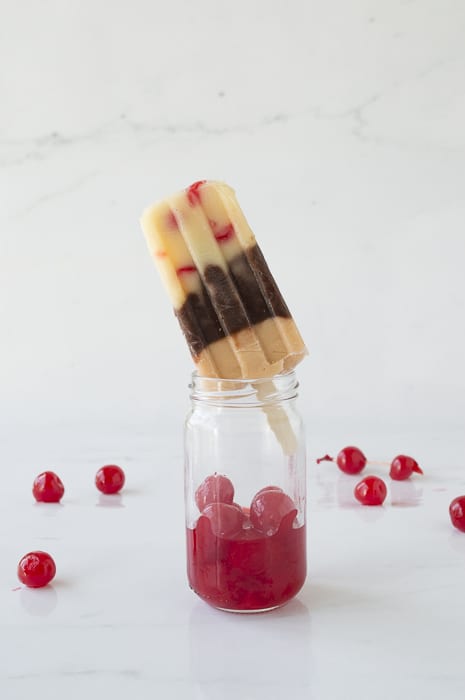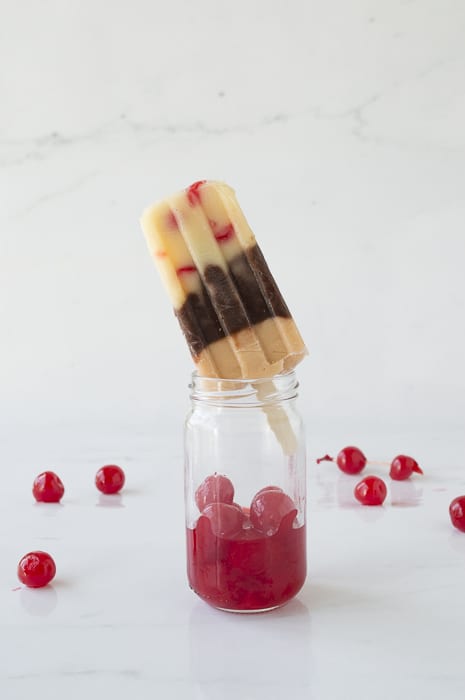 The traditional flavors in a banana split consist of vanilla, chocolate, and strawberry ice cream with pineapple, strawberry and chocolate sauces. And of course 1 banana, split down the center, topped with a maraschino cherry.
We created a fun twist to the traditional banana split – and it's in our favorite form – POPSICLES!
These Banana Split Pudding Pops are going to be your favorite summertime popsicle – I mean just look at those layers of deliciousness!
There is a rich Dulce de leche layer which tastes like a mix of butterscotch and caramel. Then a classic chocolate pudding layer, topped off with banana pudding layer with maraschino cherries mixed in.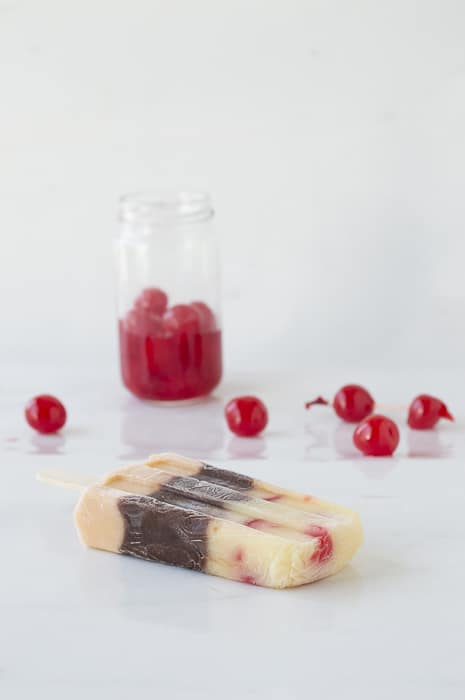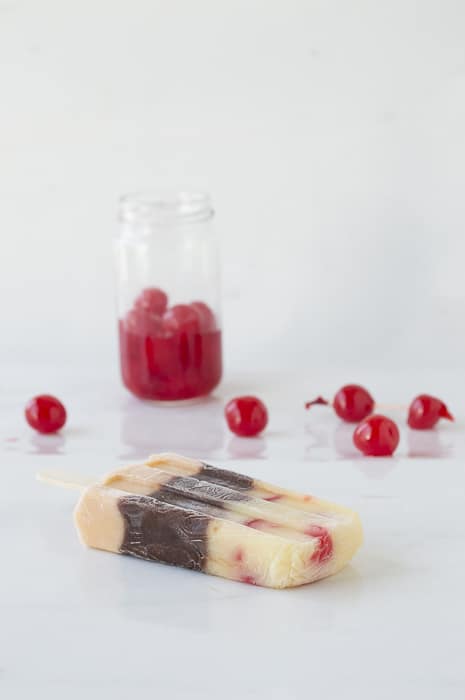 I have a time saving tip for you. This recipe calls for Dulce de leche pudding. You could go looking for Dulce de leche pudding in the packaged pudding aisle, but you won't find it there, even if you scour the aisle for 20 minutes like I did.
I actually found the Dulce de leche pudding by accident. I was grabbing some yogurt, and what do I see? The refrigerated pudding section! I never buy refrigerated pre-made pudding, but if you're looking for the Dulce de leche pudding that's where it will be. And it's delicious.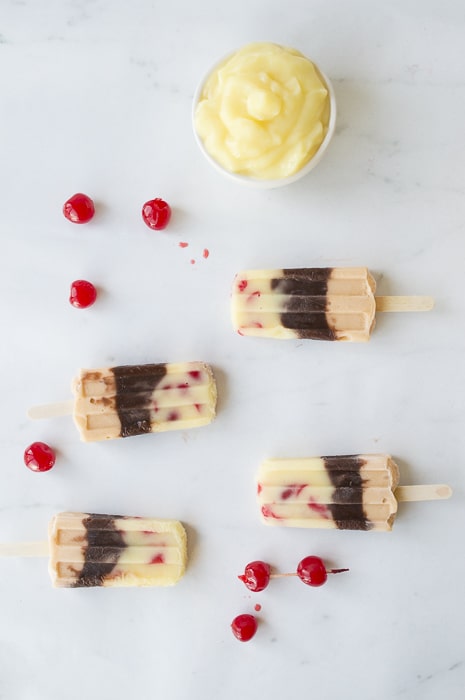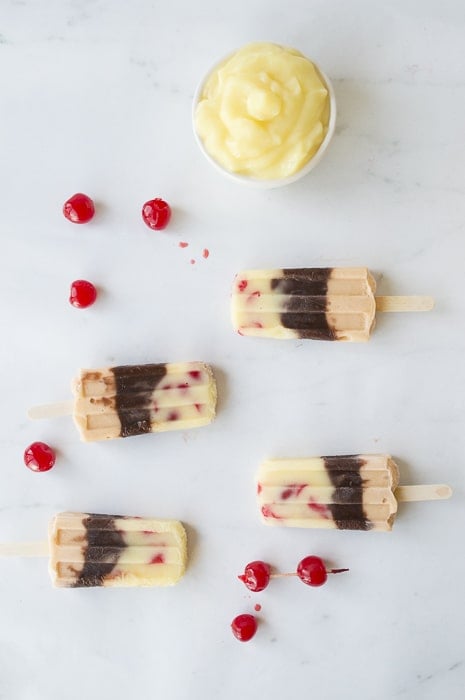 Don't forget, you can save our recipes to your Recipe Box and create meal plans by clicking "Save Recipe."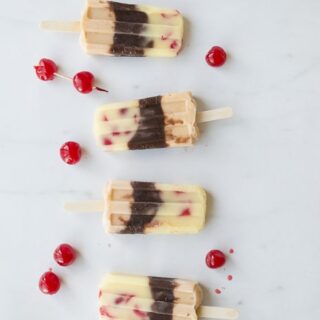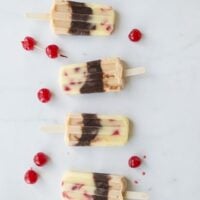 Banana Split Pudding Pops
Ingredients
Banana Pudding, 1 package
Chocolate Pudding, 1 package
Dulce de leche Pudding, comes in a standard package of 4 pre-made cups
Maraschino Cherries, sliced in quarters
The amount of pudding needed will depend on how many popsicles you would like to make. This recipe could easily make 10-12 popsicles if you want to use all the pudding up.
Instructions
Prepare the banana pudding and chocolate pudding as directed on their packages. Allow them to set for 1 hour.
Quarter the maraschino cherries. Using a paper towel, squeeze the excess juice from the cherries.
Mix the cherries into the banana pudding.
Using a popsicle mold, begin to layer the pudding.
I found it easiest to transfer each pudding to a ziploc bag with the corner cut off and pipe the pudding into the mold.
Pipe the banana pudding with cherries into the mold, tap the mold against the counter to release any air bubbles. Repeat the process of piping the pudding into the mold and releasing the air bubbles with the chocolate and Dulce de leche pudding.
Insert the sticks into the popsicle mold, and freeze over night.
Once set, place the popsicle mold in several inches of room temperature water to help loosen the pudding pops. The mold only needs to be in the water for several seconds. You can always re-dip if necessary.
Once the pudding pops have been removed, wrap the extras in plastic wrap and store in the freezer for later use.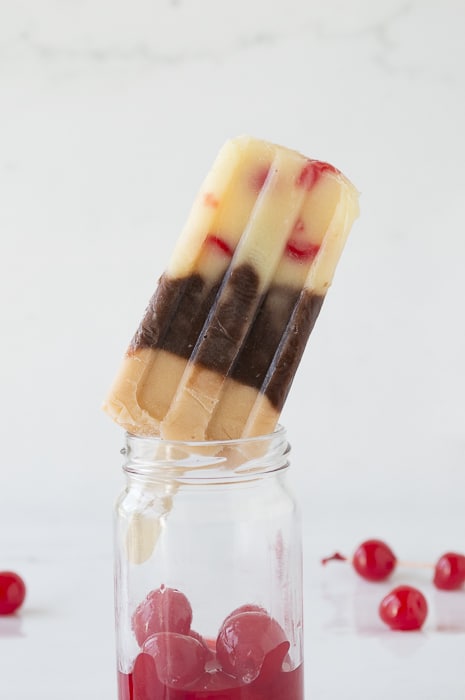 If you are looking to buy a popsicle mold that uses wooden popsicle sticks, the one I use and suggest is the
Norpro Ice Pop Maker
.