Want our top 10 essential dessert recipes?
Get our favorite classic recipes in your inbox! It's 100% free, but we might make you hungry!
Banana Cream Bars
Banana Cream Bars – these are easy to make and creamy with bananas, cream cheese filling and a hint of lemon!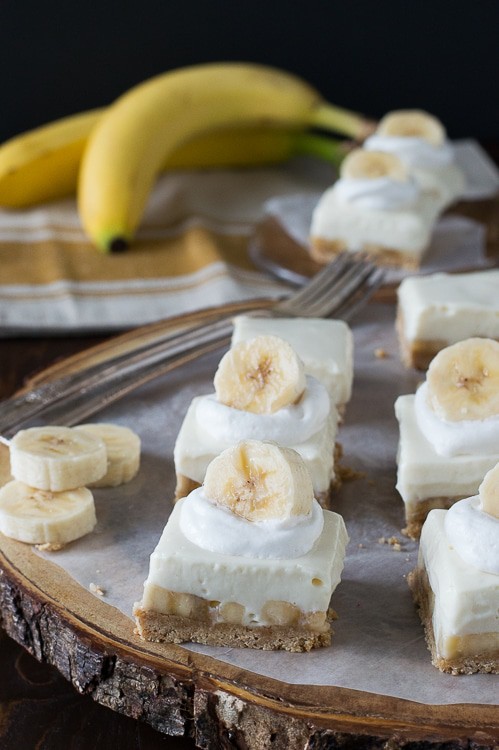 I've always wanted a cute, kitchen savvy Grandma who would pass down recipes to me.
Whenever someone shares a special recipe that has been in their family for generations, I think that is so neat. They usually have fond memories of that certain dish being made for Christmas or birthdays and they look forward to eating it since it's a special thing. I'm sure that when they were little they watched their Grammy or Great Aunt make the dish with wide eyes, just thinking.. how do they do it!
And they wait and wait until they are 'old enough' to learn the family recipe. Then the big day comes, they learn the recipe, and the tradition continues on.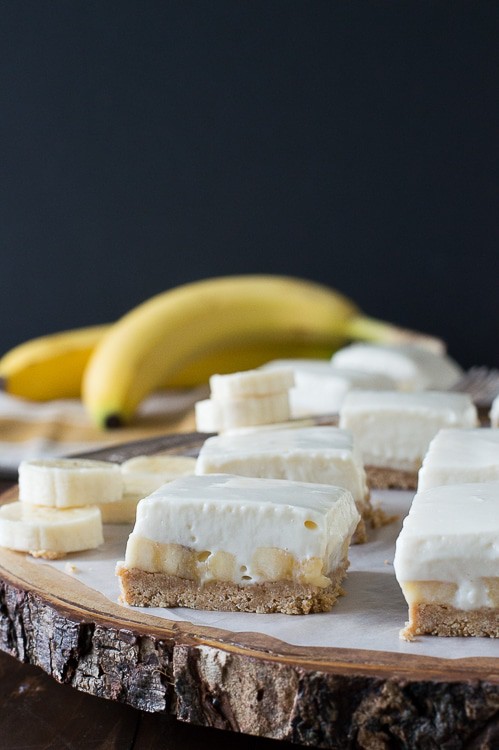 When we went home to Minnesota for Christmas, I was talking to my mother-in-law about how I'd love to have some family recipes. She pulled out a few cookbooks for me. One of them was a whole bunch of recipes printed out and stapled together with a page on the front that says "The Family Cookbook" – bingo! This is what I have been looking for!
The recipes are from my mother-in-law's side of the family, who happen to have some Italian blood. There are recipes for cannoli cream, Italian waffle cookies, and Aunt Leona's potatoes, which I'm not sure who Aunt Leona is yet. There are also a few classic recipes like peanut butter blossoms and chocolate brownies. And then there are a few recipes I've never heard of and I wasn't really sure what they were, like cream cheese pie and banana breeze pie.
Today's recipe for banana cream bars is adapted from Aunt Elaine's recipe for banana breeze pie.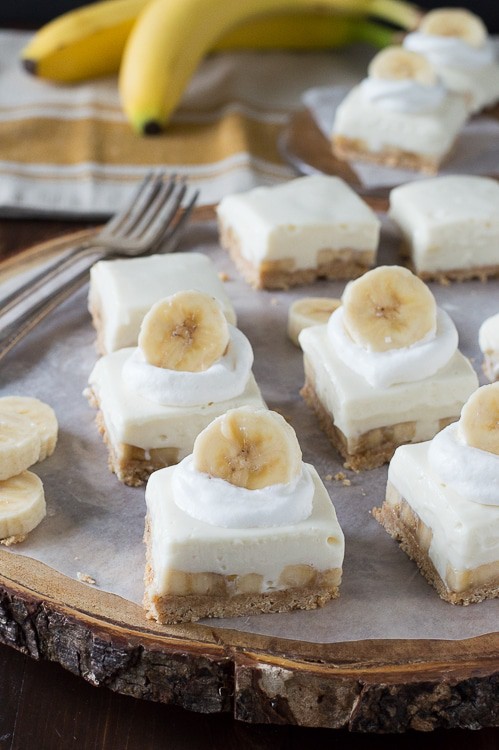 I kept the filling as is, but decided to make them into bars using a homemade graham cracker crust rather than using a pre-made pie crust. I like that the bars are bite sized but this recipe would make a beautiful pie too. Aunt Elaine must have known what she was doing :)
Do you have any recipes that were passed down from a Grandma, aunt, or cousin? It's so fun to have recipes like that!
Banana Cream Bars
Yield: 9-12 bars
Total Time:3 hours 30 minutes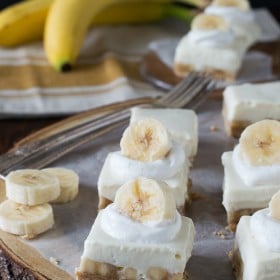 Ingredients:
1 sleeve graham crackers
1/2 stick butter, melted
one, 8 oz, package cream cheese, softened
1 can sweetened condensed milk
1/2 cup lemon juice
1 tsp vanilla
2-3 bananas
1 tbsp lemon juice
Cool whip and banana slices, to top
Directions:
Line a 8×8 baking dish with tin foil, allow excess to hang over the edge and lightly spray with non-stick cooking spray.
Using a food processor or blender, pulse the graham crackers into crumbs. In a bowl, combine the crumbs and melted butter until well combined. Transfer the crumbs to the baking pan and press into the pan using a spatula.
Beat the softened cream cheese using an electric mixer until fluffily. Add in the sweetened condensed milk and mix using the mixer. Add in the lemon juice and vanilla. Mix again.
Slice 1-2 bananas, depending on how many banana slices you'd like, and place them on top of the crust.
Pour the filling over the bananas. Refrigerate for 2-3 hours or until the filling is firm.
Remove the bars from the pan using the tin foil. Use a large knife to cut them into bars.
Before serving top each bar with cool whip and a banana slice. Serve immediately.
TIP: TO KEEP THE BANANA SLICES FROM BROWNING, DIP THEM IN A SMALL AMOUNT OF LEMON JUICE AND THEN PLACE ON TOP OF THE COOL WHIP.
Products used to make this recipe
(may include affiliate links)