Want our top 10 essential dessert recipes?
Get our favorite classic recipes in your inbox! It's 100% free, but we might make you hungry!
Baked Potato Soup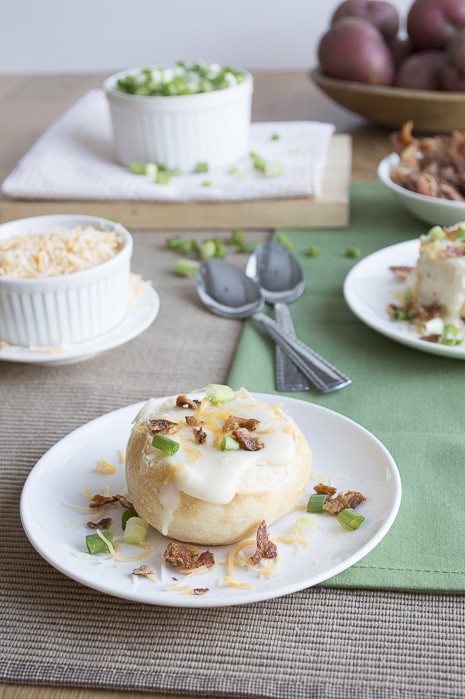 I can't believe this baked potato soup came from the crock pot in my kitchen.
I imagined that if I ever tried my hand at baked potato soup that it would be either be just chunks of large potatoes or watery cream color soup.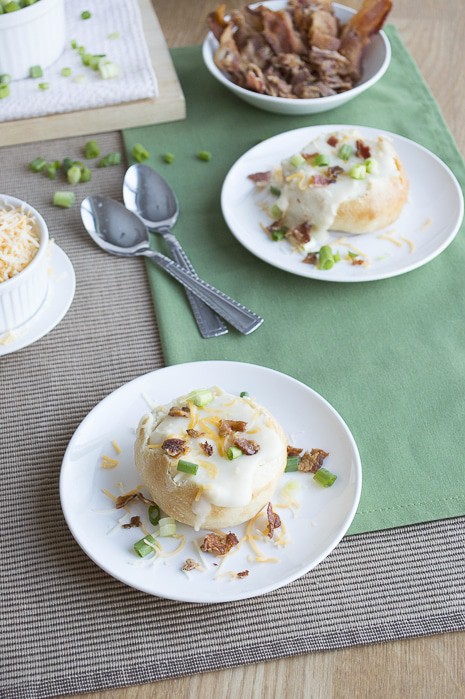 Baked potato soup holds a special place in my heart. When I was 15 I got my first job working at Houlihan's as a hostess.
And they had an amazing baked potato soup with bacon crumbles and green onions that I would bring home after my shift.
This soup that I made in my kitchen tastes just like Houlihan's baked potato soup.
It's a soup miracle.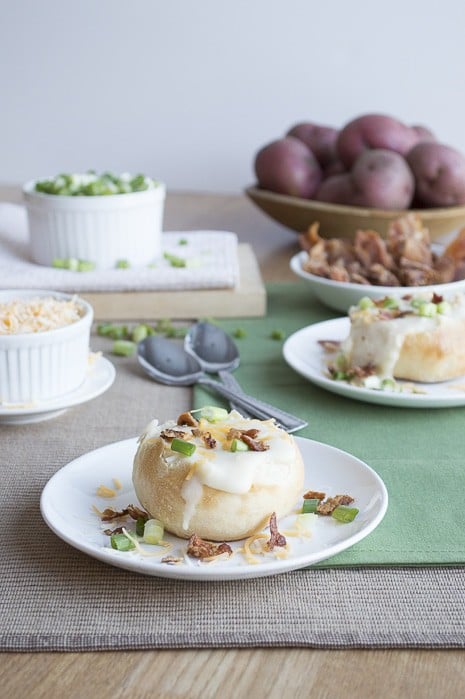 Let's put this soup into a little bread bowl.
I found round rolls at the store and used my fingers to remove parts of the bread to make a bowl.
Also, you won't want to skip the bacon crumbles on this soup. I don't really like cooking bacon because it's messy and I usually get burned by the popping grease, but baked potato soup and bacon are a match made in heaven.
Ingredients
2 & 1/2 pounds potatoes, peeled and cut into 1/2 inch cubes
1 small onion, diced
5 cloves of garlic, minced
32 oz chicken broth
8 oz low fat cream cheese, let sit outside of the fridge while the potatoes cook
1 tsp seasoned salt
Toppings: bacon, green onions, cheese
Instructions
Put the cubed potatoes, onion, garlic, seasoning salt, and chicken broth in to the crock pot.
Cook on high for 3 hours, or until the potatoes are soft.
Remove half of the contents from the crock pot (the potato mixture and broth) and put into a food processor or blender, along with the 8 oz of softened cream cheese.
Blend using the food processor until very smooth.
Return the blended mixture to the crock pot, and mix all the soup together.
The soup will seem a little runny at this point, but it will thicken up.
Now remove almost all of the potatoes that are still chunky from the crock pot and blend in the food processor for 3-4 seconds - you don't want them pureed this time, just not chunky. Return them to the crock pot and mix together.
Heat for 30 more minutes and serve with cooked bacon crumbles, green onions and cheddar cheese.
https://thefirstyearblog.com/baked-potato-soup/
This recipe already makes a large batch of soup. But if you're thinking about doubling it, you better plan to invite the whole neighborhood over!