Baked Oatmeal Hazelnut Granola Balls
Easy baked granola ball recipe loaded with peanut butter, oatmeal and chocolate chips! 9 ingredients and less than 20 minutes to bake!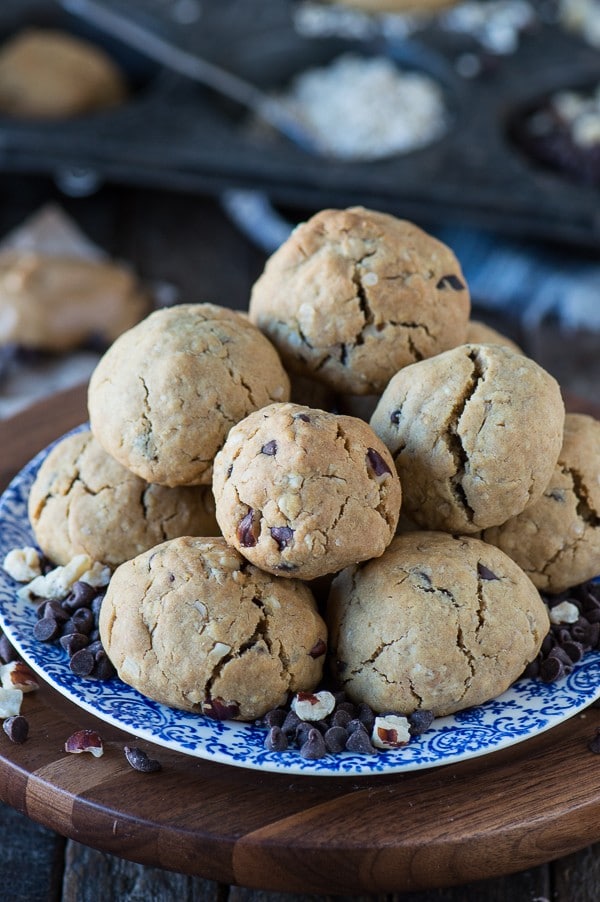 This was the kind of recipe that was really difficult to choose what to call it! There are just so many delicious things in these little baked granola balls that I was considering calling them "Baked Peanut Butter Chocolate Chip Hazelnut Oatmeal Granola Balls" because it would have covered all of the bases! But for the sake of brevity I cut out a few words and we're calling them Baked Oatmeal Hazelnut Granola Balls!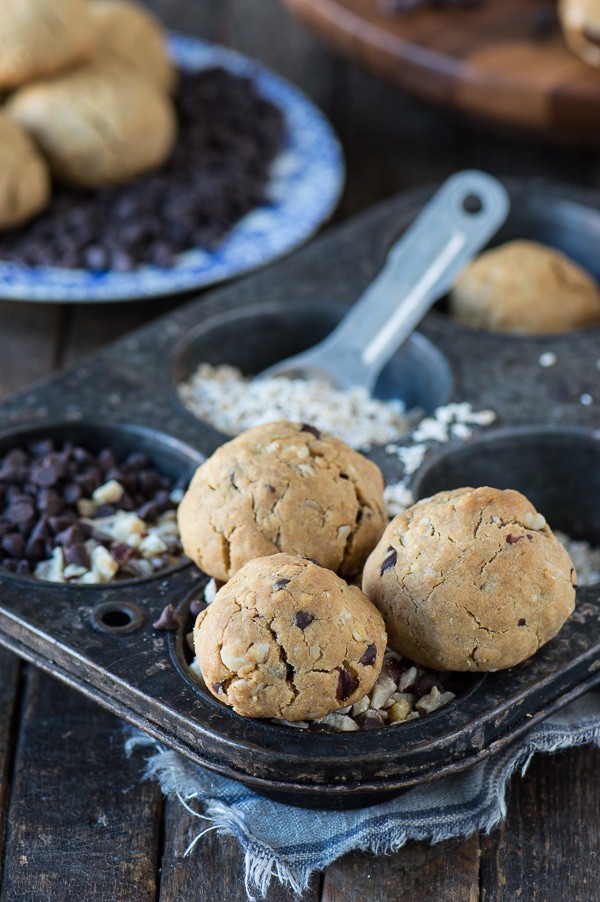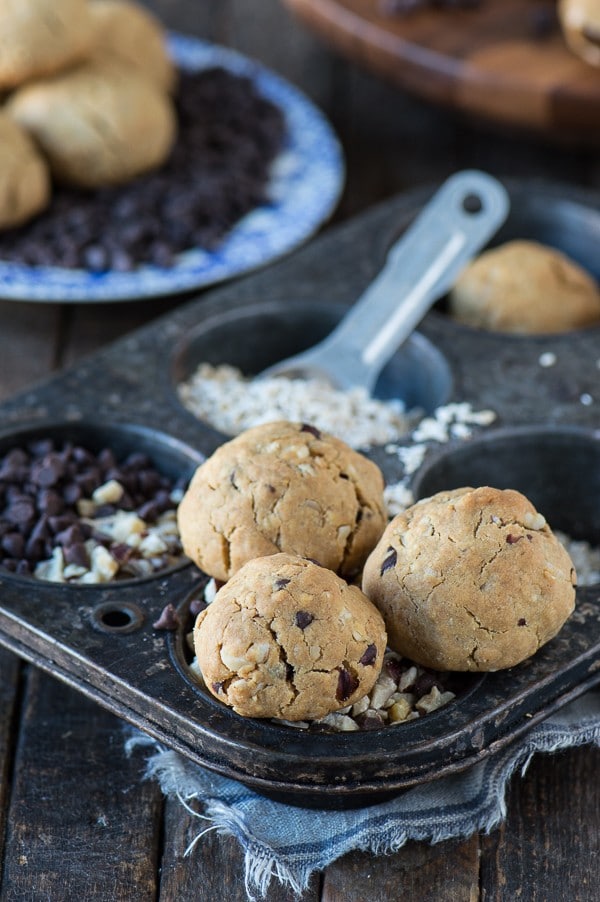 I love these granola balls!
1st, they are so versatile. If you want substitute the chocolate chips for raisins or the peanut butter for almond butter, do it!
2nd, they are portable and easy to eat while driving or doing other tasks like laundry :)
3rd, you get to use your favorite coffee creamer to give them additional flavor! Use whatever flavor you have in your fridge, we love the hazelnut and caramel macchiato creamers from International Delight.
4th, I think these granola balls are way more fun than granola bars. We're used to seeing rectangular shaped granola bars so I think the ball shape is a fun change. Plus maybe your littles will think it's a cookie and will eat them happily!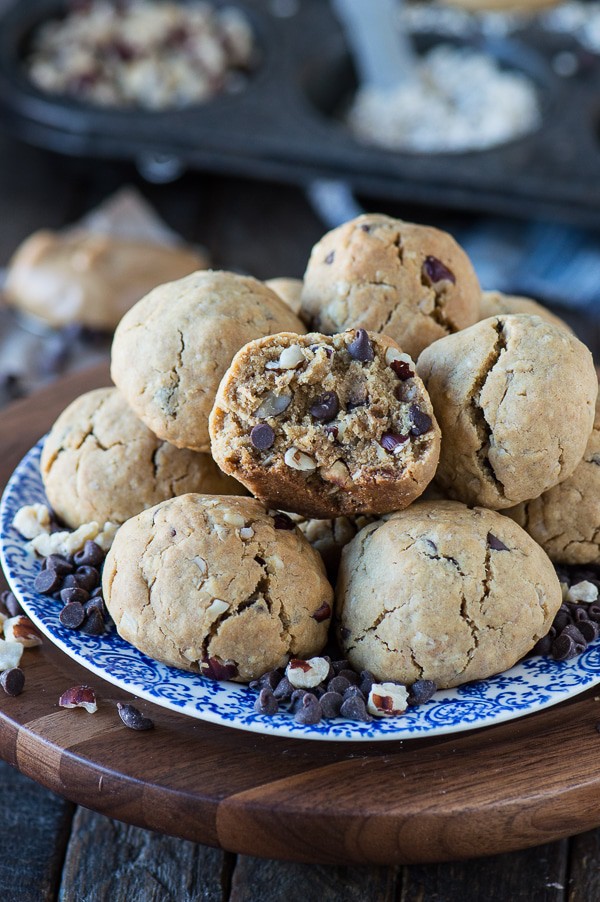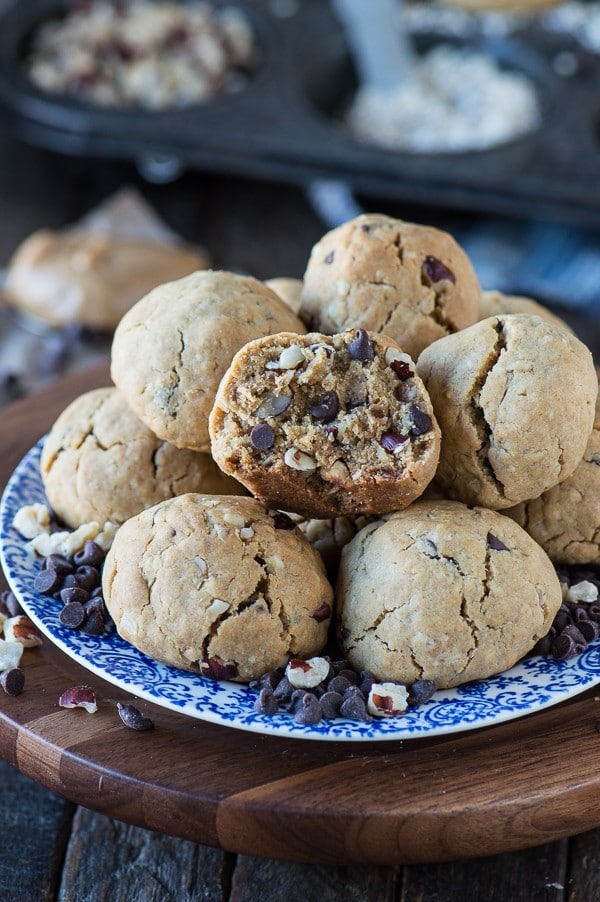 These balls are actually not too bad for you either. The peanut butter is what has the most calories but hey, PB also has a lot of protein and that helps keep you fuller longer so I look at it as a give and take :)
The dough comes together very easy, but it can be thick and require some muscles to really mix everything together, normally that's where I ask Ryan to step in!
Once the dough is ready, use a standard size cookie scoop (a #40) to scoop dough into you hand, roll it into a ball and place on a baking sheet lined with a silicone baking mat. In less than 20 minutes you'll have fresh, home baked granola balls!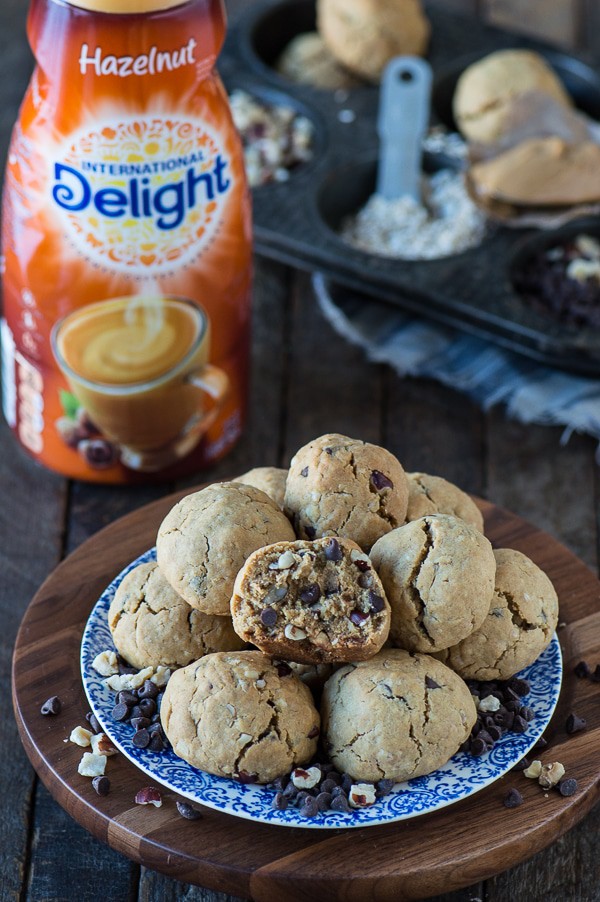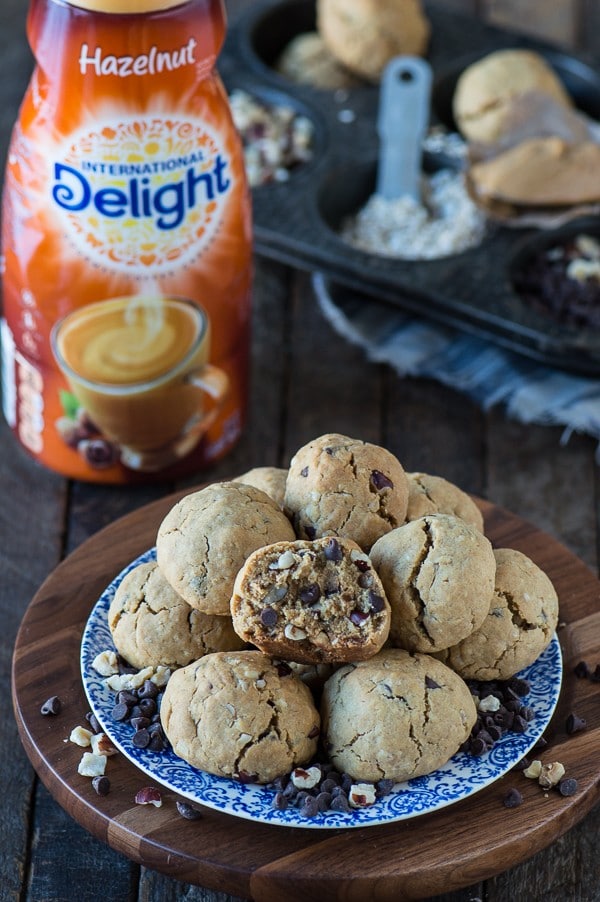 This is a sponsored conversation written by me on behalf of International Delight. The opinions and text are all mine.
Baked Oatmeal Hazelnut Granola Balls
Yield: 12-16 granola balls
Total Time: 30 minutes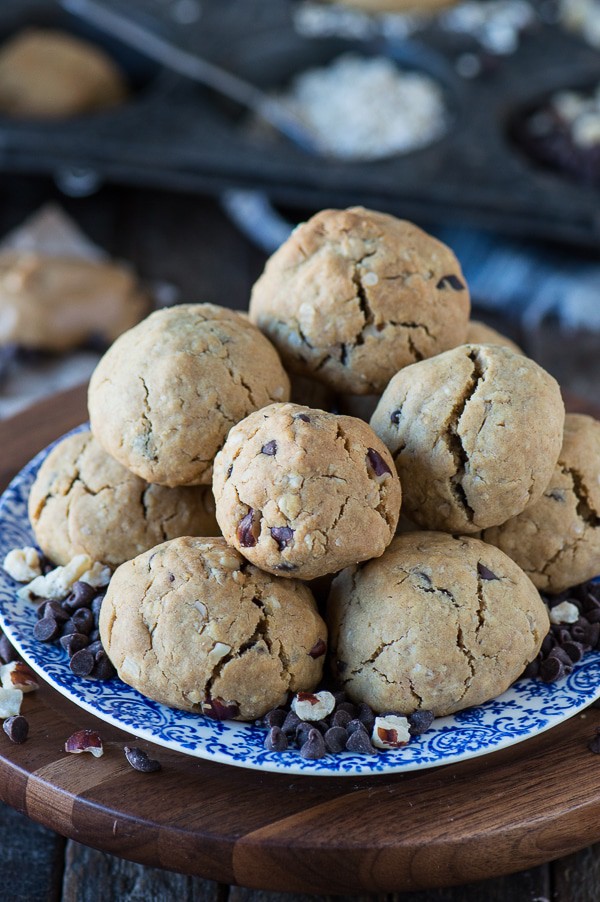 Ingredients:
3/4 cup creamy peanut butter
1/4 cup brown sugar
1 tsp vanilla extract
1 cup all purpose flour or whole wheat flour
3/4 cup quick cooking oats
1 tsp baking soda
1/2 cup International Delight Hazelnut Creamer
1/4 cup mini semi-sweet chocolate chips
1/4 cup chopped hazelnuts
Directions:
Preheat the oven to 350º F.
In a mixing bowl, beat together the peanut butter and brown sugar with a spatula until fluffy.
Mix in the vanilla.
Stir in the flour, oats, and baking soda, stir to combine.
Add the International Delight Creamer and mix until a dough forms. Fold in the chocolate chips and hazelnuts, and mix once more.
Use a standard cookie scoop (I used a #40 which is about 1.5 tbsp of dough) to scoop some dough into your hand and roll it into a ball.
Continue making balls until all the dough is gone.
Place on a baking sheet lined with a silicone baking mat and bake for 13-17 minutes or until golden and baked through.
You can use any flavor coffee creamer or substitute milk if needed.