Asian Quinoa Salad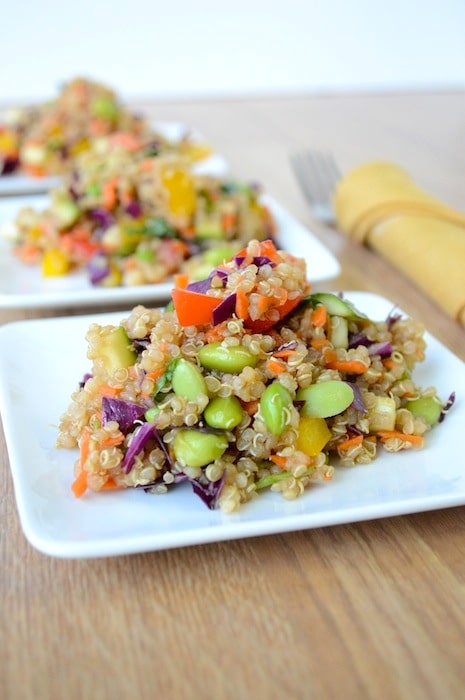 Hands down, this is the most unique salad I've ever had.
Now, I need to talk to those people who say they don't touch vegetables with a 10 foot pole – you need to get rid of that pole and grab 2 forks and starting shoveling this in your mouth.
This asian quinoa salad is amazing, and if this were an infomercial and I was trying to get you to buy this salad, I would promise you that you would like it or I would refund your money not 100% but double what you spent.
Yeah, a double guarantee because it's that good.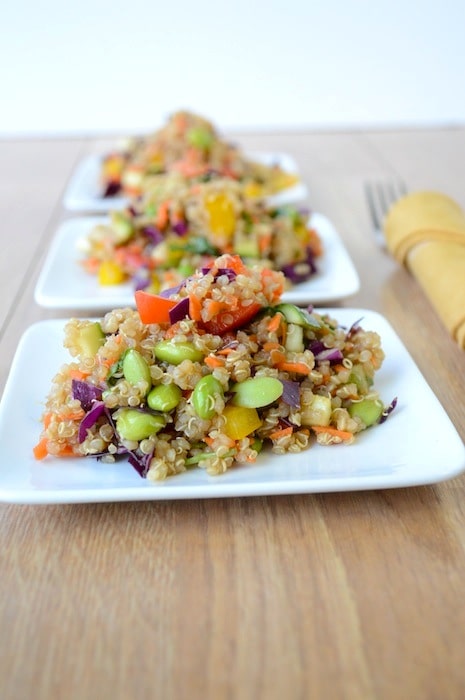 Reason #2 that I LOVE this salad – you can feel good about eating it, unlike Snickers Salad (apples, cool whip, and snickers) which is so good but not so great for you.
When you eat this salad I hope it makes you feel like you shop at one of those crazy organic whole food stores (Hi Dad!) and then maybe you'll start juicing and doing yoga. Or maybe you'll just discover that you like quinoa, edamame, and red cabbage.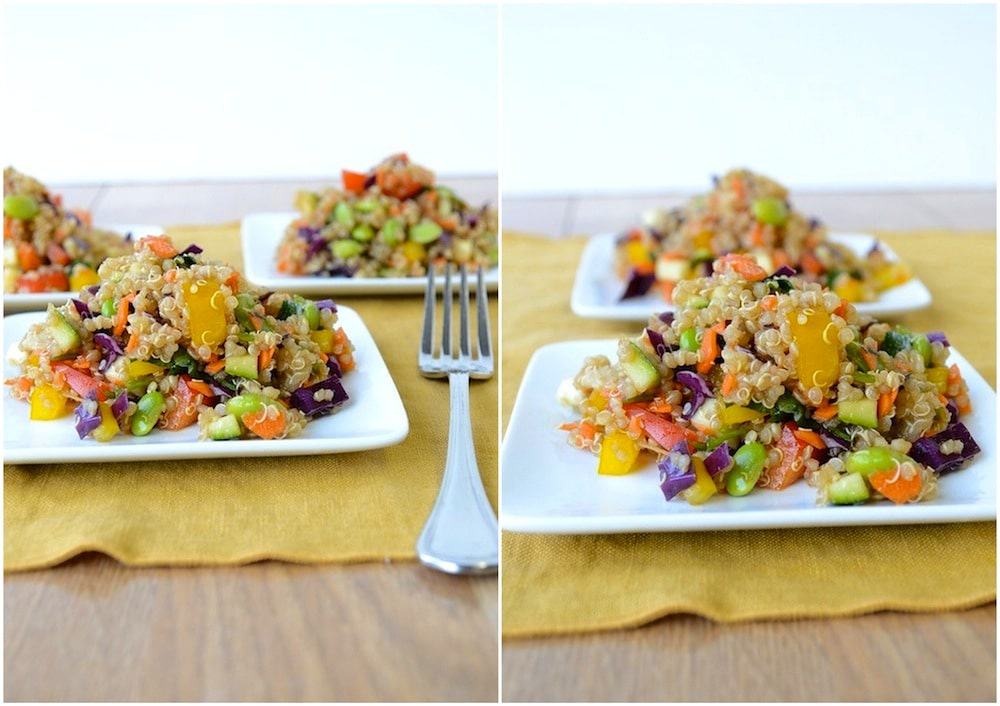 Ingredients
For the salad

1 cup quinoa
2 cups water
1/4 tsp salt
1 cup chopped red cabbage
1 cup shelled and cooked edamame
2 bell peppers, chopped (we used red and orange)
1/2 cup shredded carrots
1 zucchini, cooked and diced

For the dressing

1/4 cup light soy sauce
1 tbsp sesame oil
1 tbsp rice wine vinegar
3-4 chopped green onions
1/4 cup chopped cilantro
1 tbsp sesame seeds
1/4 tsp grated ginger
1/8 tsp red pepper flakes
Salt and black pepper, to taste
Instructions
Add water, quinoa, and salt to a medium saucepan and bring to a boil over medium heat.
Boil for 5 minutes. Turn the heat to low and simmer for about 15 minutes, or until water is absorbed. Remove from heat and fluff with a fork.
Place the quinoa in a large bowl and add the cabbage, edamame, red pepper, carrots, and zucchini. Mix and set aside.
In a small bowl, whisk together the soy sauce, sesame oil, rice wine vinegar, green onions, cilantro, sesame seeds, ginger, red pepper flakes, salt, and pepper.
Pour the dressing over the quinoa salad and stir to combine. This salad is good served at room temperature or chilled.
https://thefirstyearblog.com/asian-quinoa-salad/
It might be easy to think that you'll just skip the fresh cilantro because you don't have it on hand, but it's a key ingredient and adds loads of flavor. We almost skipped the cilantro and at the last minute we decided that we couldn't make this salad without it, so Ryan ran to the store – just for cilantro (bless his heart).
This salad is very adaptable – meaning if you have additional vegetables you need to use up in your fridge, throw 'em in – even more reasons to feel good about this dish :-)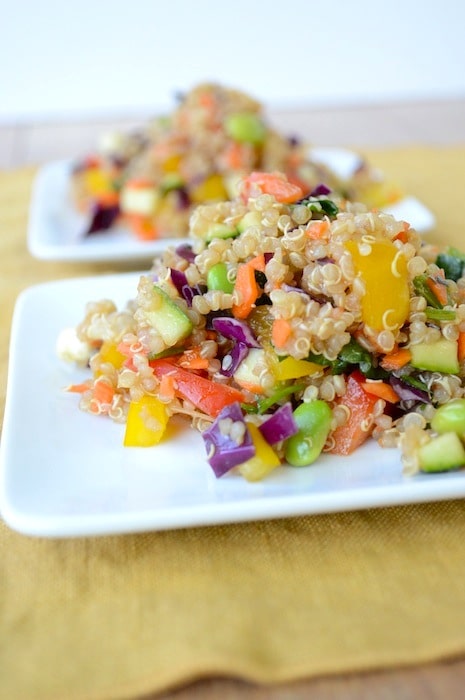 I can't wait to bring this salad to a pot luck. I know everyone will enjoy its fresh, unique flavor and they'll all think I am a health nut – yeah right, have you seen some of the desserts I post!