Want our top 10 essential dessert recipes?
Get our favorite classic recipes in your inbox! It's 100% free, but we might make you hungry!
Apple Cinnamon Popcorn Stacks
This recipe for Apple Cinnamon Popcorn Stacks is a part of the #SkinnyGirlSnacks campaign and has been compensated by #CollectiveBias. As always, all opinions are my own.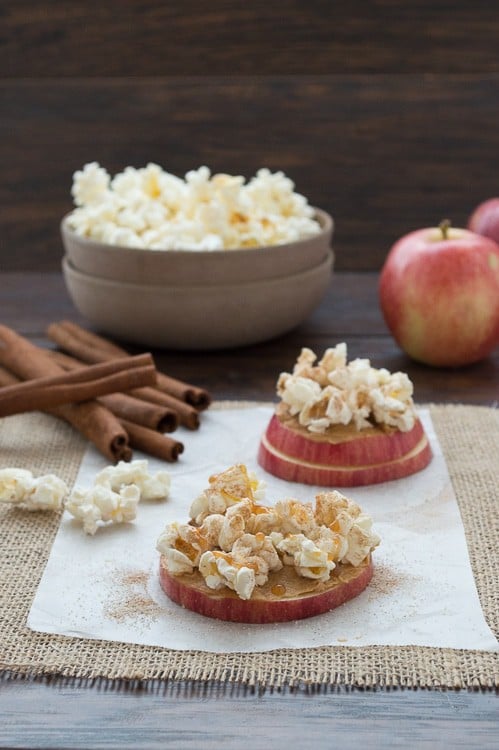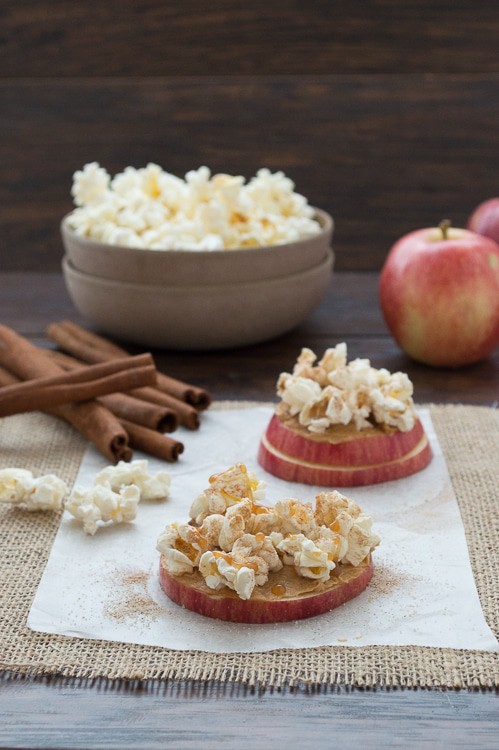 We're continuing with APPLE week! I know you're going to love this healthy fall snack.
I am a snacker. But I'm not just a "let's have an afternoon snack" kind of person. I am snacking all day long, and probably eat more snacks than my nanny kids – I thought adults were only suppose to eat 3 meals a day! I'm not sure if it has something to do with having a gluten allergy, but I always gotta have snacks in my bag. To the point where, if I leave the house without snacks (or chapstick!) I will turn around and go back to the house to get some. I can't talk about my love for snacks without mentioning the one time I found bacon in my purse.
…yeah, cooked bacon. 3 strips of it in a plastic bag. I guess I thought bacon would be a good snack, but I forgot that it was in there. I had to air my bag out for days, and Ryan will never let me live that one down.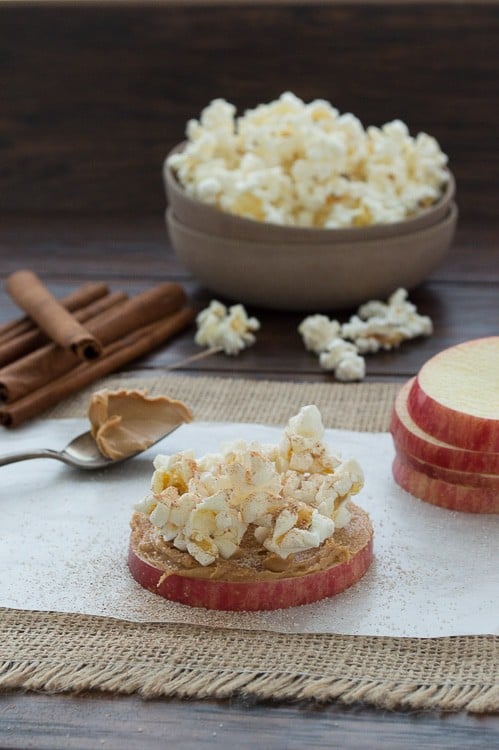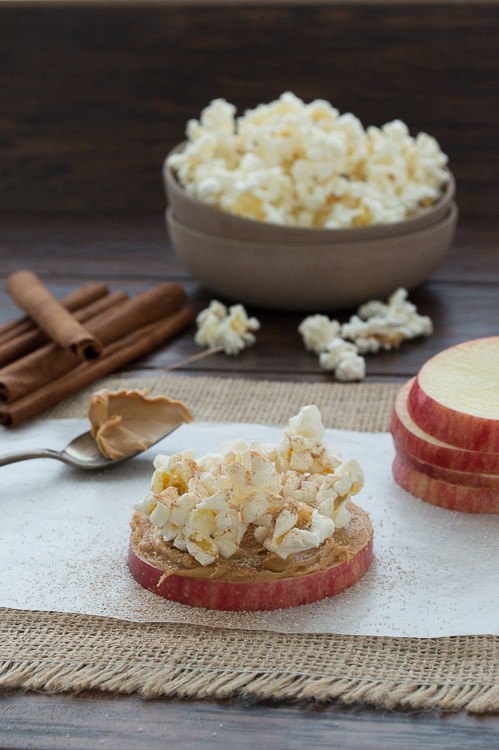 While I may be the snack queen, a lot of my snacks tend to be full of carbs, think muffins, granola bars, pretzels, popcorn, and graham crackers. If I am going to be snacking all day, I need to make sure I am eating healthy snacks. While I can swap a banana for a handful of pretzels, I can't part with my beloved popcorn! I think I let out a little squeal of excitement when I saw that Walmart had Skinnygirl Popcorn. I didn't have a reason to not buy every flavor – I mean only twenty five calories per cup, can my favorite snack get any better?!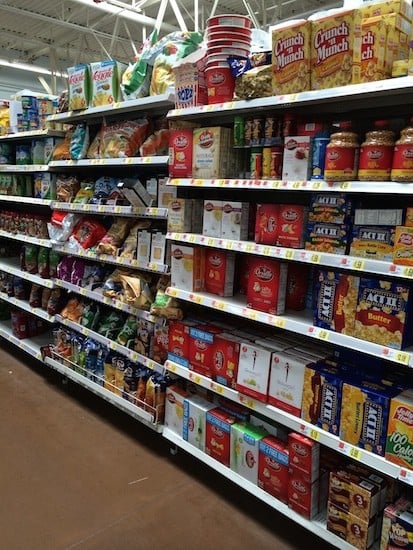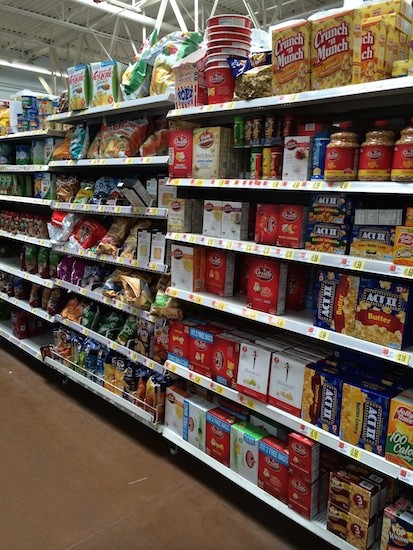 Since popcorn is a go-to snack in our house, we have a lot of ways we like to eat it, not to mention it's tasty in tomato soup as a substitute for croutons! The healthy snack we're sharing today uses apples, peanut butter, Skinnygirl popcorn, a sprinkle of cinnamon sugar, and a drizzle of caramel. This is a quick and easy snack to prep that includes a little fiber and protein while still being able to enjoy some sweetness from the cinnamon sugar and caramel. All round my kind of snack.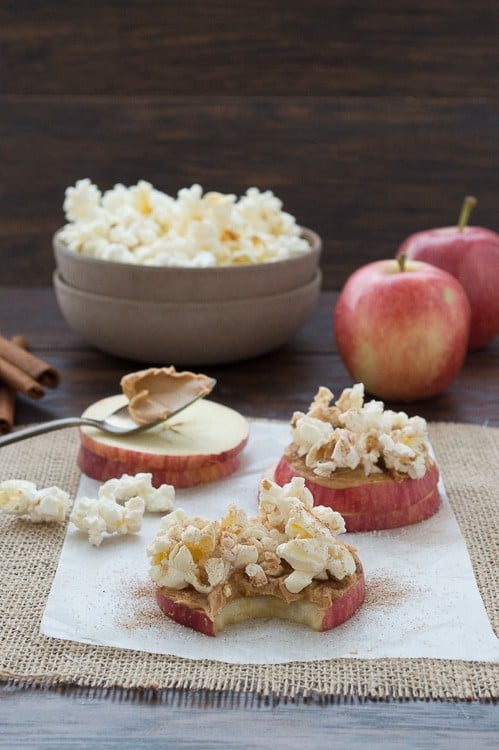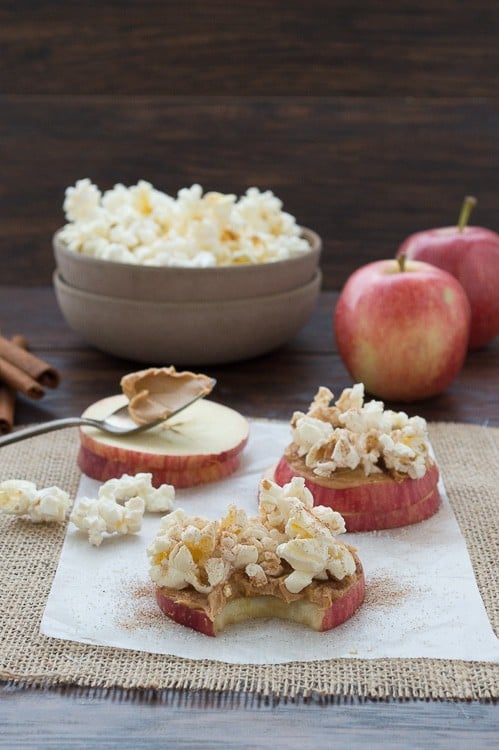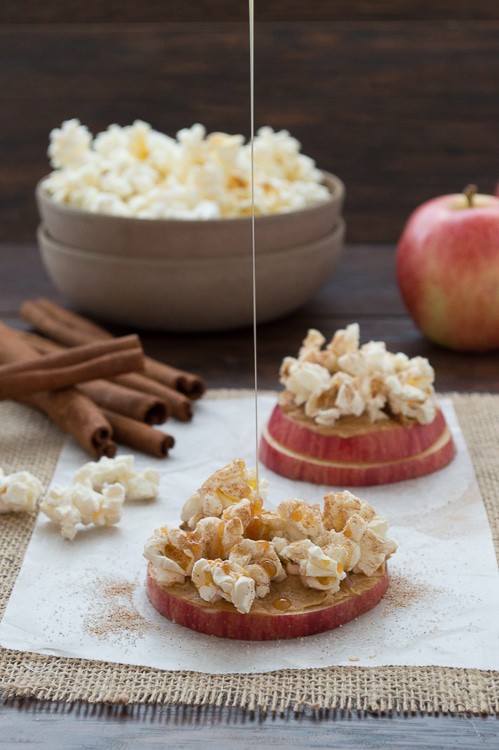 If you missed the other recipes shared during apple week, get 'em here: Apple and Maple Butter Pop Tarts and Caramel Apple Cookie Dessert Pizza.
Apple Cinnamon Popcorn Stacks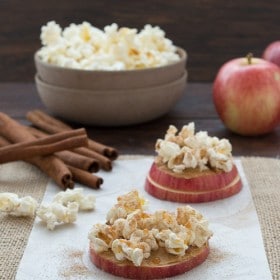 Ingredients:
1 apple sliced into rounds, cut out the middle
spoonful of peanut butter to cover each apple
1 bag Skinnygirl Popcorn, popped
cinnamon sugar mixture
drizzle of caramel
Directions:
Pop the popcorn according to the directions on the package. Set aside.
Slice the apple into rounds about 1/4 inch thick. Remove the center.
Place a spoonful of peanut butter on each apple slice, and spread until even.
Place about a handful of popcorn on each apple slice, slightly pushing the popcorn into the peanut butter so it sticks.
Sprinkle with a cinnamon sugar mixture and drizzle with caramel sauce.