White Bean Potato Ham Soup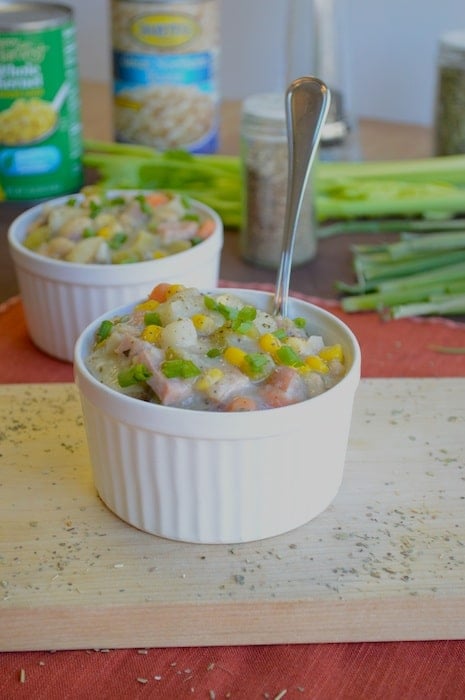 It's time to warm up with White Bean Potato Ham Soup.
I like to call this a chop, blend, and simmer recipe. All you have to do is chop your vegetables and meat, blend some of them in a food processor, and simmer everything in a large pot.
Dinner done easy.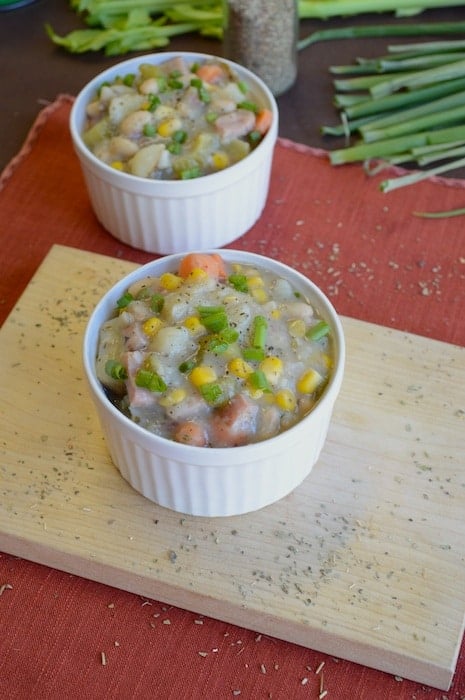 I forgot to mention that the whole simmering part could be done in a crock pot. I love that magical crock pot.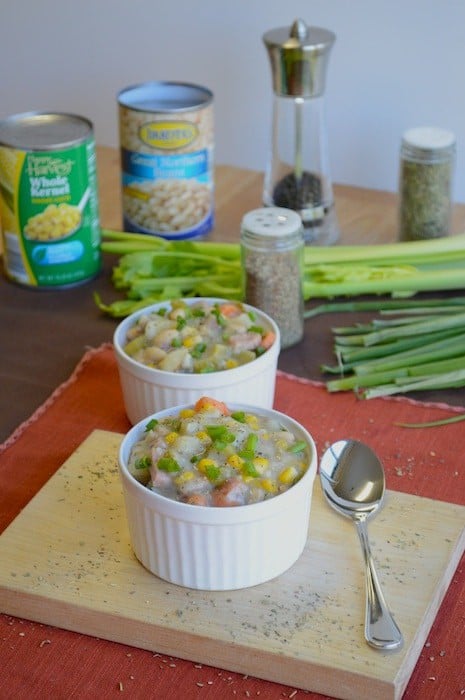 White Bean Potato Ham Soup
Ingredients
4 cups vegetable stock
2 cans great northern beans, 15 oz each, rinsed and drained
1 can corn, 15 oz, drained
5-6 small/medium potatoes (I left the skin on), cubed and boiled separately
Ham, precooked and chopped into cubes
3 cloves garlic
6 carrots, chopped
6 celery stalks and the leaves if you're daring (they are good for you!), chopped
1 medium onion
1 tbsp olive oil
1 tbsp parsley, dried or fresh
1/2 tsp sage, dried
1/2 tsp thyme, dried
Green onions, to top, optional
Instructions
Boil the potatoes separately. Do not mash.
Chop the carrots, celery and onion.
Put 1/3 of carrots, 1/3 celery (and leaves), 1/3 onions, and 1/3 potatoes into a food processor or blender. Mix until well blended. The rest of the vegetables will go unprocessed into the soup.
Mix the vegetable stock, blended vegetables, unblended vegetables, cubed ham, minced garlic, beans, corn, and seasonings in a large pot over medium heat on the stove (quicker method) or in the crock pot on low (eat soup for later method).
If heating on the stove, the soup should be ready to eat in about 30-45 minutes.
*Note: If you want a thicker soup, you can add more boiled and lightly mashed potatoes to the soup
http://thefirstyearblog.com/white-bean-potato-ham-soup/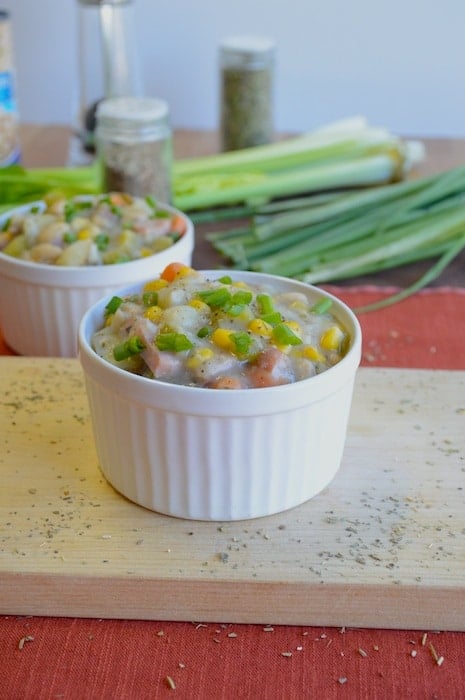 Join thousands of food lovers!
Get a weekly summary of our recipes delivered to your inbox for free!